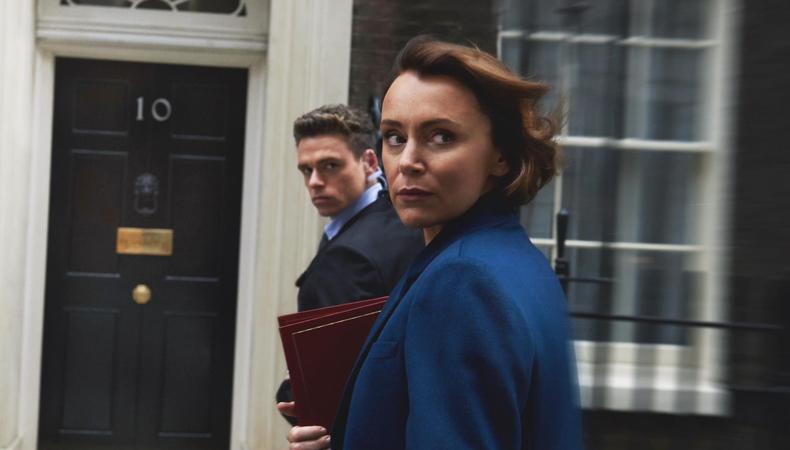 "It's not my fault, the dog ate my remote!" Don't blame it on Fido, you don't need to make excuses – with so much top telly to enjoy this year, it's hard to find the time to watch everything. After all, you've probably been working, having friends and you know, living your life! Whatever your reasons, fear not – we've got your back. Here's Backstage's essential Cheat Sheet to 2018's theoretically unmissable TV, complete with everything you'll need to bluff your way through to 2019!
Bodyguard (BBC)
Over ten million people watched Jed Mercurio's tense contemporary thriller starring Richard Madden as the titular bodyguard assigned to Keeley Hawes' uptight, hardline Home Secretary. From the brilliant opening episode when our troubled hero stops a suicide bomber on a train we were hooked, and multiple twists, conspiracy theories and brilliant acting kept us gripped right up to the final episode. A second series seems inevitable.
How to Bluff it: "For me, Keeley Hawes was the real star …"
Killing Eve (BBC)
Move over 007, there's a new spy in town and she wears a knackered raincoat, has a perm and is more than a little obsessed with her glamorous but probably psychotic nemesis. Fleabag creator Phoebe Waller-Bridge's newest show was just as original and funny as her first, giving the usually very male world of onscreen espionage a full-on reboot. Sandra Oh stars as MI5 desk jockey Eve, consumed with hunting down rogue assassin Villanelle, played by the fabulously bonkers Jodie Comer. A big hit in the UK and US, Series Two is on its way.
How to Bluff it: "Really interesting feminist take on the spy drama"
A Very English Scandal (BBC)
Hugh Grant and Ben Whishaw starred in this darkly comic retelling of the Jeremy Thorpe sex scandal which gripped the UK in the 70s. Grant is Liberal leader Thorpe, whose attempts to cover up his gay relationship with Norman Scott – played by Whishaw – ended up in a botched murder attempt and the end of his career. Grant is brilliantly shady as Thorpe and both leads look like they're enjoying every single minute of this "you couldn't make it up" romp through our recent history.
How to Bluff it: "Isn't it great how Hugh Grant is really revealing his range as he gets older!"
Patrick Melrose (Sky Atlantic)
This TV adaptation of Edward St Aubyn's novels was a bit of a passion project for Benedict Cumberbatch, who has long been a fan. He plays Melrose, a very posh, very troubled young man whose attempts to overcome his awful childhood involve heroin and assorted self-destructive behaviour. Cumberbatch was nominated for an Emmy for his performance, which critics lauded left, right and centre.
How to Bluff it: "Ben was born to play this role!"
Mrs Wilson (BBC)
Fresh from her very mysterious departure from Showtime's The Affair, Ruth Wilson turned to stories closer to home in period drama Mrs Wilson. In this true story she plays her own grandmother, who discovered after her husband's death that he was, in fact, a bigamist. Wilson is great as a woman whose safe suburban life slowly unravels all around her and gets brilliant support from Iain Glen as her errant husband and Keeley Hawes as yet another Mrs Wilson.
How to Bluff it: "Did you know Ruth Wilson had to act giving birth to her own father!"
The Cry (BBC)
Jenna Coleman showed there's more to her than crinolines and Queen Victoria in this contemporary thriller which had the unenviable task of immediately replacing the Bodyguard in BBC One's Sunday evening slot. She's a young mother whose son disappears while on holiday in Australia. Did she or her husband (Ewen Leslie) have something to do with it – or does her husband's first wife, played by Aussie stalwart Asher Keddie, know more than she's letting on? Spoiler: a dingo didn't do it.
How to Bluff it: "Basically Asher Keddie is the Olivia Coleman of Australia."