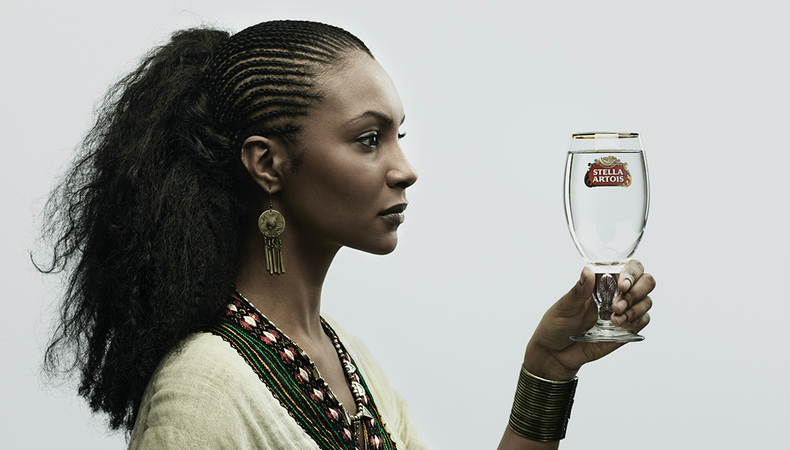 Casting matters. You know that, we know that. But it seems that the organisers of most major awards don't. Casting directors routinely miss out on the recognition given to other creatives like art directors and sound designers. Thankfully, the Casting Directors Association (CDA) and industry awards body D&AD have teamed up to change that. Alongside launching an award for casting at the prestigious D&AD ceremony later this year, the CDA is involved in a series of collaborations with young commercial creatives to give casting and working with actors the space it deserves. We caught up with casting director Tree Petts of the Casting Directors Association and Jana Labaki, senior awards manager at the D&AD, to find out more.
Why have casting directors been overlooked in awards like this?
TP: I'm not sure why casting has been marginalised for years, but wanting recognition isn't to pad out our egos! It's wanting to be seen as part of the team. If you watch a drama on TV, you're not looking at the kitchen in the background, you're looking at the actors. And yet, often there isn't an award for casting but there is for best art direction. It matters just as much.
JL: It may be that casting directors have traditionally been women and that's why the craft was overlooked, but I think that by the time something gets entered for an award, the casting process is one of those that's furthest away in people's minds. That's something we want to change.
What role does casting play in advertising and commercials?
JL: Casting has an essential role because it can make or break an advert. And we're not just talking about moving image but print or voice work. D&AD exists to celebrate great ideas that are well executed and the craft of casting is part of that execution – it can elevate a great idea.
TP: I used to think that casting commercials wasn't exactly saving the world, but more and more now I see commercials as an important way to get a positive message into people's living rooms or onto someone's phone. For instance, we push for diversity in castings, and I have a view that the more people see that in their living rooms, on their tea break or whatever, the more it becomes normal. That's what casting can do.
What do you think makes a casting choice worthy of an award?
TP: I think it's how difficult that spot was to cast and where the CD has gone to get the people. There's a lot of street casting now, and in fact, one of our members was up for an award last year because they cast a nappy commercial from a hospital ward. That doesn't mean everything has to be street-cast; it might just be finding performers who've never had their chance to shine before, someone you've given the opportunity to do something great. Often, getting a memorable performance is about making bold and brave choices.
JL: I was chatting with our president of the jury (CDA casting director Leanne Flinn) and she and I spoke about the Levi's Circles campaign being award-worthy. That must have required lots of research into dance traditions around the world and finding great dancers and performers to convey the spirit of the ad. That's great casting.
How did the partnership with the CDA come about?
JL: We wanted to have an open dialogue people from across the industry, so for the first time ever we now have separate awards categories for crafts as well as industry panels to judge them. Obviously, we wanted to let the people who matter know about that – so our conversation with the CDA started there.
They share our concerns about recognising casting directors, and a lot of the work they do is about promoting casting that reflects society in a fair and relevant way – all things that fit with our values, so the partnership was natural.
How have the CDA sought to make a positive impact and how will this collaboration aid that work?
TP: Alongside our push for diversity, we've been making sure rates are right and that standards are upheld. We always want actors to know that they'll never go to a casting and be propositioned, that they're safe and will feel safe with a CDA member. At the time of #MeToo, it's important to know that a casting director is a professional, as are the people they work with.
Moving forward with D&AD, we're especially excited to be working with up-and-coming creatives in their New Blood and Shift initiatives. We hope to encourage people to think about the casting process in a positive and productive way. That's both about letting them into the work that we do as well as the importance of thinking about casting and working with actors from the get-go. So, instead of writing or designing an ad for a white nuclear family, and it getting through a director and to a casting director before someone asks, "Can we broaden this out," we want to help them represent the British public in all its diversity from the start. And it's exciting that their initiatives are about diversifying who's working in commercials too.
JL: Yes, Shift is for people who haven't gone through formal education. The industry desperately needs people from different backgrounds. The traditional route in is through art college, but there's so much more creativity out there, much of it from people who can't afford to get an education but are amazingly talented.
2018 was a challenging year for the industry. What will the key conversations be for the industry in 2019?
TP: It's interesting because we've been talking about the furore over Bryan Cranston playing someone with a disability and straight actors playing gay characters. I'm not sure we'll get to the point where we ever say, "You can't play this role because you're not such and such." But that works both ways: We also shouldn't be at a point where, for instance, gay actors aren't getting seen for straight parts. We need to make sure everyone is represented regardless of ability, gender, race, sexuality, or class and that none of that should be a barrier to your work.
JL: Absolutely. I feel like the inclusion and diversity debate is over. Now we need to make it happen. It's not about if – it's about how.