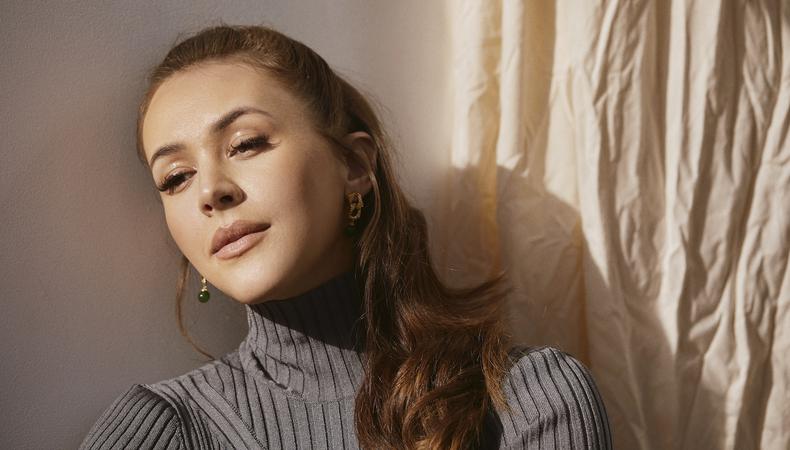 Eliza Butterworth is currently making waves in BBC drama The North Water, and she recently made her West End debut as Princess Eugenie in screen-to-stage comedy The Windsors: Endgame. Meanwhile, her long-running role as Lady Aelswith in Netflix's The Last Kingdom will reach its conclusion when Season 5 airs soon. We caught up with her to hear about her early inspirations and her tips for those all-important auditions.
When did you first realize you wanted to act?
From a young age, I was always putting on little shows for my parents and making my friends giggle with impressions and voices in the playground; but it wasn't until my late teens that I really considered acting as my true passion! We had an incredible drama department at my school that put on the most fabulous plays, and that is where I first started to learn about acting and really got bit by the bug. My parents do not come from an acting background at all, but funnily enough, they are both such larger-than-life characters; and I take a lot of inspiration from them and their personalities. They really helped me follow my dreams.
Did you have any influential early mentors?
Yes, I was so lucky to have so much support around me. When I realised that I wanted to pursue acting as a career, my family, teachers, and friends all helped me immensely through the rigorous drama school auditions. My teachers Trudy Chappell and Jenny Wafer from the English and drama departments at school were so incredible, and they were most definitely my mentors in my acting journey. They helped to build my confidence and supported me through the audition process, which led me to gain a place at RADA when I was 18. I could not have done any of it without them.
Tell us about your role on The Last Kingdom. Did you have any notion of what a big project it would become when you first signed on?
The Last Kingdom is, without a doubt, one of the most unbelievable jobs I have ever had the honour to work on. We always felt that the show was special, even from the first season. The writing is so phenomenal and gripping. It's based on the incredible Saxon Stories book series by Bernard Cornwell, and the story is thrilling, heartfelt, and epic. It has gone from strength to strength, and it's so moving to see The Last Kingdom finally getting the attention it deserves. I am so lucky to be a part of the family. I've played Lady Aelswith from Season 1 and have grown up alongside the show. She's a great character – the fiercely devout, extremely intelligent and protective wife of King Alfred the Great. It has been truly brilliant getting to delve into all the layers and facets of such a fascinating and dynamic woman.
"The work you do in the room might take you further than you think"
When it comes to auditioning, what advice do you have for fellow actors?
As all actors know rejection is one of the main parts of our job. It's very tough but unfortunately inevitable, and I have learnt to embrace the rejection as I have gotten older. I try and take whatever I can from the experience and see it as a learning curve for next time. It's so important to work hard for every audition because even if you don't get the role, you have still showcased your talent to a room of people that will be thinking of you for their next project in the future, or even for a different role in the current project. Every audition is a wonderful opportunity to show the casting director, producer, director, and writer what you are capable of, and that is so valuable.
I love doing research for the role – exploring the era of time where the piece is set, learning the accent, creating a backstory [for] the character, finding their motivations, and trying to inhabit the ideas of the script. Get plenty of sleep, ask friends or family to test you on your lines, [and] prepare as much as possible so that when you get in the room, you can relax. Try your best, and then don't worry too much. The work you do in the room might take you further than you think.
Who do you identify as an inspiration?
I have always been inspired by transformational character actors who take on interesting, eccentric, and challenging roles. I am so inspired by actors who can delve into a range of characters and hone both their dramatic and comedic skills. I adore the work of Imelda Staunton, Julie Walters, Stephen Graham, Fiona Shaw, and Stanley Tucci, to name a few. And there are some unbelievable young actors who are already masters of their craft who I learn so much from, including the amazing Florence Pugh, Daniel Kaluuya, and Jodie Comer.
Filming The North Water must have been a memorable experience.
Filming The North Water was such an awesome adventure, and I was so lucky have worked alongside one of my best friends, Mark Rowley, who also stars as Finan in The Last Kingdom. We had very different roles in The North Water, and it was such a magnificent project that we were so honoured to be a part of. I really enjoyed playing Hester, who is a feisty and mischievous 'lady of the night.' It was so much fun playing a character who is a bit wild.
You recently made your West End debut in The Windsors: Endgame. What was that like?
After the lockdown period, the feeling of playing in a live theatre was like no other. Seeing an audience enjoying a show together and connecting and laughing was so moving and special. I adored playing Princess Eugenie alongside the phenomenal Jenny Rainsford as Princess Beatrice and the legendary Harry Enfield as Prince Charles. We had so much fun delving into the satirical comedy. It was so liberating to jump into a comedic role and learn the art of stagecraft again.
What's coming up next for you?
Alongside the amazing fans, I am so excited to see the fifth season of The Last Kingdom and to reveal the next chapter in this extraordinary saga. This is going to be such a wonderful season, and our audience will be so captivated by the new adventures. I can't wait for everyone to see it.
The North Water is available to stream on BBC iPlayer