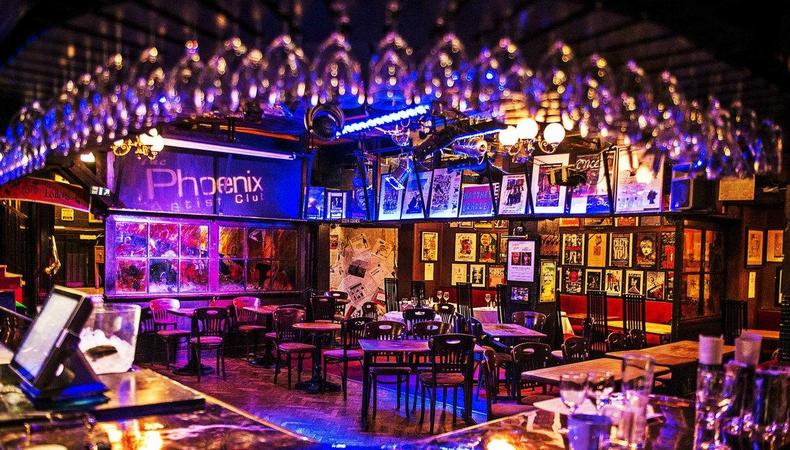 For most of us, a visit to the theatre is primarily a chance to enjoy the very best theatrical arts, but what play or performance can't be enhanced by a teeny weeny drinky-poo? Sociability is an important part of a successful modern arts space, and after some seriously gruelling research we've rounded up London's very best theatre bars for your delectation.
The National Theatre bars
South Bank – Upper Ground, Lambeth, London SE1 9PX

The National has a prime location, perched on the Southbank and overlooking the river – so you might as well take advantage of it. The Understudy is a bar created from what was the National's bin store (the glamour of theatre!) But with its informal atmosphere, upcycled furniture made out of old props, and excellent drink selection, this bar is a keeper. Also worth mentioning is the National's Terrace Restaurant, a relaxed bar and eatery with great views and a genuine theatrical feel where you never know who'll you meet. The National – and the Southbank in general – is a top pick.

READ: What Is the National Theatre?
The Phoenix Arts Club
Soho – 1 Phoenix St, London WC2H 8BU
Underneath the Phoenix Theatre on Tottenham Court Road is one of theatreland's most charming haunts. The Phoenix Arts Club bills itself as the place where entertainers go to be entertained, and it has an authentically quirky atmosphere, with piano singalongs, cabaret acts, and West End actors enjoying a tipple after work. The Phoenix combines an old-school pub vibe with a vaguely camp sensibility, making it one of our favourite places in London.
The Bush Theatre
Shepherd's Bush – 7 Uxbridge Rd, Shepherd's Bush, London W12 8LJ

Over in west London, beyond Notting Hill, lies the newly refurbished and revitalised Bush Theatre. Its fine Library Bar boasts a good selection of drinks, workspaces, and – best yet– hundreds of play texts to peruse if you're in need of inspiration! There's also a small outside drinking terrace that's a great sun trap come the summer.
The Soho Theatre Bar
Soho – 21 Dean Street, London W1D 3NE
Open during the day and well into the evening, this Dean Street institution is often packed to the rafters. It's buzzy without being pretentious and the clientele includes theatregoers, arty types having meetings over Macbooks, and off-duty actors. Last time we were day-drinking here we saw Phoebe Waller-Bridge enjoying the ambience – need we say more!
The Cut Bar @ the Young Vic
South Bank – 66 The Cut, Lambeth, London SE1 8LZ
The Young Vic aims to be a place that engages all sections of the community, and if the usually packed Cut Bar is anything to go by then it's doing a good job. In the summer, the bar's easy-going atmosphere spills out on to the street, marking its dominance of this cultural, buzzy quarter. It's a successful formula the Young Vic's older sibling down the road has also tried, but the Cut Bar remains a cut above.
READ: Why Is the Young Vic Theatre So Influential?
Wilton's Music Hall
Whitechapel – 1 Graces Alley, Whitechapel, London E1 8JB
Opened in 1828 and is still going strong, Wilton's Music Hall is a lovely, evocative place for a tipple or two. Grade II listed, it's one of the world's last surviving grand music halls and has several wonderful bars – the Mahogany Bar, the Cocktail Bar, and the brilliantly named Champagne Charlie Room should you ever need a place for a private event. Glamorously downtrodden, Wilton's is charm personified. 'Ave fun, guv!
The Royal Court Bar & Kitchen
Chelsea – Sloane Square, Chelsea, London SW1W 8AS
Slap bang in the middle of very posh Sloane Square is the Royal Court Theatre, known primarily for its championing of new writing. And slap bang beneath the theatre is its cavernous and enticing bar space, where you can happily linger many an hour away while waiting for an audition, or for that very attractive stranger to notice you waiting for an audition! Atmospheric and stylish, this SW1 mainstay is definitely one to be seen at.
The Hampstead Theatre's Café Bar
Hampstead – Eton Ave, London NW3 3EU
If you want drama, and we're guessing that's exactly what you're after, then architecturally, the bar at the Hampstead Theatre delivers. It spans the length of the building with huge top-to-bottom windows framing the NW3 view, which is especially great in the summer. Also excellent is the bar's decision to specialise in gin – well done, them!
Swan at the Globe Theatre
South Bank – 21 New Globe Walk, London SE1 9DT
To booze or not to booze? It's not really too difficult a decision at the Globe, with its lovely selection of riverside bars. Swan Bar and Restaurant links to the theatre, so you can enjoy a swift half inside looking at the Thames, or in the Globe's ample courtyard; and if you've got a ticket, you can take your drink in with you. Two points to note: the restaurant is relatively fancy, and the bar shuts at half past midnight on Fridays and Saturdays. Points duly noted.