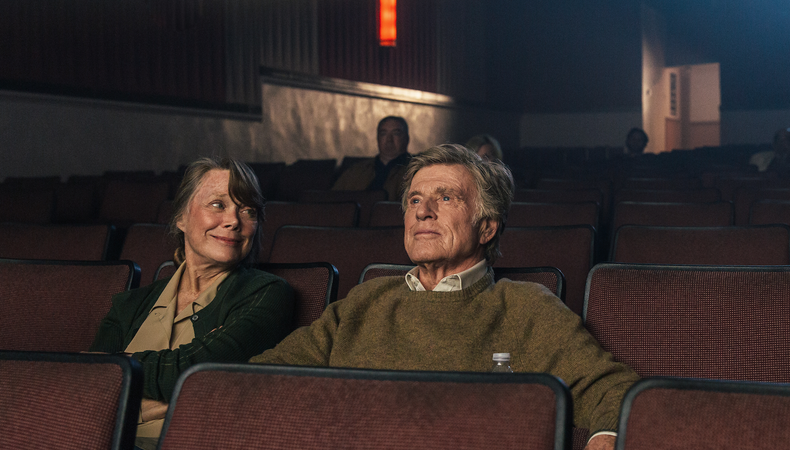 Hitting UK cinemas this week is The Old Man & the Gun, a comic drama about an ageing bank robber who embarks on one last flurry of heists. Whether it's great, or a stinker, it will mainly be notable as Robert Redford's last film – unless, of course, he changes his mind! For whatever reason – retirement, tragedy or perhaps even jetting off to Monaco to marry a prince, an actor's final role is always interesting. Here are nine of the most intriguing on film and one from television just to keep you on your toes…
Grace Kelly in High Society (1956)
Kelly seemed tailor-made for the role of champagne socialite Tracy Lord in this classic 50s musical. Kelly manages to reveal the character's vulnerabilities beneath her chic highly polished exterior while also showing off some light comedy chops too! Not a bad choice as her final role before she retired at the tender age of 26 to marry Prince Rainier III of Monaco.
Daniel Day-Lewis in Phantom Thread (2017)
Lauded as one of the greatest actors of his generation, Daniel Day-Lewis' decision to retire from acting at the age of 60 was much lamented. Luckily, he left us with the character of Reynolds Woodcock, pernickety dress designer/control freak in Paul Thomas Anderson's Phantom Thread. It's thought the publicity surrounding DD-L's "last role" didn't hurt the film at the box office either.
Heath Ledger in The Dark Knight (2008)
OK, we admit we cheated a little here as Ledger's actual last role was the lead in Terry Gilliam's The Imaginarium of Doctor Parnassus, but it's as the Joker in The Dark Knight for which he might well be remembered. He totally dominates the film with a manically brilliant, career-defining performance which won him a posthumous Oscar a year after his tragic death at the age of 28.
Carrie Fisher in Star Wars: The Last Jedi (2017)
There are some roles that define a career, and Carrie Fisher's portrayal of Princess Leia Organa in the Star Wars films was definitely that. So, it's perhaps fitting that her last film was part of that universe. Although she once said she would rather have played Han Solo, Fisher brought force, class and wit to Leia. She died in 2016 but it's rumoured Leia may return in some form in the next instalment, Episode IX, due next year.
Jack Gleeson on Game of Thrones
Irish actor Jack Gleeson is best known as one of TV's most hated characters, the evil King Joffrey in worldwide TV phenomenon, Game of Thrones. Cruel but charismatic, Joffrey was one of the series' stand-out characters, but when "His Royal Awfulness" got his comeuppance, 22-year-old Jack decided to permanently "retire" from acting and go to university instead.
Gable and Monroe in The Misfits (1961)
John Huston's western drama has the debatable honour of being the last completed film of both Clark Gable and Marilyn Monroe. Drama off-screen overshadowed what many critics have come to see as career-best performances from both actors. Gable died just after filming and Monroe died just a year later.
Audrey Hepburn in Always (1989)
The beloved star of Breakfast at Tiffany's last role was in the Spielberg schmaltzfest, Always. Beloved as much for her style as her acting, Hepburn spent most of the film in a white chunky knit playing Hap, a heavenly being who offers advice and guidance to Richard Dreyfuss' recently departed pilot. Perhaps a final performance to be glossed over.
Peter Finch in Network (1976)
"I'm as mad as hell and I'm not going to take this anymore." As film quotes go, it's one of the more memorable and that's mainly down to Peter Finch's brilliant performance. He's Howard Beale, deranged newsreader who slowly unravels in front of the cameras in this clever media satire. Finch died while promoting the film but won that year's Best Actor Oscar – only the second acting award given posthumously.
Peter Ostrum in Charlie and the Chocolate Factory (1971)
When is a retirement not a retirement? Probably when you've only played one role and decided that actually acting is not for you. For 14-year-old Peter Ostrum who played Charlie in the 1971 version of the Roald Dahl Classic, this was his first and last role. He went on to have a long and successful career as a vet.
Henry Fonda in On Golden Pond (1981)
Henry Fonda's last cinematic outing was very much a family affair. Starring alongside his daughter Jane, Fonda won an Oscar for his portrayal of an elderly curmudgeon whose strained relationships come to a head while vacationing on the idyllic Golden Pond. Katharine Hepburn, who played Fonda's wife, also won an Oscar.