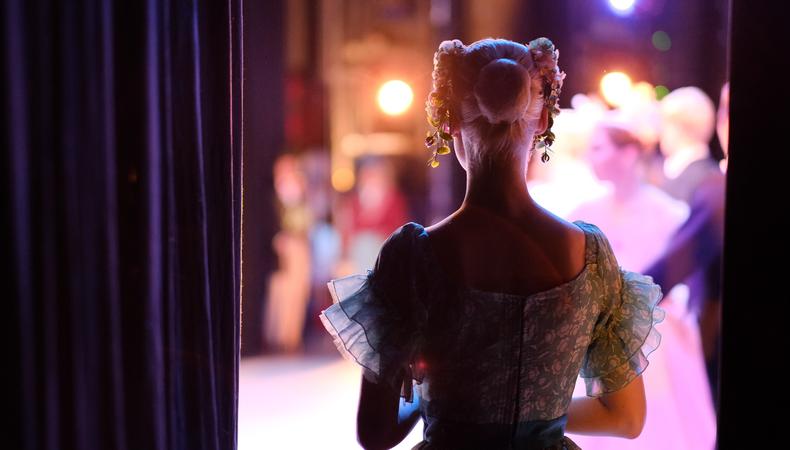 Understudying in the West End might sound glamorous, but what's the reality for these tireless performers with one of the hardest jobs in theatre? Backstage spoke with three top London understudies to learn their secrets.
Chipo Kureya is currently understudying Hermia in the Bridge Theatre's A Midsummer Night's Dream. Previous productions include Harry Potter and The Cursed Child. Eva Fontaine has recently understudied the lead role in the Emilia Bassano play Emilia at the Globe Theatre, and Miranda Heath has most recently understudied for Zawe Ashton in Pinter's Betrayal starring Tom Hiddleston.
How did it feel to audition as an understudy for your most recent role?
MH: I knew who the actor was; I knew she was mixed-race, tall. I knew I was ticking boxes. But I had to go in thinking: "I'm going for the lead part" because that could happen. Go in and say: "This is my version." I went in with my own confidence and style to know I could be playing a leading lady. If you do anything else you're undercutting yourself. The second you start second-guessing, it complicates things.
EF: One of the things which made the job enjoyable was the role of Emilia itself – I really connected to the text. I hadn't seen the play, so although I knew the actor, I didn't know how she interpreted the character. So, preparation-wise, don't even think about the actor.
How does onstage understudying compare to offstage? [see glossary, below]
MH: For Betrayal, I was an offstage understudy – when you know what you're auditioning for, it's a lovely gig. Obviously, the real dream is to be the lead in a wonderful show, but as a jobbing actor going from one job here to another day there, it's great to be able to think: "I know what I'm doing for three months!" I could pad around in my slippers in the dressing room, say hi to wardrobe, play a game with the kids – it's not a bad life at all!
CK: In Midsummers I also play Peaseblossom, so I'm not sad that I'm not on for Hermia every night, which is how I imagine offstage understudies feel. It could be quite distressing to watch other people living your dream. For Harry Potter, I didn't have any lines, but was in the ensemble. I was understudying other actors with small parts, so that if they had to go on as the leads I could take over their smaller part. You're a small cog in a big machine. But each night I still took my bow and felt I was part of the job.
How do understudy rehearsals actually work?
EF: We started rehearsals a week after the main cast – it was a bit frustrating as we really wanted to be involved. So, I spent that week at home poring over the script. The main cast already knew certain routines to music, etc. That was quite tough: actors get excited about doing something so we just want to get started!
MH: Our rehearsals were separate to the main cast, which was lovely because then we could just get on with it. We were given the freedom to explore, but we were reigned in if we were going in a ridiculous direction – which means you have some ownership over the role. It was only towards the end of the process we started watching the main cast. They were two weeks ahead of us. All their rehearsals were filmed and we would look at this to check we weren't veering off in a crazy direction. Jamie Lloyd [Betrayal's director] would work with the main cast morning to afternoon, then we would come in for the afternoon, have a chat and cup of tea in the crossover, and work until the evening with the associate director.
How do you manage your nerves when you unexpectedly need to go on?
CK: During Harry Potter, I went on in 16 capacities – it was incredible, brilliant. I was scheduled to go on, so I knew exactly which days this was happening. But because of the nature of the show [and because] I was understudying two roles, I also went on as a surprise. When I took the job, I was resigned to the idea it would be good for my CV but that I would probably never perform. So, when it happened – wow! But I was supported by people who knew their tracks. You've done the work, this is what you've been waiting for... The trouble is if you haven't done your work and you're not prepared. It has happened on some shows where the understudies just aren't ready. You don't want that to be your story.
MH: The Number One question I get asked: "Did you go on?" And when the answer is "no," their response is: "Ah, bet you're gutted!" – but we had a full run of the show every week with costumes, tech and notes, and those were my favourite days! Honestly, I would not wish to go on. To do it with the actual cast in this very intimate, "kissy" show would feel very different to how we ran it with understudies.
READ: 6 Ways to Be a Great Swing or Understudy
What do you do in the downtime? Is there downtime?
EF: There was! Even though we were onstage understudies, there were lots of time when we weren't on stage. I caught up on social media and ate a lot, but I also watched the show. We had limited rehearsal and so many roles to cover, so I did some mental tidying: Ok I go off here and on here, and worked on all those trickier bits.
CK: There is NO downtime!
MH: I thought I would be living the life of Reilly, with plenty of time, but I was way busier than expected. It was an eight-show week and I would watch one or two of those shows per week. We also had our understudy run rehearsal and regular line runs, so the week fills up. During the actual show I would often work on my timing "with" the main cast on the speaker, because you can hear them onstage from your dressing room. And sometimes, I would just read a book.
Anything else we should know?
EF: I know some people who have made a career out of understudying – a very happy career – but it's not for everyone. We all know, as actors, your first performance is different to your third and to your tenth. There's nuance and development, but you don't get that understudying. You've got to know what you want out of it because it's hard work! Oh, and get off-book as quickly as possible.
CK: As an understudy, it's important you're very close to what the main cast is doing, otherwise cues or lights won't go off in the right place. It's a case of know the lines and hit the same marks – but it's not actually your role. Really hone in on your own sense of self-worth because while people are running around after the stars, it's easy to feel despondent. No one is going to ask what your requirements are ­– you need to take care of yourself. It might not always feel like it, but without understudies you literally can't do the show. You're there to save the day!
Glossary
Offstage Cover: An actor who only appears on stage for the part they are covering.
Onstage Cover: An actor who is already playing a role, and is understudying another role in the same production.
Swing: An actor who is covering multiple roles, possibly in an ensemble.
For more from Backstage UK, check out the magazine.