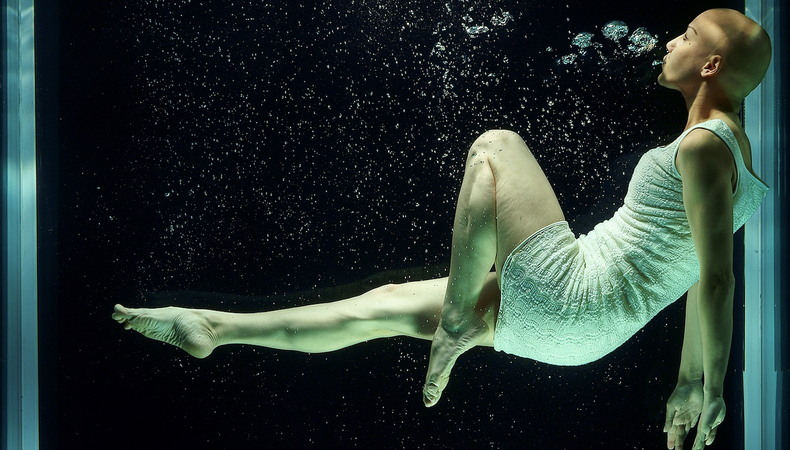 Today's left-field is tomorrow's mainstream, and this week, NFTE discovers what's stirring in the world of one-woman shows, why they are on the rise and how you might get involved.
Sceptics waving West End brochures may be right for now: the mainstream theatre hub isn't yet awash with one-woman shows – but something is happening out there. It's unlikely that Wicked will be replaced by Wendy from Warrington any time soon, but look to the fringe and you'll see that the number of one-woman shows are on the up.
In fact, you only have to look at Soho Theatre's programme for 2018 and you'll notice the sheer number of vital stories being told by women alone on stage – shows like Drip Feed by Karen Cogan, Fabric by Abi Zakarian, and Maddie Rice's Pickle Jar.
The trend is nudging the mainstream, too: Dust, a play about the aftermath of a suicide by Milly Thomas, recently finished a run at the West End's Trafalgar Studios to critical acclaim, while Anoushka Warden's play My Mum's a Twat kept the audience spellbound at the Royal Court. And Bryony Kimmings' I'm a Phoenix, Bitch opened to rave reviews at the Battersea Arts Centre.
Why this burst of brilliance?
There are two main reasons why women are choosing to put on one-woman shows and theatres are choosing to programme them.
The first is cost: taking a one woman show to Edinburgh or touring it is clearly a lot cheaper than carting a cast of 12 around the world. A three-week run on the Fringe with an extremely small cast can cost at least £12,000: there's the director, tech, set design and marketing, the building itself and of course Equity minimum for the actors. And with arts local funding cuts of £14m in 2016–2017, performers and writers are having to look at new ways to put on shows.
But the second reason is equally important: it's because the one-woman show is a form that works well with new voices and new stories.
Cecilia Gragagni, who completed a four-star run at this year's Edinburgh Fringe with her show Diary of an Expat, agrees. She told Backstage: "I decided to do a one-woman show for two reasons. The solitude of expats interested me, so thought a solo show would work well. Plus, it's easier to tour with just one person to make it as light as possible to travel. So I decided on a solo show partly for artistic reasons and partly for economic reasons."
Why does it matter?
One-woman shows are crucial if we want to redress the balance of female playwrights. Nationally, around 23% of all plays are directed by women, while fewer than a third are written by women. Stats collected by Victoria Sadler show that buildings may be more hesitant to commission female writers than male writers, with only two major London theatres achieved writing parity.
Yet what unites many of this years' one-woman shows is an almost uninterrupted string of four- and five-star reviews, demonstrating that bigger casts and more expensive productions don't necessarily mean higher quality. Some of this year's best-received shows include Notes from the Field by Anna Deavere Smith, Monica Dolan's The B*easts, and Good Girl by Naomi Sheldon.
What's the insider's view?
Pickle Jar actor-writer Maddie Rice told us: "I really do enjoy talking to the audience as it feels different every day. The energy in the room is always different and that's inspiring."
But she adds: "The loneliest bit of performing a one woman show is when you come offstage. You never feel lonely on stage, but then you come off and you're like, where is everyone!"
However, Cecilia Gragagni says that performing can be a vulnerable experience: "Being on stage alone means the whole energy of the piece depends on you – you can't allow yourself to bring it down. It can be quite vulnerable as unless you're a huge performer, you're always performing in spaces that are very close to the audience, so you can feel them and see their reactions."
In Pickle Jar, Rice honed the script to keep the energy going. "I added in a big dance in the middle of the show because I felt, at that point, both me and the audience needed a bit of a break. As a solo performer you begin to sense times when you feel like something needs a shift in energy. Things I learned quickly performing alone were that you have to listen to the audience, and look at them, and see where they are. If they're excited you get with them. If it's a Tuesday night and everyone's tired, then you go with that too."
How can I get involved?
Getting up on stage solo requires guts, but also huge conviction in your text. The flipside is that you need far fewer people to get a project off the ground – initially just you.
Maddie Rice's big tip is to workshop as hard as possible and do as many scratch nights as you can. She adds: "Figure out why you're doing a solo show. Question all the time, and also get a second opinion on all your content!"
If you get it right it can accelerate your acting and writing career, but the learning curve can be unforgiving. Clair Whitefield's show Chopping Chillies was a 6,000-word poem in which she played eight different characters. She told us: "I was on stage at the start of my run in Edinburgh. I came to the end of a line and silence fell. Nothing. And I realised that if I didn't start speaking again and pick up the next line, there would be silence. Followed by even more silence. And in those three seconds of growing stillness it hit me – that everything rested on me. When it's a solo show it's all on your shoulders – there's nowhere to hide!"