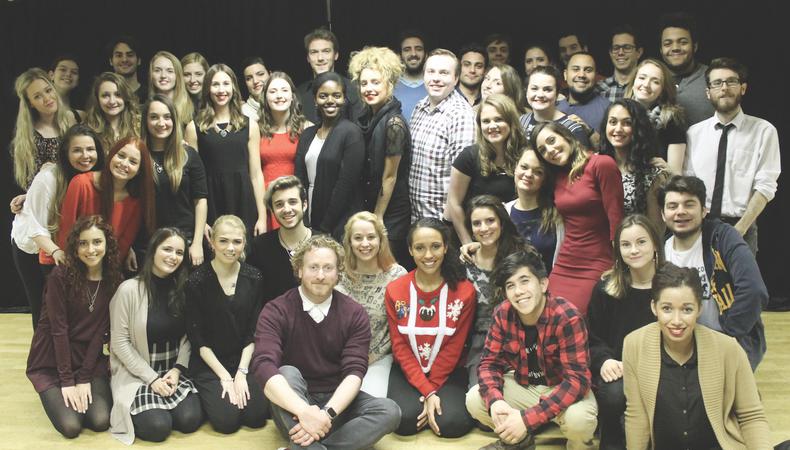 Actors in New York or Los Angeles have their 16 audition-room bars at the ready. But actors in London are expected to do a full run-through of their audition songs.
Being unaware of a difference in requirements but having dreams of performing on the other side of the pond—regardless of the side on which you currently find yourself—means enrolling in a program at the American Musical Theatre Academy of New York or London could be beneficial.
With campuses in both NYC and the U.K., AMTA provides technical and cultural learning experiences, as well as networking opportunities for aspiring actors and musical theater performers. "These are one- and two-year programs; it's kind of like a finishing school," says AMTA co-founder and Executive Director Kenneth Avery-Clark.
While partly a "finishing school," AMTA is also for those at the start of their careers, offering a preparatory program that eases the transition from high school into a three- or four-year theater degree.
For both levels, the academy takes an integrated approach to teaching and doesn't designate days for dancing or singing; all disciplines are honed consistently and on a daily basis. In addition, AMTA connects students with industry professionals, agents, and casting directors located in both cities by having American students travel to train and perform in the U.K., and vice versa.
"That came up by being in the West End in musicals and talking to my English friends and them all saying, 'I want to work in New York,' and my friends in New York saying, 'I want to work in London!' " Avery-Clark says about that aspect of the program. "There are schools that take their students to New York but go on show-watching trips and more of the cultural experiences—we're trying to do something different…. Not only do we take students to the opposite side of the pond, we want them to be taught by people in the industry on both sides, too."
Faculty members training in both cities currently include Ethan Popp, the music supervisor for Broadway's "School of Rock"; former Backstage columnist Michael Kostroff, known for his role on "The Wire"; casting director Alison Franck; Royal Ballet School alum Glen Snowden; West End actor Kirsty Hoiles; and other specialists in stage combat and musical performance.
When seeking students prepared for this level of instruction, either for the preparatory program or the professional development program, there's a common requirement (in addition to talent): There can't be a Plan B.
"I don't want [professional trainees] to leave here and go, 'Where do I go train now?' " Avery-Clark says. "[Upon admission] I have to believe in my heart that after your time with us you will go into the industry."
Auditions are held throughout the year but the sooner one applies the better, as spaces are limited. Audition videos are required from those unable to do so in person.
Don't make videos too polished, advises Avery-Clark, otherwise it begs the question, "Is the studio helping them or is that really their voice?" But be sure it's easy to hear and see what's being showcased. Look presentable and don't forget to introduce yourself!
"We want people who we feel have that fight in them to do this," says the executive director. "It's not an easy road to be a professional actor, so there's a certain psychological element that I pay close attention to. You can have all the talent, but if you don't have the drive or the ambition, the 'no pain, no gain' attitude, it's going to be very hard to survive. We always ask our students, 'Do you understand how hard you really have to work? Do you really want it or do you think you want it?' "
Inspired by this post? Check out our theater audition listings!