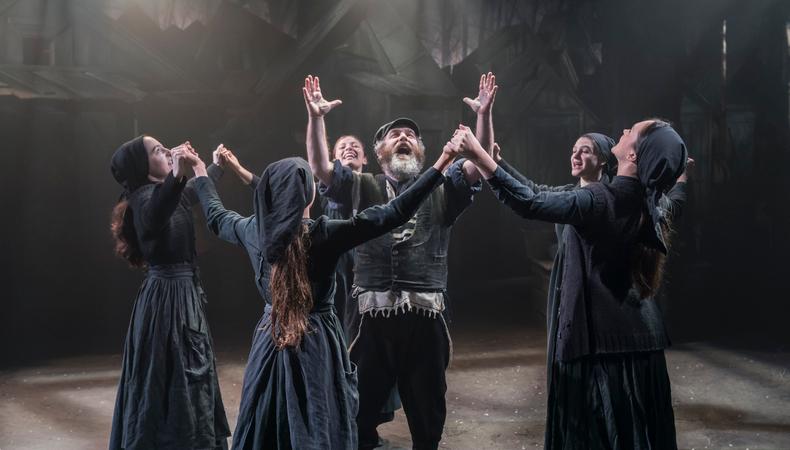 If you feel like Oscar Wilde when he said: "I love acting. It is so much more real than life…" then you're in the right place! With industry news, the latest castings, and upcoming projects, we'll make sure stay updated on the ever-changing theatrical world. Whether it's West End, fringe or regional theatre, we have your back.
If I were a rich man, I'd see Fiddler in the West End.
Trevor Nunn's production of Fiddler on the Roof, currently playing to sold-out audiences at the Menier Chocolate Factory, will transfer to the Playhouse Theatre and run from March until June 2019. The Playhouse will undergo a transformation to make space for the immersive quality the production has at the Menier. The show's stars Judy Kuhn and Andy Nyman will transfer to the West End as Golde and Tevye, respectively, but full casting is forthcoming.
Who runs the world? Girls.
The Susan Smith Blackburn Prize for female playwrights has announced this year's list of 10 finalists. They are: Lauren Yee for Cambodian Rock Band, Debbie Tucker Green for Ear for Eye, Jackie Sibblies Drury for Fairview, Lily Padilla for How to Defend Yourself, Ella Road for The Phlebotomist, Martyna Majok for Sanctuary City, Nina Rain for Stories, Heidi Schreck for What the Constitution Means to Me, Ella Hickson for The Writer, and Hilary Bettis for 72 miles to go.... Each finalist receives $5,000 each, and the winner will be announced on 4 March at Shakespeare's Globe and will win $25,000 and a signed print from Willem de Kooning.
A rose by any other name.
Hamilton and On the Town star Miriam-Teak Lee will take on the role of Juliet in a new musical called & Juliet, which follows the events of Shakespeare's play but imagines that Juliet survives the end of the show. With music from legendary songwriter Max Martin, who's written songs for the Backstreet Boys, Britney Spears, Ariana Grande and other big stars, the show will feature I Can't Feel my Face and other contemporary hits as Juliet goes to Paris to mourn the death of her Romeo. Luke Sheppard will direct the piece, which premieres at Manchester Opera House in September before moving to London at the Shaftesbury Theatre in November.
READ: So You Want to Act in the West End?
The demon barber of Fleet Street visits Liverpool.
Nick Bagnall is directing a bold revival of Sweeney Todd at the Liverpool Everyman Theatre this spring. With just nine cast members, the show will be a "stripped-back, rough, hard-edged" production of the popular Stephen Sondheim musical. Liam Tobin will play the titular barber, alongside Kacey Ainsworth as Mrs Lovett, Keziah Joseph at Johanna, Paul Duckworth as Judge Turpin, Shiv Rabheru as Toby, Dean Nolan as Pirelli, Bryan Parry as Anthony and Mark Rice-Oxley as the Beadle. The final members of the ensemble are yet to be announced. Opening in April, don't miss this new take on a well-loved classic.
A beloved children's tale gets a new life.
The UK tour of In the Willows, a new musical version of The Wind in the Willows, has announced further casting. Clive Rowe, slated to play Mr Badger, will be joined by Seann Miley Moore from The X Factor and Let It Shine performer Matt Knight. The production will incorporate BSL and will be accessible to both D/deaf and hearing audiences, with deaf street dancer Chris Fonseca in the ensemble. This new version of Kenneth Grahame's story is written and directed by Poppy Burton-Morgan with music by Keiran Merrick and Pippa Cleary. The tour opens on 22 February in Exeter and winds its way across the country before ending in Bristol in June.
READ: How to Perform at the Fest Praised as the Future of UK Theatre
Sherlock star takes a turn as a robot.
Mark Gatiss, known for his role as Mycroft Holmes on BBC's Sherlock, is giving his voice to Michael Dennis' debut play Dark Sublime, opening in June at Trafalgar Studios. Joining an already-cast Marina Sirtis (Star Trek: The Next Generation), Gatiss will voice a computer called Kosley in a play that explores the worlds of science fiction and hero worship. The production will be directed by Andrew Keates with further casting forthcoming.
Mischief Theatre can do no wrong.
Mischief Theatre, with huge hits The Play That Goes Wrong and The Comedy About a Bank Robbery, will delight again with their new show Groan Ups, which explores all the comedy and drama in the process of growing up. The show is the first in their year-long residency at the Vaudeville Theatre, and promises two further productions from Mischief in the coming months. Groan Ups, written by Henry Lewis, Jonathan Sayer and Henry Shields, will feature the original Mischief Theatre company under Kirsty Patrick Ward's direction. The show opens in September 2019 with tickets on sale now.