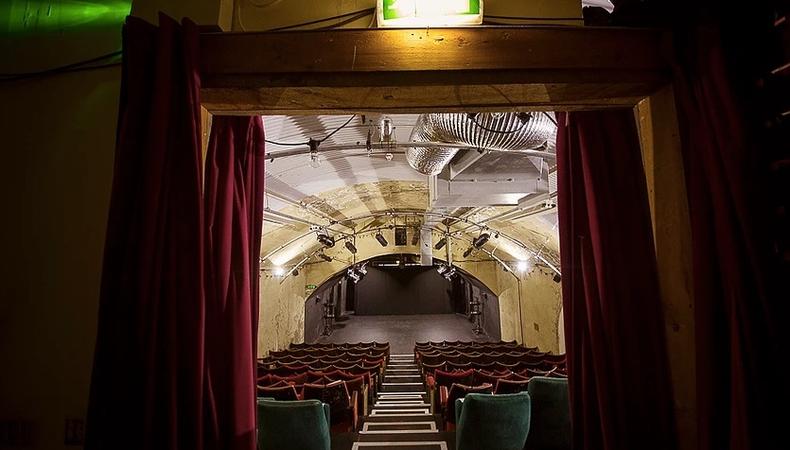 In 1947, eight theatre companies arrived at the Edinburgh International Festival uninvited to showcase their work to the huge Festival audience. This was the birth of the both the Edinburgh Fringe and the concept of 'fringe'. Edinburgh needs a whole series of articles or a guide book written for it. Right now, we're going to focus on the London Fringe: not a festival, but an idea.
It would be easy to think of fringe as anything which doesn't take place in a 'proper' theatre, like, for instance, The Almeida. Yet theatres like The Yard in Hackney Wick and The Finborough in Earls Court feel like 'proper' theatres with artistic directors, returning audiences and successful shows that transfer to the West End and The National. It would be easy to think of theatre in unusual spaces as fringe. But companies like Les Enfants Terribles increasingly use found spaces for commercially minded events like Alice's Adventures Underground and Secret Cinema have lucrative partnerships with global entertainment brands like Star Wars. Neither are very fringe.
It would be safe to say that somewhere like Islington's Old Red Lion is an example of fringe. It's a 50-seat venue above a pub. There are exceptions but generally, if it's above a pub, in a basement or it used to be a car park then it's probably fringe. But why try and define what is fringe and why should you care? Because fringe venues are different from traditional theatre in many respects. Most importantly for actors, it's vital to understand what not being a producing theatre means.
Anyone can put a play on in a fringe venue providing they pitch it and put some money down for it. This means that the artistic and production quality varies wildly along with the working standards. Worst case: a bad play with a first-time producer and director with no budget, no stage manager, and no clue. Best case: a great play with a veteran team who pay fairly and have ambitions to take the production to other venues, e.g a tour or transfer.
It's hard (but not impossible) to make it work financially. The King's Head in Islington is committed to producers paying actors the National Minimum Wage. At the other end of the scale, the gigantic and industry respected Southwark Playhouse have no qualms about allowing casts to work for free or profit share. However, if you think the play, the part, and the team are worth it, you can make a fringe show work around part-time jobs and the producer should respect other paying commitments.
An audience isn't a given. Casting directors, agents and the industry do go to see work on the fringe and it's where many an actor has made their break. You need to be realistic though, the chance of a break is slim. Productions with runs of less than three weeks are unlikely to get reviewed and fringe venues find it hard to attract audiences for unknown work. Worst case: the audience is just your mates, no one you invited can or will make it, there are no reviews or buzz but you've got another line on your CV. Best case: great marketing, publicity and reviews make it a sellout show and even if the invited industry don't turn up they'll have heard about it.
The process might be less than professional. Yes, you're happy to muck in and sweep the stage. But are you happy with rehearsing in the producer's bedroom? Probably not. Well-intended shoestring productions are everywhere. Well funded, properly resourced and professionally managed productions are harder to find. Look out for what else the producer has worked on, ask around to see if you can find out anything about the company and don't be afraid to draw the line at your own comfort level. Fringe is about give and take. Worst case: rehearsals will be shambolic, miles away and at odd times when the producer's housemates are out. Best case: the team have got their act together, have funding or money in the bank, there's a rehearsal room (of any standard), a schedule that people stick to and you only have to sweep the stage once or twice.
It might be the right production at the wrong time. Truly great theatre appears on the fringe, but with so many productions happening at any one time, it's easy to get lost in crowd. August is a bad time for London fringe venues because everyone is away, often in Edinburgh. Christmas isn't great unless it's a Christmas show and there are dips in audience numbers as the weather changes. Summer: audiences understandably won't want to be in a stale hot box squeezed next to sweaty strangers. Winter: audiences don't fancy catching frostbite in an unheated former shopfront in Peckham.
London's newest fringe venue and festival The Vaults replicates the Edinburgh model where multiple productions share the one space over the course of a day. Be aware that, unlike Edinburgh, London audiences don't see theatre at 11 in the morning or 11 in the evening because they aren't on holiday.
It might be the best thing you've ever done. Fringe is accessible, avant-garde, trouble making and risk-taking, dangerous, exhausting and energising, joyous, tragic, close-up, interactive, smelly and a lot of fun. It's impossible to name every brilliant director, designer, producer, actor, composer, librettist, writer and choreographer who started making fringe work and on occasion still do. Don't listen to advice from snobs, the fringe is what you make of it. Generally, people make a few mistakes and a few great friends.
Check out Backstage's London audition listings!