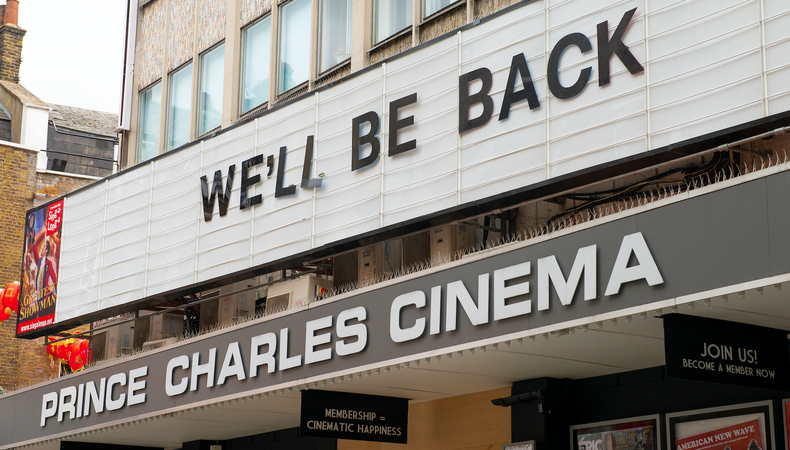 The current crisis facing actors poses major challenges when it comes to personal wellbeing. Coronavirus restrictions have forced almost all theatres to close their doors, leading to a chronic shortage of work and its attendant stresses. And while film and TV work is proving more buoyant, there is widespread concern among all performers about their profession.
Tom Machell is an actor and writer who, like many, saw all his work put on hold when the lockdown started in March. "The worst part about all of this has been not having a sense of purpose," he tells Backstage.
"I have realised how much I need and love working in a room or on a set with a bunch of people to make something. It's been really difficult to accept the reality of the situation and the impact it is going to have on my job for a long period of time."
Although he qualified for the government's Self-Employed Income Support Scheme (SEISS), Machell is nervous about the coming winter, when the grant will be reduced to just 20% of a freelancer's usual profit: "It scares me going into the Christmas period as it's so unpredictable what is going to be allowed and not allowed in the coming months and the fact any support that was there is disappearing fast."
Actor and stuntman Serhat Metin says his career was looking up at the beginning of the year. "Before lockdown, I was in a great place mentally and physically," he tells us. "My acting career began to really kick off after landing a role in the hit TV series Gangs of London."
But the restrictions left him facing a grim new reality. "This situation has affected me mentally, physically and financially. All filming was paused. Auditions were held online but not much was happening. It has been overwhelming trying to secure new roles and opportunities."
Actors have always been susceptible to mental health difficulties, partly due to the inherent precarity of the profession. But the current situation has put many under unprecedented strain. A recent report from the Film and TV Charity, submitted to a government inquiry into the impact of Covid-19 on the culture sector, says: "As a result of joblessness, the lack of government support, and isolation – on top of the already very high incidence of mental health problems affecting this workforce – we're now beginning to see what might fairly be described as collective trauma."
The crisis has led to a surge in demand for mental health support. Charlotte Armitage is a psychologist who also runs an acting school, YAFTA. She says the demand for her support groups has surged in recent months, with over 500 people signing up for one session that only had 20 spaces.
"I think people are really frustrated," she says. "Acting is a tough industry anyway, but now there is less work at every level of the industry. Your mental health starts to decline when you feel uncertain about the future, that's what gives rise to fear and anxiety."
But there are things, Armitage says, that actors can do to mitigate these feelings. "It can feel like there won't be a future in the industry, but there will be. You just need to adapt and change with it. There are still things to get involved in and ways to stay part of the community."
She adds that maintaining body as well as mind is key. "You also need to look after your physical health – so take some time out to go for walks, and make sure you keep on top of your diet and sleep."
She recommends switching off the news cycle – or "doomscrolling," as it has become known. Connecting with fellow actors is important, she says, as is thinking about using this time for career development. "Things are picking up, the industry is moving, it's just different," she adds. "I never thought we'd be running acting courses at YAFTA online, but now we are."
Production is picking up again – find your next role in our UK Castings
Creativity, the lifeblood of acting, can be a salvation during such challenging times. Actor and singer Billy Walker says taking part in the weekly "clap for carers" inspired him to start entertaining his neighbours using a PA system in his front garden. This led to him performing gigs in care homes and other settings, raising money for good causes in the process.
"Self-care for me was about getting motivated and giving myself something to do," he told Backstage. "I actually did 60 gigs in 12 weeks, and raised £20,000 for my local hospice charity. It was incredible."
But what about those who feel less compunction to perform at the moment? Tom Machell advises that writing can be therapeutic. "Take away the thought of 'who or what is this for?' and just do some free writing exercises – you will be amazed at how much better you feel," he says. "I would also focus less on what is happening in the next few months and focus more on what is happening today and tomorrow. Little wins are big wins at the moment."
Others have turned to more traditional methods of self-care. Actress Komal Amin, who was working on a new production at Theatre Royal Bath when the lockdown started, says she has found meditation a "huge help" over the past few months: "It's really helped me so much in dealing with negative emotions, anger, sleeplessness, all of it. It's also a fun thing to learn about and improve on."
Like many, she says it took time to adjust to the new reality. "Initially the pandemic caused a lot of anxiety and uncertainty. I was particularly worried for members of my family as well as about my long term finances, and the apparent lack of respect the government seemed to have towards my profession."
One surprising upside of lockdown, Amin adds, is the increased amount of time it has provided for personal reflection. "Despite all the worries, I've had all this time to take care of my mental health in a way I never have before."
Although many actors are currently having to focus their efforts in other directions, it's important to remember that there will be opportunities again. "I'm more than happy to take casual work, as I always have as an actor," says Billy Walker. "But when things get moving again we're going to need to be ready, so you've got to just keep on going."