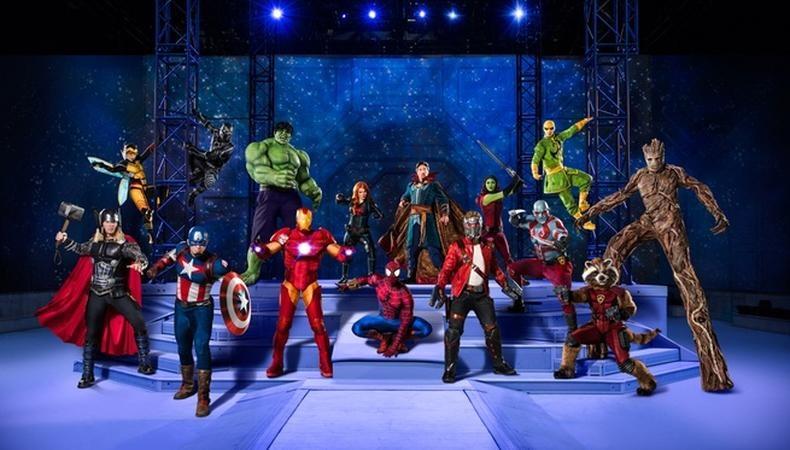 Get ready to assemble and be a part of the biggest group of gymnasts, acrobats, aerialists, and other performers for "Marvel Universe LIVE!," a touring arena stunt spectacular! Plus, the upcoming TV drama "Catherine the Great," starring Elle Fanning and Nicholas Holt, is casting background actors, and more great gigs throughout the United Kingdom.
"MARVEL UNIVERSE LIVE!"
Action performers, martial artists, gymnasts, acrobats, trickers, and aerialists are wanted for "Marvel Universe LIVE!," a touring arena stunt spectacular featuring Marvel superheroes and villains. Performers, aged 18–45, with athletic builds are wanted for the production. Rehearsals will begin in August and September 2019 and the show opens in Nottingham for a European tour in mid-September 2019. Competitive salary, benefits, travel, and lodging will be provided. Apply here!
"CATHERINE THE GREAT"
Background casting is currently underway for "Catherine the Great," a new TV drama starring Elle Fanning and Nicholas Hoult looking at the reign of Empress of Russia. Talent, aged 16 and older, of all looks, ethnicities, and genders are wanted for background roles in the series, which will shoot over several months in 2018–2019 in Leicestershire, Lincolnshire, and York. Pay is TBD. Apply here!
"WINTER WONDERLAND" VARIETY SHOW
"Winter Wonderland," an upcoming touring variety show from The Theatre Company, is casting strong musical performers, aged 18 and older. Rehearsals will take place from Nov. 22–30 and the tour will take place Dec. 1–31. There will be no shows on Christmas or Boxing Day. Pay is £400–£450 per week. Apply here!
"PROJECT AIRBAND"
Mark Summers Casting is currently seeking a small group of entertainers and/or actors, aged 18–60, to create a four or five-piece air band for "Project Airband," a commercial. Talent must be able to give interesting, entertaining, and unexpected moves while playing an imaginary air instrument. The commercial will film from Nov. 25–Dec. 1 in a location in Europe that is currently TBD. Pay is £175 per day for travel and rehearsal days, £50 for a fitting, £350 for a one-hour shoot day, and a £7,500 rate if you make it into the final commercial. Apply here!