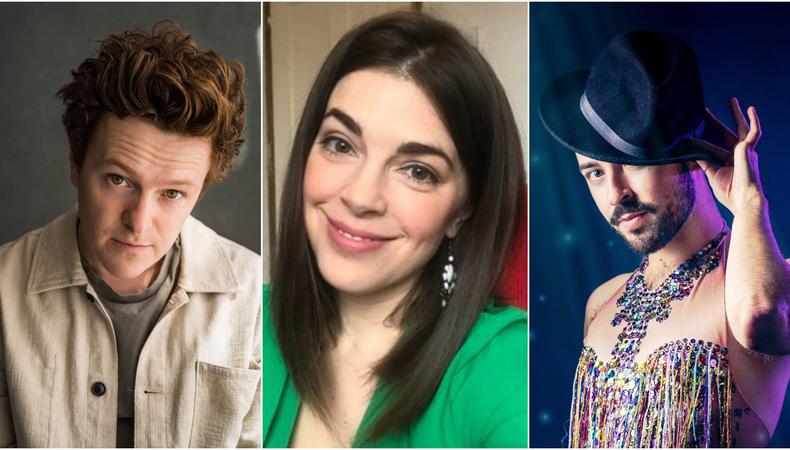 Fed up with how his career was going during lockdown, Jonny Weldon was toying with the idea of quitting acting. Then, in March of this year, he tweeted a 55-second sketch he'd written about the awkwardness of running into more successful actor friends and sharing career news.
"Within a day, 40,000 people—some of them being very high-profile in the industry—were engaging with it," he says. So he made more. With the likes of Edgar Wright and Stephen Merchant engaging with his videos, all of which poked fun at various awkward scenarios only actors encounter, Weldon suddenly found himself able to approach leading casting directors via their Twitter DMs for career advice. Soon he had an agent and landed parts on the cult sitcom Stath Lets Flats and the upcoming BBC comic crime thriller The Outlaws.
This opportunities all came off the back of a video that he hadn't even planned to make public; Weldon says he initially just sent it to a pal to make him laugh.
Social media as a tool for self-promotion is hardly a new phenomenon. Yet what we have witnessed during the past 18 months, with performers boosting their profiles by entertaining us all on Twitter, Instagram, and TikTok, feels different—it's the remarkable outcome of a unique set of circumstances, with lessons to be learned.
Tailor Your Content to the Right Social Media Platform
Like Weldon, musical theatre actor Rob Madge, who's currently touring around the UK in Bedknobs & Broomsticks, had no grand ambitions when it came to their social media output during the first lockdown.
"I started sharing my own sketches. I just had nothing else to do, really, and it was a way to keep myself entertained as much as anyone else," they say about their fast-cut clips parodying the world of musical theatre. Madge also began posting home videos from their childhood, in which they dressed up and performed bits from West End shows.
"I just thought they were hilarious," Madge says. Other people agreed—lots of other people: Madge's follower numbers on Twitter and Instagram ballooned (they only joined TikTok earlier this year), enabling them to reconnect with theatre industry folk they had encountered as a child actor but subsequently lost touch with.
"Twitter is definitely more tailored towards [my theatre community], and TikTok is for a much broader audience"
Just as Madge was considering writing a solo show based on those old home videos, a producer got in touch to express an interest. My Son's A Queer (But What Can You Do?), which they debuted at London's Turbine Theatre this summer, was the fabulous result.
Part of Madge's success comes from figuring out which platforms are right for which content types: the childhood videos generally do better on TikTok, and the original skits fly better on Twitter.
"Twitter is very much the theatre community," he says. "My Twitter is definitely more tailored towards a job that I'm in, and TikTok is for a much broader audience." Instagram, meanwhile, is more for the actor to share their personal content and connect with friends.
It's a noisy marketplace, but with strategy and perseverance, the audience will come to you in time; it only takes one video to go viral.
Leverage Your Social Media Reach to Generate Income
Comedian and actor Rosie Holt began posting funny clips when she moved back in with her parents during the first lockdown; but it was once she created the character of a bigoted, posh woman responding to the news that her social media profile "went crazy."
She posts her popular "Woman Who…" sketches on Instagram, but Twitter is where she feels most at home, given the satirical nature of her work.
For Holt, creating the videos has many benefits: It's a helpful antidote to the feelings of passiveness that can accompany an acting career, a way to demonstrate her range as a writer and performer, and an in-road to developing new professional relationships. "There's something quite liberating about going, 'This is a part I can do,' " she explains.
She's also seen substantial financial returns from her Twitter success over the last year and a half thanks to the fundraising platforms Ko-fi, where creators receive one-off donations from appreciative fans, and Cameo, where fans buy personalised videos from their favourite creators.
Budget the Right Amount of Time
Considering how much time and effort performers put into their social media output, tangible earnings are encouraging. Holt and Weldon each spend around a day on their sketches, posting every few weeks depending on their other commitments, while Madge takes a few hours to create their musical theatre videos. The home videos, of course, just need editing for length, plus subtitling.
Being willing to put in the time, says Weldon, is his top tip for social media success: "You've got to prepare for it to not work straightaway. You've got to actively work on it."
The actor taught himself the nitty-gritty of filming, editing, and subtitling his work, taking advantage of easy-to-use smartphone apps to turn quality content out in a hurry.
"I've had to learn along the way," he says. "But it's been a fun thing to learn because it's all working towards this thing that's mine."