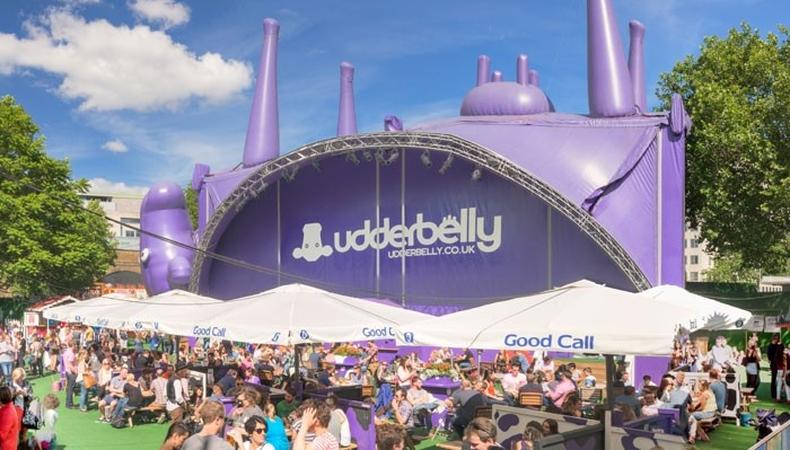 With Easter behind us, our thoughts turn to spring and new ventures and opportunities. Backstage has curated what's on offer for the fun-loving, budding creative with a spring in their step. Hint: that's you!
Have a laugh beside the Thames.
No, you're not imagining it: a huge purple tent has appeared on the banks of the Thames. It's the home of the Underbelly Southbank Festival, now in its tenth year. From now into the summer, all manner of creative performers will gather here to show what makes them tick. Comedy, cabaret, circus, burlesque...see what your fellow creatives are up to and have a cracking night out as well. (Ticket prices vary based on event)
Aim high: Enjoy some Shoreditch playtime.
Actors learn to channel their emotions into their work, but what if there's another way? On April 7, International Pillow Fight Day, grown adults with adult responsibilities will gather in Shoreditch to hit each other repeatedly with pillows. Organisers claim it's all to do with promoting the benefits of play in daily life but there's only one way to find out. (Free)
Learn from the best in Cardiff.
One to lock and load for the near future is this great BAFTA Wales session about casting reality TV on April 28, hosted by Backstage's U.K. casting specialist, the brilliant Hannah Marie Williams. She'll be chatting with producers from summer hit 'Love Island' and popular doc, ''Young Welsh and Pretty Minted'. It's a rare chance to get the inside track on a popular genre. (Tickets: £6)
Revel in some film fabulousness.
Calling all cineastes out there! Know your past and you'll see your future. On April 6, writer and all-around clever bloke Sir Christopher Frayling will be at the British Film Institute to talk about the father of the Spaghetti Western, Sergio Leone. Director of films such as 'The Good, The Bad and the Ugly', Leone and his movies are being reinterpreted as a commentary on Hollywood. (£6.50)
Check out Backstage's London audition listings!