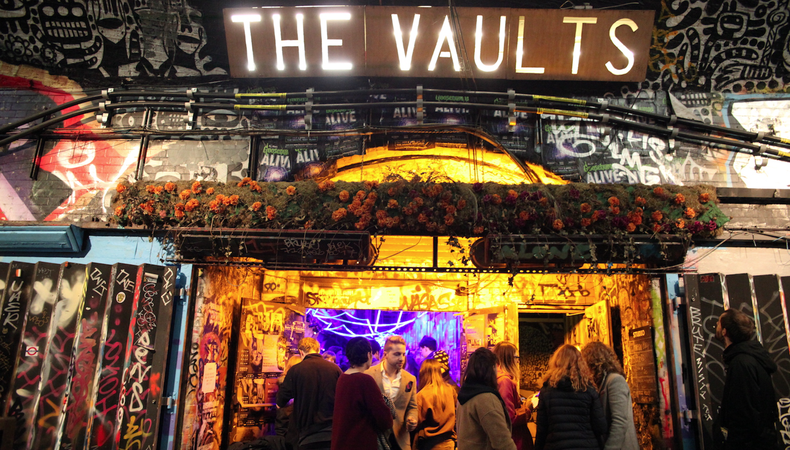 This is Notes From the Edge, a series reporting from the sharp edge of the UK's creative industries. This week, we discover what's afoot at the VAULT Festival, why it matters and why you might want to perform there…
Waterloo's VAULT Festival is like Edinburgh, except twice as long and submerged in the railway arches underneath Waterloo station. Home to more than 400 shows by both new and established companies, the festival is a pretty polished affair with a buzz. More than 2000 artists are taking part in this year's festival and audiences can expect a certain amount of dampness (from the surroundings), cabaret, late-night performances, and the odd vivacious party.
It has been described as the "future of theatre" by Oscar winner Emma Thompson, and for 2019, the festival is expanding, using more local venues than in 2018. These festival locations include Network Theatre, Travelling Through bookshop, Unit 9 (for immersive performances), and of course, the railway vaults themselves.
It offers a supportive environment...
Katie Arnstein is an actor and writer bringing her new show Sexy Lamp to VAULT. She sees it as inclusive and welcoming. "VAULT is not just a superb arts festival. It works to promote artists and provide a safe and encouraging environment for work and particularly that of women. It is a genuine delight coming to VAULT as a punter; the fact that I am able to bring my own work here after being a fan for years is amazing."
Read: Tracking the Epic Rise of the 1-Woman Show
So that's all well and good. But with more than 40,000 audience members expected and so many shows, how can VAULT really be that supportive to so many artists? Arnstein says it really is: "It promotes and celebrates new work and has 51% of its work coming from female-identifying artists which makes it incredibly special. I love that through VAULT you meet incredible artists, see superb work and can develop your own voice as an artist."
...and a challenging environment
One of the biggest challenges for actors and directors at VAULT is that the West End this is not. It's important when you're rehearsing the show not to forget that you're very much in a collection of rooms underneath a railway arch. VAULT comes with its own magical feeling, but there has to be a solid dose of reality too.
Moore says: "The main challenge as a director is finding a way to talk yourself down (or at least sideways) from all the tricksy tech things you might want, to be honest! I tend to initially be quite 'out there' in my visioning of a show.... For Ladykiller, for example, I had ideas of a dead body picked out in lights and a slowly spreading pool of blood taking over the stage à la Ivo Van Hove or Katie Mitchell...but obviously that's not going to be in our budget, never mind doable in a 15-minute turn-around!"
It provides a place to hone your work
It's director Maddy Moore's first time at VAULT, directing both Edinburgh Festival knockout show Ladykiller, and Fatty Fat Fat by Katie Greenhall. She told Backstage: "We had a great run at the Edinburgh Fringe this summer [with Ladykiller] and now we are returning as winners of the VAULT Pleasance Award with a newly extended version of the show." Moore explains how useful VAULT can be: "It's a brilliant chance to see how audiences respond and will help us hone it down for the summer."
It provides lessons on intimacy
Other challenges about being a performer at VAULT is that these are very intimate venues. One anonymous actor who has performed on both West End stages and at VAULT strongly advises deodorant: "Naming no names, but if I – who am performing next to you – can smell you, the audience can smell you too. I'm only half joking, but don't forget the audience are about a metre away from your face, so it's very intimate."
The audience judging the actor for not having taken a shower is one thing, but for most performers and directors, it's the intimacy that makes the whole experience sing. Moore says: "The best thing is always audience, audience, audience. It is really easy to get caught up in reviews, getting on the hot theatre tips lists etc., but actually, for me, it is all about people who have paid their money and put their bums on seats coming out having loved the show. There really is nothing better than watching audiences react as a director...particularly with a show like Ladykiller...as long as they don't faint or throw up!"
Robbie Curran wrote and is performing in Thomas at VAULT, a play based on his experiences of growing up with Asperger's. For Curran, the buzz is brilliant. "It's like an even-more concentrated Edinburgh Fringe that's bang in the middle of London. I love that you can head to the main hub and expect to find at least 10 people you know, and when you have a show on too it's even better. I have other friends doing shows and it's fun for us to support one another. Audience intimacy is nice – I like having them close up and very much with you as you go through the play."
How to bring your own show to VAULT
So, you've seen some amazing shows and you're interested in bringing your own show to VAULT.
Arnstein's show Sexy Lamp is about the challenges she has faced as a woman in the acting industry. For her, the hardest thing about VAULT was sitting down to work and thinking she'd fail every time. "What I would say to people who are thinking of creating something for VAULT is 'be brave'. Your story deserves to be heard. You owe it to yourself to try. Get a lovely team around you, ask for help, make a cup of tea and start working."
Moore has much firmer suggestions. "Don't bankrupt yourself. Pay people if you can... even if it is a tiny bit. Know why you are going – and have a plan. What do you want to get out of it? Share work-in-progress? Get reviews for a tour or Edinburgh? Experiment with a new form or team? Invite industry [connections]? Hang out with an actor or director or designer you fancy? Whatever it is, it is important to set out your expectations clearly and honestly. Don't forget to have fun!"
Curran agrees: "You just have to do it – give it a go! You may surprise yourself. If you're writing something you want to perform, write the play that only you can write. Or write the play that you would want to see. I'd recommend writing about something that you want to talk about and is personal to you. It's OK to be afraid about that – I'd be worried if you weren't! But you can get past it, I promise." He describes the joy of finding his team, of everything coming together like a jigsaw. "You feel like you're forming the Avengers or something – I loved it. But at the same time, make sure your creative team are people who share the same vision. It's your play and you can take it where you want, and if VAULT is somewhere you want to take it, you should definitely go for it. And there's literally nothing to lose!"