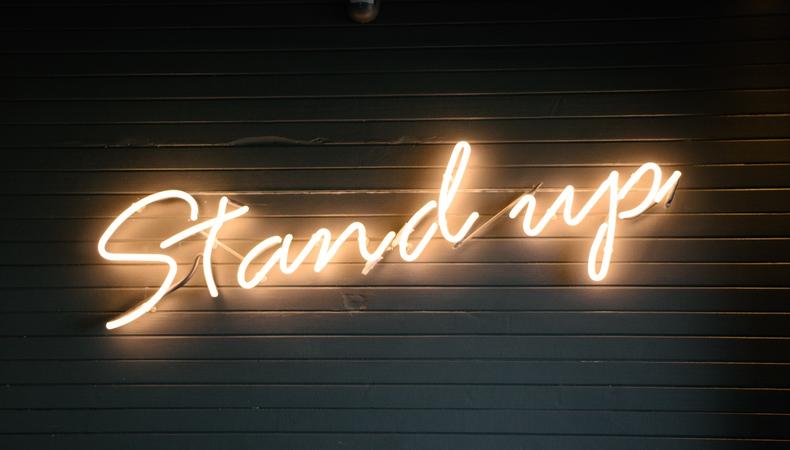 Hello, and welcome back to our roundup of news from across the industry. From stage to screens big and small, we've got you covered. It's everything you need to know and all you can't afford to miss.
Equity president calls actors to action.
New union President Maureen Beattie used one of her first addresses to advise actors to "wake up and make an effort" if they want to see a change in their industry. "We must harness the power of the community if we are to triumph in the challenges ahead," she said.
In this month's Equity magazine, Beattie reported that just 7 percent of members voted in the union's current council elections and suggested that actors need to take part. "There are countries where people would lay down their lives to take part in a democratic election such as ours, not to mention the right to unionise. I know not everyone is able to give the same amount of time to activism, but the words of Edmund Burke spring to mind: 'Nobody makes a greater mistake than he who did nothing because he could only do a little.' "
Also this month, Equity launched a network dedicated to supporting black performers. Called the Change Network, The Stage called it "part of a bid by the union to ensure that it champions black voices" and highlighted that it is Equity's first dedicated project for black members. The union stated that "by understanding the problems experienced by the black actors and stage managers it represents, its organisers can work to address them in Equity contracts and push for change in industrial agreements", according to the outlet.
The launch featured talks from Young Vic artistic director Kwame Kwei-Armah as well as Equity councillor and actor Emmanuel Kojo. The launch follows outrage over Quentin Letts' comments towards actor Leo Wringer. Manborde said: "This is a prominent member of our union, and a well respected, classically-trained actor, working in a Royal Shakespeare Company production. If he is subject to these remarks, who will be safe from them?"
The Change Network is available to Equity members and is open now.

Sky to boost spending on original scripts in the coming year.
Sky announced they are to boost investment in original scripted programming by 25 percent in the next 12 months. Nearly half of the £500m total is going to returning series like Save Me, Britannia, Jamestown and Riviera, but the industry expects a new set of commissions and development. As well as an increasing cash flow, Sky's chief executive Jeremy Darroch claimed viewing of Sky's scripted programming has grown by 40 percent year-on-year.
The company has tried to match Netflix's critical and commercial hit The Crown with similarly epic series led by British talent and taken HBO's Game of Thrones head-on with Roman-era series Britannia returning early next year. The news of increased investment, with British on-screen talent and writers and directors taking the lead, is welcome news to a UK screen industry worried about the potential change of direction a takeover bid could mean.
Lords warn of the impact of post-Brexit visas on cultural industries.
Fears over the effect new visa restrictions could have on Britain's cultural sector after Brexit were raised by a House of Lords report published last week. Authors said: "The cultural sector makes a profoundly important contribution to the UK's society and economy, and to its international image and influence," before warning that there could be real damage if agreements weren't made with the EU. Currently, artists, performers and talent from within the EU and UK can work elsewhere within member states without going through lengthy and restrictive visa applications. However, after Brexit, there is uncertainty whether or not British workers can retain this status and vice versa for EU talent working the UK. The report demanded the government "urgently provide more detail" on free movement of people from within the European Union, an ongoing key negotiating point with the EU.
In the report, the House of Lords EU home affairs sub-committee warns that the UK sector could suffer if EU cultural workers and talent are put under the same restrictions that apply to other internationals. Current visa rules require a minimum salary, which the report claims is often more than what many cultural organisations can offer, resulting in a scenario where the UK struggles to attract talent and puts a limit on touring productions. The committee called on the government to consider visa arrangements that would mitigate the damage to cultural sectors, including extending "permitted paid engagement visas"—which allow people from outside the EU who are experts in their profession to be given a special visa—and "permit-free festival arrangements" to include EU workers. Another option would be to offer multi-country, multi-entry short-term visas for EU citizens, to enable touring, and seek a reciprocal commitment for UK citizens travelling in the EU.
Committee chair Michael Jay said the government must be "flexible" if they wish to establish "an immigration system that meets the needs of the post-Brexit economy". He added: "This means recognising that any restrictions on EU citizens wishing to enter the UK to work may be matched by reciprocal restrictions on UK workers in the EU."
Stage production news
Les Misérables is to leave the Queen's Theatre as the venue undergoes a major refurbishment. The long-running musical will move to another West End location to allow works to the building, which has had little refurbishment since reopening in 1959. Delfont Mackintosh Theatres announced the work to the Queen's as part of a wider programme of improvements across all eight of its theatres. London's historic venues have been the subject of scrutiny since 2013 when the ceiling of the Apollo Theatre collapsed during a performance of The Curious Incident of the Dog in the Night-Time, injuring 76 people.
Read more here.
Check out Backstage's London audition listings!