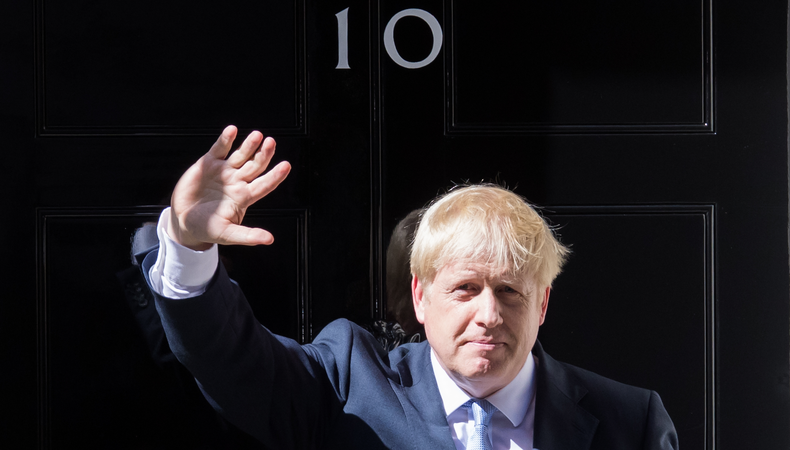 Developments in the business of acting are not always front-of-mind for time-pressed creatives, yet can have a major impact on how their careers develop. That's why we've created The Business, a series to help UK actors and performers stay updated on the key stories that will affect the nuts and bolts of their professional lives.
The industry reacts to Boris' election win
Union Equity has joined organisations and top figures across the screen and stage industry in reacting to the historic Conservative victory at the polls last week, warning that any Brexit must protect international workers and freedom of movement for "the future of the sector." Equity, which is the largest union in the creative sector and is vocal in its opposition of Brexit, said they were "extremely concerned" about the impact of leaving the EU, describing freedom of movement as "essential" to the health of the screen and stage industries. The union's general secretary Christine Payne says the union "has not been satisfied that our voice has been heard" in Westminster and "urgently" invites ministers to meet with ministers to address a number of issues.
READ: How to Join Equity If You're an Actor in the UK
Elsewhere in the industry, the Creative Industries Federation agreed that any immigration reforms must protect international freelancers, describing incoming talent as "a crucial part of our sector's world-leading workforce." Screen described how the election result brought short-term clarity to the industry, but also "despair" to key film and TV figures, with one producer saying that without European development money, independent British cinema was "dead in the water." However, others in the industry are confident that huge inward investment brought about by tax relief will continue to fuel the current production boom in the UK, particularly when coupled with the highly developed skills base in the UK entertainment industry and a voracious global appetite for content.
NFTS launches casting course
The National Film and Television School (NFTS) has launched a groundbreaking course to train the next generation of casting directors. Supported by the Casting Directors' Guild (CDG), the course aims to train those wanting to break into the "essential and often unrecognised element of all film, television and theatre productions." Starting in 2020 and taught in London, the course has been curated by veteran CDs Jina Jay and Shaheen Baig, with Baig telling Screen that an entry-level qualification was "borne out of us wanting fairer socio-economic representation behind the camera." Find out more here.
READ: 21 London Casting Directors You Should Know
Arts Council funded bodies to report on socio-economic background of employees
Starting next year, arts organisations in England will have to report on the socio-economic background of their employees, with class to be considered alongside gender, ethnicity, age and disability. Arts Council England (ACE) said the decision comes after a "growing body of evidence" that people from lower socio-economic backgrounds are under-represented in funded organisations. In 2017, a Labour party inquiry revealed that the stage and screen industries were dominated by people from well-off backgrounds, quoting actor Cush Jumbo as saying she nearly left drama school "because I felt so uncomfortable, so working class."
Drama schools are now abandoning or lowering audition fees in an effort to attract students from lower-income backgrounds, but ACE says that monitoring the data from funded organisations is an "important step in understanding the scale of the problem" and will inform steps to lower the barriers people face entering and succeeding in the industry.
Female-led theatre to champion new voices
US producer Jessica Rose McVay has launched a female-led theatre company based in Britain to champion stories from underrepresented voices. Called 45North, the company has announced a programme of shows for 2020 in London, Edinburgh, and Australia. McVay pledges that at least 75% of creative teams for shows will be female, trans or non-binary. McVay, who has mainly worked in New York, said her primary goal is to find and promote new work "by theatre creatives who set out to tell stories that are all too often unheard," adding: "We want to advocate and amplify the amazing work that is out there when you step away from white-male-dominated narratives."
Alongside productions, 45North will use private investment to launch bursaries for emerging artists. Open to writers, directors, and theatremakers, one bursary offers financial support alongside studio and office access with the opportunity to take the piece to production. A smaller grant is available to develop work at the company's home in Hackney Downs Studios. Longer-term, the company hopes to launch international productions, secure a venue, and transfer to the West End and Broadway.
Ben Roberts appointed CEO of BFI
The British Film Institute (BFI)'s new CEO Ben Roberts is stepping up from a deputy CEO role to take over from Amanda Nevill, who is moving on after 17 years at the helm. Roberts, the former director of the BFI's Film Fund, is due to take over from February 2020. He said: "Film is egalitarian, and I want everyone to see the BFI as their home, to see themselves in our programmes, and feel welcome in our industry." Read more here.
READ: These 5 Feature Films Are Casting Right Now in the UK
Director condemned for 'flying over' East Asian talent
Theatre director and former Royal Shakespeare Company (RSC) boss Michael Boyd has been accused of "erasing" UK-based East Asian actors after it was revealed that performers from the US have been flown in for a second time this year. Boyd faced fierce criticism this summer for casting an actor based in the US in his production of The King of Hell's Palace at Hampstead Theatre. Now, campaign group British East Asians in Theatre and Screen (BEATS) have condemned Boyd's decision to fly over two more US-based East Asian actors for Hansol Jung's play Wild Goose Dreams at Bath's Ustinov Studio.
BEATS argues that employing US actors leads to "erasure of talented and experienced British East Asian actors, who are arguably one of the most marginalised and discriminated against ethnic groups in the British media." They also stress that Wild Goose Dreams is "Boyd's second East Asian-themed play in a matter of months – more than any British East Asian director has ever managed in the entirety of their careers in major theatre spaces." Read more here.
More for UK actors? Check out the magazine.