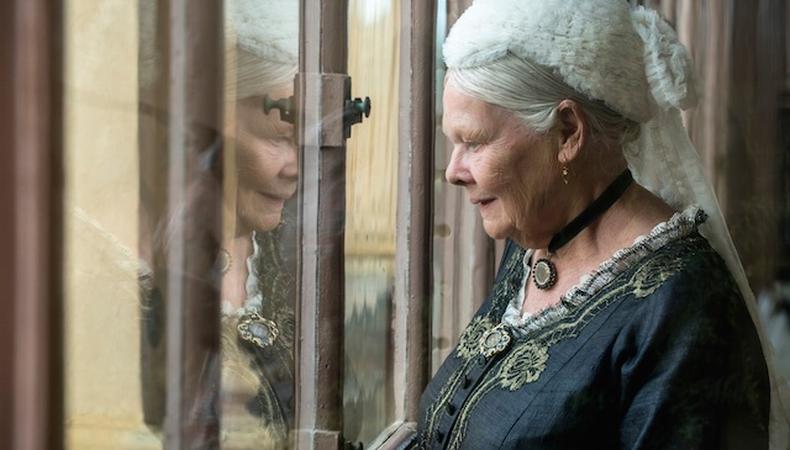 From the beginning of writing his "Victoria and Abdul," his feature film follow-up to 2011's "War Horse," Lee Hall had Dame Judi Dench in mind for the role of Queen Victoria. The Oscar-nominated screenwriter ("Billy Elliot") figured it was unlikely that the Oscar-winning actor would want to revisit the royal role she played in 1997's "Mrs. Brown," "but I didn't think anyone else could do it," he says. And director Stephen Frears, who worked with Dench most recently on "Philomena," agreed. "He said there's only one person who can do it, and that's Judi," Hall recalls. Lucky for them both, Dench loved the script and signed on. For Hall, the film truly started taking shape once she came on board. "She's any writer's dream," he says. "She found every nuance, even a lot [that] I didn't know was there in the script."
Meeting with Dench before the project, he sat in her garden all afternoon reading her parts from his script, as her poor vision doesn't allow her to read as well anymore. Not only was Hall profoundly impressed by Dench's deep knowledge of drama and theater, he was delighted by her wicked sense of humor. "She popped open champagne, and we roared with laughter. She's just so funny," he says. "It was one of the finest afternoons of my life."
Dench found a similarly easy rapport with newcomer Ali Fazal, who portrays Abdul Karim, the Indian clerk with whom Queen Victoria struck up an unexpected friendship toward the end of her life. After seeing dozens of Indian actors, Hall and his team were struck by Fazal's innocence and charm.
"Bollywood is such a different beast to European cinema, so when we brought him over to meet Judi, we were incredibly nervous if there was going to be any chemistry," Hall says. But, in a moment of life imitating art, the two actors connected almost immediately. With Dench at 82-years-old and Fazal at 30, their dynamic mirrored the very relationship between Victoria and Abdul portrayed on-screen. "When Ali introduced himself, I looked at Judi, and she was immediately illuminated," Hall continues. "It was clear there was a connection there between these two people from different worlds."
Full of the lavish sets and extravagant costumes becoming of a royal family period drama, the film, steeped in monarchy, feels buoyant and vibrant in no small part thanks to the actors' ability to humanize such aristocratic characters. Credit goes not only to Dench and Fazal but the entire cast, which is rounded out by Olivia Williams, Eddie Izzard, and Michael Gambon—all of whom, Hall says, were up to the task of digging into the psyche of real-life royalty.
"All the actors really brought something," Hall says. "A writer sees their job as hinting at the spaces in scripts to invite an actor to fill out that space with ambiguities and contradictions. There is a poetry to the way people spoke then, and the tone is quite formal, but actors must find a way of rooting it in the chaos and life of these human beings."
While writing Queen Victoria, Hall admits that his fondness for her didn't come quickly. But one detail especially stood out to him from the beginning: the Queen's veracious eating habit. Dench took strongly to this idea and with it, created one of the film's stand-out scenes, as the Queen gruffly scarfs down a robust, multi-course dinner while dozing off between bites. "This woman's only expression was to stuff herself," Hall says. "These emblems of how somebody eats can tell a clear emotional journey, [and] Judi went for it."
All things considered—whether it be her eating habits, sense of humor, or natural regality—Hall concludes that working with Dench was rather like being with the actual Queen of England herself, in the best of ways.
"She had a shortcut into the immediacy of this part of Victoria's life. She could refer to this person's past, and it was like she absorbed the fact she had done it before and knew the character so well," Hall says. "She was inhabiting her already when we started. She wasn't discovering the character for the first time and came in, instead, on the upper level. I've never had that experience before. She is Queen Victoria—and that's the end of it."
Want to work in a period piece? Check out Backstage's film audition listings!