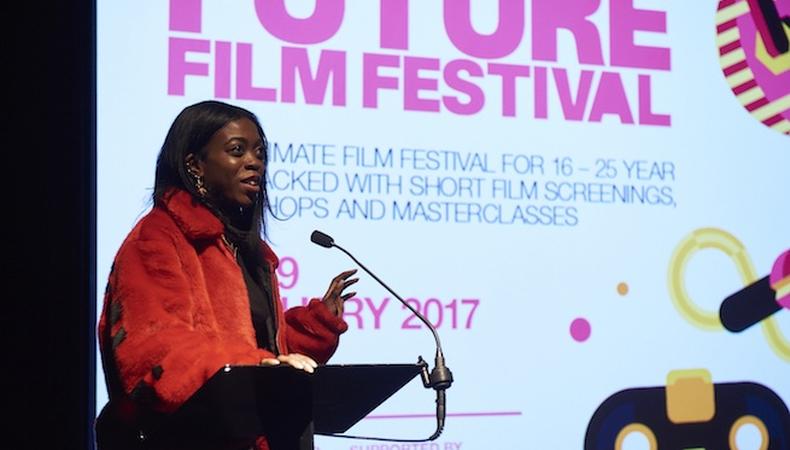 When it comes to navigating the film industry, even old hats aren't experts. So imagine being a young filmmaker trying to learn the ropes and meet like-minded creators when you're just starting out. It's a complex world and going it alone can be tough. Thankfully, the BFI Future Film Festival exists to help and inspire emerging filmmakers through Masterclasses, workshops, screenings, and networking over four glorious days in London.
If you're an emerging filmmaker interested in any of that—and really, why wouldn't you be?—read on to get the inside scoop on the festival from its director, Noel Goodwin, ahead of its eleventh iteration, which takes place Feb. 15-18.
Tell us a little about the BFI Future Film Festival.
The BFI Future Film Festival is the premier UK industry film festival for emerging young filmmakers aged 16-25 with 50+ practical Masterclasses, industry workshops, screenings, Q+As, and networking opportunities over four days at BFI Southbank in London.
The festival aims to inspire young emerging filmmakers and creatives to make films and provide them with industry insights they need to pursue careers in the film, TV, and creative industries. We had more than 3,000 short film submissions by young filmmakers from all over the world and we screen the best of these, giving awards to the most promising filmmakers with cash prizes ranging from £500-£5000, along with industry mentoring and support to make new films.
BFI Future Film Festival alumni have gone on to win and be nominated for awards including BATFAs and Oscars, had their films screened at festivals and platforms all over the world, worked on major movie sets and primetime broadcast TV, found new friends to make films with and set up their own production companies, and even gone on to teach other young filmmakers. It's just a great way to find routes into the film industry and kickstart your career.
Why was the Future Film Festival started/founded?
The Festival was started as a way to engage young people in opportunities at BFI but has since become a really important platform to showcase emerging young talent and a breeding ground for the next generation of filmmakers.
Why do you feel it's important to promote the types of films you showcase during the festival?
Now that filmmaking is a lot more accessible through relatively inexpensive digital cameras, and with access to opportunities like BFI Future Film Festival and those of our festival partners, young people are able to experiment and learn their craft from a much younger age and are therefore making some really impressive films. But it's not always easy to find platforms and opportunities for people to see those films, especially on the big screen.
We provide an opportunity for that at one of the UK's most important and influential cinemas. Having your film screened at the BFI and being recognised for your talent by an organisation like the BFI can really help boost your career. Hopefully, other young filmmakers who see the films we screen at BFI Future Film Festival will be inspired to make their own films and pursue their own creative and professional aspirations.
Do you see a major difference in young filmmakers' approach to creating?
Young people often have a very unique way of looking at the world and the stories they tell provide audiences of all ages with an insight into what's important to them, or what they find funny, interesting or beautiful. The filmmakers whose films we screen are often from much more diverse backgrounds and are reflective of the kind of film industry we want to see more of in the future. Also, although these filmmakers don't have big budgets they are not constrained by commercial money driven instincts and are therefore able to make the films they want to make without reproach – they just make the kinds of films they want to make.
What's one thing you wish people knew/that most people don't know about film festivals?
Film festivals are fun! And lots of them aren't just about watching films or star gazing. Festivals like BFI Future Film Festival are about finding other like-minded individuals and friends who you might want to work with. Networking is a scary term but it's really about being open, having fun and making new friends, and there's a good chance your next move into making films might come off the back of this. We have a behind the scenes networking area that all ticket holders can access, which is this year being supported by our new Headline Partner LaCie, as well as daily networking drinks sessions to make meeting new friends and collaborators easier.
What do you look for in festival submissions?
Original storytelling. We want to see new ideas, new stories, or original takes on traditional stories. Sure, we look for films with good production quality but it's the storytelling and originality we look for primarily.
I would encourage all emerging young filmmakers to watch lots of short films as well as features. I think when you first start out you want to emulate your feature film directing heroes, but really you want to find your own voice and own style. And by watching lots of other short films you can avoid making cliches and stereotypes in short form storytelling.
What should an international creator know about the world of British film?
That's a tough question but if you want to find out, come along to the BFI Future Film Festival! Our Masterclasses and workshops will give you lots of insights into the British Film Industry. But we also screen lots of internationally-made short films by young emerging filmmakers and have two international awards this year, as well as guest speakers from across the world, thanks to generous support from our friends at the London School of English who are helping us make the festival a truly international experience this year.
What advice would you give someone who is just starting out in the industry?
Take on as much as you can handle. Study film and filmmaking at school, college or university, make films with your friends in your spare time and experiment with the way you make films and tell stories, try and get some work experience if you can. Submit to film festivals and go to film festivals, read and watch things about filmmaking, and get involved in opportunities that BFI and other arts, TV and cinema organisations have to offer like networking opportunities, screenings and training programmes. As well as BFI Future Film Festival we also run monthly BFI Future Film Labs events (which are like mini versions of the festival and this year focus on different ways you can get work in the industry), the BFI Film Academy (which is a training programme for young people aged 16-19 and run all across the UK), and an Under 25 £3 ticket offer at BFI Southbank.
What's one piece of networking advice you can offer young filmmakers?
Don't think of it as networking, think of it as finding friends to collaborate with. If you're at a festival, ask people what films or events they enjoyed—you already have the festival experience in common.
Don't just try to network with who you think are the most important people in the room, there will be lots of people who you might get on with and want to work with. And if you're going to try to chat with industry professionals, remember that you're not the only person in the room that wants to speak to them and that they are very busy. So don't hog their time. Be friendly, ask what you want to ask, offer your help (don't just ask for stuff!) and follow up any contacts you get straight away while you've still (hopefully) left a good impression and before they forget who you are.
Check out Backstage's London audition listings!