Effortless is the word that comes to mind most often while watching Lupita Nyong'o navigate this awards season. From the bold, winning red carpet style that has made her a fashion icon to her American film debut, giving a lacerating performance as brutalized slave Patsey in Steve McQueen's "12 Years a Slave," the last few months have been good to Nyong'o. But as she'd be the first to tell you, a lot of work goes into appearing effortless.
"There are many roads to mecca," Nyong'o says over breakfast at the Upper East Side's the Mark, and her route was by way of Yale School of Drama. Realistic and pragmatic, Nyong'o understood that her way of acting, based on instinct and hunches, wouldn't be sustainable. Bolstered by a mother who insisted the best preparation was research, she began looking at training programs.
Accepted by Yale, Nyong'o found herself auditioning for her breakout role during the preparations for her final showcase. Already signed with a manager, the script for "12 Years a Slave" came her way via Garret Dillahunt, also with her manager. What followed were three auditions, each escalating in intensity.
Nyong'o's first audition was on tape for casting director Francine Maisler. "It was the very first thing I'd ever put myself on tape for, so I had no expectations whatsoever," Nyong'o says. "It was just a great role to work on and good practice for the audition process. I definitely thought, No chance!"
Shortly after, Nyong'o's manager invited Maisler to her L.A. showcase. That prompted Maisler to bring her in for an in-person audition that lasted an hour, one that Nyong'o alternately describes as "grueling" and "exhilarating." Before she went into the room, Maisler stepped into the waiting area to explain that, because of the material, the audition would be unconventional. She wasn't joking; the first thing she asked Nyong'o to do was perform the scenes on her knees. "It was a pretty amazing session we did, one that I'll always remember," Maisler says of the in-person audition. "I wanted to exhaust her emotionally. We did an improv, these things I just came up with off the top of my head, where I was the slave owner and she was Patsey. And she just broke down emotionally through the audition. When I sent that to Steve, he pretty much knew she was the girl."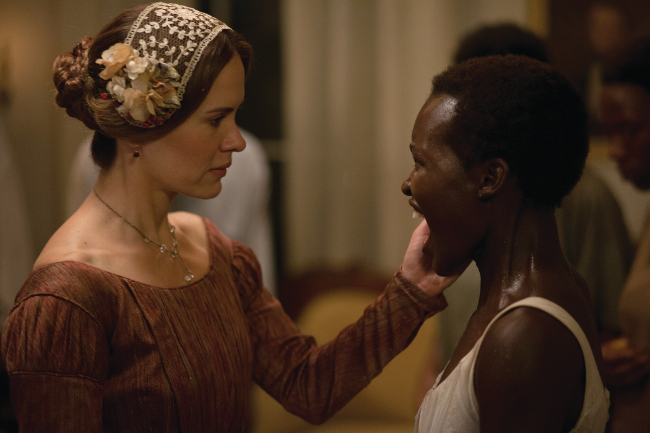 After that, Nyong'o flew to New Orleans for another audition, this time with McQueen. Even in a bare, over-air-conditioned audition room, she brought enough intensity to convince the director that she was the right pick to play Patsey. Later that night, she joined McQueen, some of his artist friends, and future co-star Michael Fassbender—who would play Patsey's sadistic owner, Master Epps—for dinner, and was happy to write off the whole thing as a thrilling experience. "I went to bed feeling like Eliza Doolittle in 'My Fair Lady,' " she says, before singing a line or two from "I Could Have Danced All Night." So the phone call two weeks later from McQueen offering her the role was icing.
Those auditions were integral to Nyong'o's success in the role—including her slew of award nominations, among them a best supporting actress Academy Award nod. Chalk it up to her healthy attitude toward auditioning. She may call it a "hateful process," but she has enough common sense to see it as an extension of her training.
"I give myself homework when I have an audition," she says. "I give myself goals, and that's how I check how I'm doing. It can be something simple like 'listen,' or 'find your feet.' And then afterward it's an assessment, so in a way it's not about booking the job or not. It's about what I learned as an actor about that character. And if I can pinpoint something, then I'm in good shape. And if it's all a blur, then not so good."
With only six weeks between accepting the part and flying down for the start of filming in New Orleans, Nyong'o buried herself in research—and insomnia. She didn't sleep through a night until two weeks after filming had ended. Not that she was tormented by Patsey when the cameras stopped rolling; she and Fassbender built a relationship off-camera that stood them in good stead when "Action" was called.
"We definitely weren't approaching these characters in any sort of Method way. When Steve said 'Cut,' we went out and enjoyed the freedom granted by this time in history," she says. She never completely shook Patsey, knowing she'd have to return to the role the next day. But, as she points out, the success is in the trying.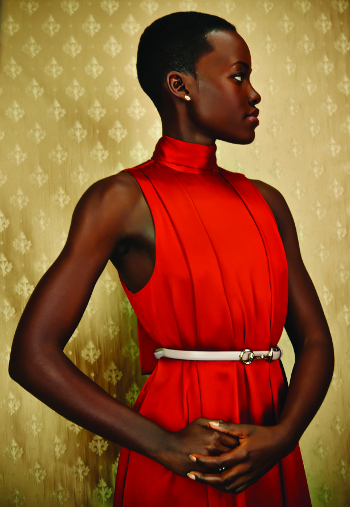 Never one for pacing herself, Nyong'o went straight from New Orleans back to New Haven, decompressed for a day, and set about finding an apartment in New York City. "I could have used a few more days, but you have to do what you have to do," she says. "I got massage therapy; I got acupuncture. Those things are always very helpful. I rely on them for sanity. In the madness, you have to find calm."
Two months later, she was cast in "Non-Stop," a Liam Neeson thriller set aboard an aircraft. "The perfect antidote to ['12 Years a Slave']," she says. "Polar opposite. We were in a studio; it was winter; it was one location; it was very technical, whereas '12 Years a Slave' was so theatrical in the way we shot it." That, too, came out of an audition, though none as taxing as those for "12 Years a Slave."
Her transformation from defiant, subservient slave to a woman on a hijacked plane just feeds into that persona of effortlessness. But of course, that's not true. Nyong'o remains as nervous before auditions as any other young actor; she's read for Maisler since "12 Years a Slave" and was just as nervous the second time as she was the first. "As actors, you become an expert at starting over," she says. "Every single role brings with it an ignorance and an insecurity, and so you have to approach it with the same curiosity and humility. I'm always nervous. Doesn't matter how many times I do this. But I remind myself it's because I care. Steve would say, 'Fail and then fail better!' And that environment was so liberating. It's not about getting it right. It's about getting it truthful."