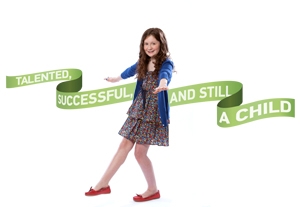 Twelve-year-old Emma Kenney says her onscreen alter ego, Debbie Gallagher, couldn't be more removed from herself, "except that we're both good students," she giggles. Debbie is quite a role for a wholesome, preteen New Jersey suburbanite to tackle, but then, Debbie's world on Showtime's dark comedy "Shameless" is more than a tad removed from that of even the most seasoned viewer.

Renewed for a third season and inspired by the award-winning British series, "Shameless" offers a gritty look at Chicago's white, urban underbelly. Set in the Windy City's Canaryville, it focuses on the unabashedly repellent exploits of lying, thieving alcoholic Frank Gallagher (William H. Macy) and his six children, who live amid squalor and chaos.

"Debbie, the middle child, has had an imperfect life and wishes she had a perfect life," says the highly articulate, charming, and self-possessed actor. "She wants to be a Martha Stewart with apple pies and picket fences. But this season she's different from Season 1. Now, she's cynical and frustrated and growing up. She wants to grow up faster than she can handle and do whatever she wishes. There are scenes that would never happen in my life. It's hard to put all that together. I try to get into Debbie's mindset. And I try to think how another actor might do it, someone like Drew Barrymore or Rachel McAdams."

Kenney has appeared in a few commercials, but "Shameless" marks her first major booking. As soon as her manager sent her the sides for the audition and she pored over the material, she was determined to nail it. Her ambition notwithstanding, Kenney says she didn't know where to begin, until her mother, Gillian Kenney, tracked down the scene in question as it was performed by the British actors.

"I copied what I saw exactly, but when I went to the audition they said I had to change that," Kenney says. "I was totally off-guard, so I went with my gut instinct and that was right. My first audition was in New York, and then I was called back to audition for [showrunner] John Wells, who had flown in from L.A. Then I was called to L.A. for a mix-and-match." That refers to testing already cast or shortlisted actors with other likely contenders to gauge that elusive onscreen chemistry that's so important. Kenney clicked, because shortly thereafter she got a screen test with the executives, and she booked "Shameless" that night. Still, as she and her parents waited in their hotel room, Kenney was filled with anxiety and despair.
Clearly, those emotions were unfounded.

Kenney's manager, Maggie Schuster of MKS&D, knew from the outset that she had a winner in Kenney. "She exudes a massive amount of self-confidence, maturity, and professionalism that complement her natural talents as an actor," Schuster says. "I believe this is what makes her so special and unique."

Starting Young

Kenney started acting training at the age of 5 when her parents looked to engage her in an extracurricular activity. Soccer, gymnastics, and ice skating didn't cut it, but improvisation grabbed her. Other improvisational classes followed. Within a few years she landed a public service announcement for Scholastic Books, but she did not view herself as a professional until she signed with her manager, who discovered Kenney in a class showcase when she was 8. National commercials and voiceover gigs followed. Kenney insists no one was pushing her and that she has always been self-motivated.

Setbacks were not easy to endure but also proved informative. "You're most likely not going to book your first audition," Kenney says matter-of-factly. "It takes tons of time and work. You should take acting classes and do student films. You get tons of knowledge from them, like how to carry yourself, and to come in on time, and to have your lines memorized, even for an audition."



William H. Macy and Emma Kenney in "Shameless" (Showtime)

Kenney is grateful she does not have stage parents and can't help wishing the pushy moms and dads out there would back off. "If you put pressure on your kids to book every audition, they won't enjoy it anymore, and they won't book it either," she says. "Also, if they don't want to go to an audition, they shouldn't be forced to go. They have to want to do it."

Throughout all the running about, Kenney has maintained a fairly normal existence, attending a local public school in New Jersey between November and July while "Shameless" is on hiatus. When "Shameless" is in session, an on-set tutor keeps Kenney and the two other underage cast members on track academically.

Still, it is by no means a commonplace life. Kenney's dad, Kevin Kenney, who previously worked as a sports editor at the New York Post, quit his job to supervise his only child on and off the set in L.A. He is now an editor at Fox Sports, while Gillian Kenney, an attorney, maintains her practice in New York.

Kenney acknowledges she's had to make sacrifices, such as not seeing both parents and her beloved dog on a daily basis. But she doesn't regret her time on "Shameless," because she loves acting so much. Further, she contends that along with gaining new friends, she's lost no old ones and that her status in their eyes hasn't changed significantly. "The first two weeks after I've returned [to New Jersey], everyone is all excited," she says. "Then it's all back to normal Emma."

Kenney's mom says she's deeply concerned with the issue of normalcy. "I don't know what's being taken away from Emma, but this is the only thing she loves. How can I take that away from her?" she says. "Still, I walk on eggshells. Emma is expected to be an adult off set, on set, and at restaurants. She's just on the cusp of being recognized. It's a lot of pressure for a child."

Gillian's other concern is the show's raunchy subject matter, and she does not make light of it. She's made more comfortable that her daughter is being protected. She says the creative and production teams are keenly aware of Emma's age and keep her away from scenes during rehearsal or shooting that may be deemed unsuitable.

"You can't go into this with rose-colored glasses," Gillian says. "You've got to keep yourself and your child grounded. Emma's on a leash. We're constantly pulling her back and trying to show her role models of child actors who kept their heads on their shoulders and became successful adults, like Ron Howard."

Lots on the Agenda

As Kenney tells it, the "Shameless" experience has been nothing short of wonderful, offering an extraordinary learning experience for a young actor. While her improvisational training has enhanced her spontaneity and flexibility, "it doesn't teach you how to create a character or how to be on a set," she says.

Those skills come with doing it and watching the more experienced cast members, especially Macy. "I learn things from him every day," she says. "I love the way he can quickly get into scene, even an emotional scene, and then when they say 'cut' he's completely out of it. Bill says I should do theater because that's where you learn everything. I would totally love to do theater."

Kenney also has set her sights on movie acting. She has already tried her hand at script writing and directing. Her short film, "The New Girl in Town," was a finalist at the 2009 New Jersey International Festival, thus making her the youngest filmmaker to walk off with that tribute. "I've written tons of scripts, and when I wrote 'The New Girl in Town,' I read it to my parents and they suggested I make a movie out of it," Kenney says. "I got a few friends together, and I shot the movie in one weekend, and then my mom and I edited it. We submitted it to two festivals. One turned it down, and the other was the New Jersey festival."

Kenney hopes to do a lot more behind-the-camera work. Her other long-term ambitions include being a detective or running an animal shelter. Attending college is also high on her list of priorities, though she's not committed to any major. But that's a long way off, she says, adding, "So many options, so little time."

Outtakes

Guest-starred on "Boardwalk Empire"
Contributes to and solicits for her organization Our Animals Deserve Care