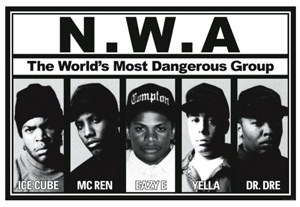 If you have the acting and rap skills to embody a young Dr. Dre, Ice Cube, or Eazy-E, you may get the chance to play the famous rappers in a new movie.

Kim Coleman Casting is holding an open online casting call for lead roles for "Straight Outta Compton," a new biopic that will chronicle the rise of the groundbreaking but controversial Compton, Cali. hip-hop group N.W.A. The film takes its title from N.W.A.'s breakthrough 1988 album.

F. Gary Gray ("Law Abiding Citizen," "The Italian Job," "The Negotiator"), who previously worked with N.W.A. founding member Ice Cube on the 1995 movie "Friday," will direct the film. Gray has also directed music videos for artists including R. Kelly, Babyface, Cypress Hill, and Cube. Cube is co-producing.

Gray tweeted June 19, "I'm casting for my next film STRAIGHT OUTTA COMPTON. Spread the word! Thanks!"

Casting director Kim Coleman is seeking young African-American men, ages 18-25, to portray the members of N.W.A. Available roles include Eazy-E, Ice Cube, Dr. Dre, Yella, and MC Ren.

For more information and to apply, view the full casting notice online at BackStage.com. (Subscription required) Include a video audition as the character for which you'd like to be considered. The producers are accepting submissions from actors across the U.S. for this project. Production dates and locations have not been confirmed.

Coleman is a casting director whose feature film credits include "Inside Man," "Madea's Witness Protection," "Beauty Shop," and more, such as the upcoming "We the Peeples" and Spike Lee's remake of "Old Boy." She also cast several episodes of "Everybody Hates Chris."