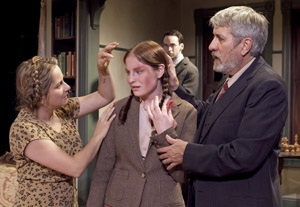 The horrors of the Holocaust and the devastating moral dilemmas it engendered in its victims as they attempted to survive are familiar dramatic material by now. And though there are passages in "A Splintered Soul" when it all becomes painfully immediate and absorbing once again, Alan Lester Brooks' drama is an uneven affair.
The story centers on a small support group of Jewish Polish refugees living in San Francisco in 1947, led by the compassionate but troubled Rabbi Simon Kroeller. Kroeller's family was murdered by the Nazis while he served as a resistance fighter. When these people reveal their histories and tell of their struggles to build new lives, the script resonates with a compelling veracity. But much of the play deals with a complicated scam that embroils the rabbi in yet another ethical conundrum. Its unreeling involves a lot of obviously mechanical and forced dramaturgy and finally strains credibility to the breaking point.
Director Daisy Walker has staged things proficiently on Kevin Judge's set, which realistically depicts the living room of the rabbi's apartment while easily suggesting some of the play's other locales. But like the script, or maybe because of it, the production has its ups and downs. At times the performances catch fire, but there are times when the actors simply seem to be moving perfunctorily through the plot twists. As Kroeller, John Michalski gives an extremely polished performance, perhaps too polished. He projects an urbane glibness that seems at odds with the character's history. When he describes himself as a "shtetl" Jew, it's hard to believe. Of course, the script gives this Polish refugee an impressive command of the English language.
Among others in the eight-person cast, Michael Samuel Kaplan is forceful as an irredeemably embittered survivor, and Anya Migdal and David Lavine are often affecting as other members of the support group. Lisa Bostnar does notable work in a trio of roles and is especially moving in her brief appearances as the ghostly apparition of Kroeller's wife.
As we're told in his program bio, playwright Brooks is "a physician by profession and an author by preference." There's no doubting the intelligence and deep feelings that have gone into this work, but perhaps Brooks should have taken a cue from another physician-playwright, named Chekhov, and concerned himself less with plot and more with character.
Presented by ARLA Productions and Rosalind Productions at Theater Three, 311 W. 43rd St., 3rd floor, NYC. Oct. 24–Nov. 13. Thu.–Sat., 8 p.m.; Sun., 3 p.m. (212) 868-4444 or www.smarttix.com. Casting by Judy Bowman Casting.