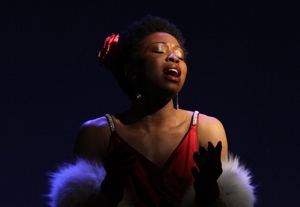 "Make Mine Manhattan" opened on Broadway Jan. 15, 1948, and ran for one week short of a year. Sid Caesar was the breakout performer, and Bert Lahr headed the national tour. Nevertheless, like many a topical musical revue, it has fallen into obscurity. Now UnsungMusicalsCo. is giving it a go, in a revised version that returns the show to its conception as an intimate, small-cast piece rather than the large-scale production it became. Of course, that puts the focus squarely on Arnold B. Horwitt's sketches and composer Richard Lewine and lyricist Horwitt's songs. Pleasant enough, they were never top-drawer in the first place, and the similarly pleasant eight-person cast—not a Caesar or a Lahr among them—is powerless to disguise that fact. Compressed by director Ben West to a quick 75 minutes (even with the restoration of four cut songs), the entertainment passes by reasonably painlessly.
The idea is to spoof New York City's swankiest borough and its denizens, and so we have songs with titles such as "Anything Can Happen in New York," "New York Gal," "Movie House in Manhattan," and the improbable hoedown "Saturday Night in Central Park" (maybe it was meant as a coded metaphor for adventures in the Rambles). The humor is rarely sharp and generally obvious, and Lewine's melodies have an unfortunate penchant for heading down the scale just as Horwitt is trying to slam home a joke. West offers us a mere three sketches, with "Any Resemblance," a jab at the stupidity of theater critics and the cynicism of their editors, the only one that's still funny.
The performers—Nicolas Dromard, Nadine Isenegger, Dennis O'Bannion, Greg Reuter, Gabrielle Ruiz, LaQuet Sharnell, Bret Shuford, and Kristen J. Smith—are all proficient singers and dancers, but musical revues such as these require outsize and original personalities, and there's nary a quirk to be seen onstage. Shuford gets one of the better comedy turns in "Subway Song," the lament of a Bronx man who dates a Brooklyn girl and hates the commute, but even as he's doing a decent job of landing the laughs, the mind strays to picturing what Caesar must have done with this material. Sharnell, a charmer in the recent "Lysistrata Jones," completely misses the joke of "Schrafft's," a paean to the once-ubiquitous restaurant chain that should be sung by a working-class girl affecting a refined accent ("been" is supposed to rhyme with "seen," and what the devil is a "marcharino" cherry?).
Rommy Sandhu's extensive choreography gets a bit relentless and can tip over into coyness when evoking period, but he does contribute a lovely partner dance for "Gentleman Friend." Musical director Fran Minarik allows too much sloppy diction and has been unable to help the singers fill the sizable Connelly Theatre with their unamplified voices. Her two-piano arrangements are not aided by West's decision to place those pianos offstage in opposite wings. Martin T. Lopez's colorful costumes are the production's sole element successfully reinforcing time and place.
And speaking of authenticity, West errs by interpolating such terms as "dinner theater" and "superstar," neither in use in 1948, into the script. To make a show such as "Make Mine Manhattan" speak to contemporary audiences—and to be fair, I'm not sure that's possible—considerably more rigor is required than exhibited here.
Presented by UnsungMusicalsCo. at the Connelly Theatre, 220 E. Fourth St., NYC. March 4–17. Wed.–Sat., 7:30 p.m.; Sat. and Sun., 2 p.m. (212) 868-4444 or www.smarttix.com. Casting by Geoff Josselson.