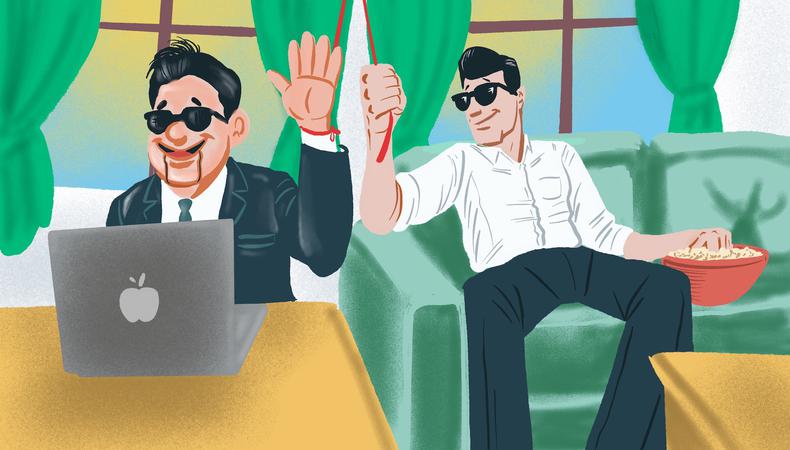 When I was a young man in Chicago, I spent way too much time inside the bars that run up and down Clark Street. Those were fun nights, and everyone always had a great time, but then I'd get home with a crushing headache and all I could think about was getting a good night's sleep so I could start fresh in the morning.
That's how I feel about Zoom meetings.
Speaking on behalf of myself and the actors I represent, they were fun for a while, but now we're just about over this virtual nonsense. I don't want to have any more conversations about webcams or ring lights. Shove a fork in me, because this agent is done!
Unfortunately, I don't expect the casting process to return to what it was before the pandemic any time soon. It's a nice wish, but there aren't enough birthday candles in the world to make it come true. I'm predicting a new balance between virtual casting and in-person sessions for the rest of 2021.
"Here's the problem: Remote casting eliminates human connection, and human connection is one of those ineffable factors that can land you the part."
Looking back, it hasn't been all bad. Taping auditions at home allowed actors to get their readings just the way they wanted them. When you audition in person with human beings, you get one shot, maybe two, and that's it, time to go. But when you're taping at home, there's no rush. You can do 100 takes until every beat is just right.
But what are you playing against? The energy of the camera? At home, it's just you and your insecurities working the material over and over till you've created a perfect beast that lacks energy and spontaneity. (In the spirit of fairness, half of the actors I know agree with me on this and the rest don't, so it's really a matter of opinion.)
Over the last year, a lot of my clients have received offers based on their initial self-tape, but quite a few have been invited to a Zoom callback. This is when a group of people with the power to hire you try to make heads or tails out of your performance while they fiddle with their mute buttons.
APPLY: Find Remote Performance Jobs
and Auditions
Here's the problem: Remote casting eliminates human connection, and human connection is one of those ineffable factors that can land you the part.
When you book a job, it's based on your ability as a performer and who you are as a person. When two people audition for the same role and they're equally good, the offer will usually go to the actor who made a human connection in the room, the one who had a spark and made everyone smile. Trust me: The fact of the matter is that no director walks away from a virtual callback raving that someone was magic. They just make a choice based on what they can see on their small screen and then hope for the best.
Over the years, I've had a ton of clients make solid connections with casting directors because they had an actual conversation while sitting in front of them. I don't want to work in an industry that eliminates that part of the process. It's too valuable. Think I'm being dramatic? Well, listen to this: A few weeks ago, one of my people booked a substantial role in an independent film. He met the COVID compliance officer before he was introduced to anyone else on set (as is protocol), and he still hasn't met the casting director. Ultimately, it's great that he booked the role and I don't mean to complain, but that inability to connect in real life can hinder his opportunities down the line. That's the sticking point.
Looking for remote work? Backstage has got you covered! Click here for auditions you can do from home!