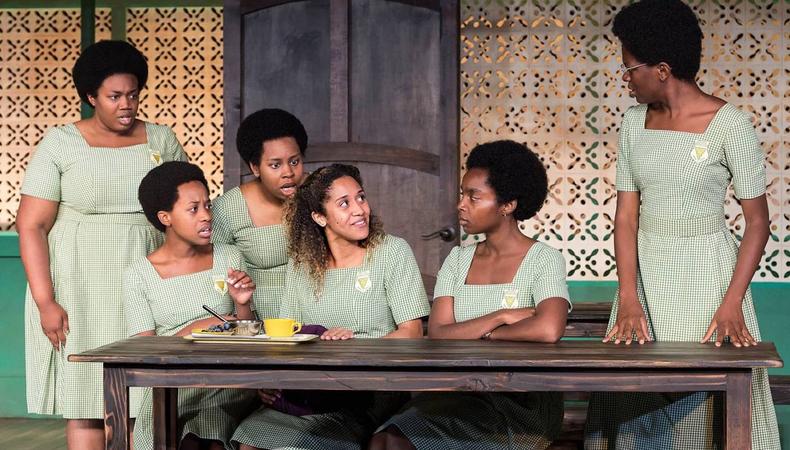 When it comes to finding audition material and classwork for teens, it can be challenging—especially if you're looking for something more contemporary. That said, there are works out there that lend themselves to teenage actors. Below are 10 of my favorite plays for teens and young adults, from coming-of-age stories to historical dramas. Each one features rich, timely topics and intelligent writing. The storylines and characters are age-appropriate and easy for teens to understand. Even better, these plays offer material that can easily be cut into attention-grabbing monologues for teens. Put them all on your reading list—you'll enjoy them, learn a lot, and discover material that may well be perfect for your next production (or audition!).
"Indian Summer" by Gregory S. Moss
A sweet teenage romance, this comedy-drama centers around two young men and one young woman dealing with sexual desire and class loyalty. For students unaccustomed to reading plays, the playwright's style incorporates irregular punctuation and spelling to indicate intentional inflection and rhythm and the use of full capitals to emphasize words. The double slash lines indicate characters interrupting each other, reminding us of real people in everyday conversation. These textual notes are an excellent lesson for actors as they think of text as an improvisation with words—a beautiful way for actors to approach acting.
"All American" by Julia Brownell
This play tells the story of a high school quarterback and the pressures she and her family face as they consider her future commitment to the sport. The writer's credits include the popular TV series "Hung," "Parenthood," and "Smash."
"Actually" by Anna Ziegler
This two-character play is a he-said, she-said story about date rape, addressing gender and racial politics on a college campus. The play is filled with poignant and intelligent speeches for both young men and women.
"BFF: 'Best Friends Forever' " by Anna Ziegler
A coming-of-age story about two young women challenged by the onset of adulthood, this play follows the characters from 12-year-olds through their time as young adults. There are scenes for two females, male and female scenes, and one-minute cuttings for monologues for both genders. I like the realistic dialogue and honesty with which the playwright talks about love, loss, and resentment, all strong themes for actors to play.
"Girl" by Megan Mostyn-Brown
This is a terrific play about what it means to be a girl today. The language is lovely, both honest and relatable. This play is unique because it features monologues that are both comedic and dramatic at the same time.
"School Girls; Or, The African Mean Girls Play" by Jocelyn Bioh
For those who missed the critically-acclaimed Off-Broadway run, this play is a must-read. Set in an all-girls boarding school in Ghana, the play is a coming-of-age story of backbiting teens and bullying. It's easy to read and relatable for younger actors since the plot is constructed like a television sitcom and reminiscent classic teen films like "Mean Girls" and "Heathers."
"Really Really" by Paul Downs Colaizzo
This is a smart, humorous play about a group of four college students the night after a wild campus party. With the #MeToo movement so prevalent today, the themes of social class, entitlement, and peer pressure will surely resonate. There are some wonderful, sophisticated monologues for both young women and men.
"String of Pearls" by Michele Lowe
This play features four actors who play 27 characters, exploring what happens when they come into contact with a strand of pearls. Over 35 years, the pearls tell a story of love and loss through different relationships. Although many of the characters are older, this play might be a good choice for a high school production given the number of female character possibilities.
"Future Tense" by David Kranes
Full of dysfunctional family relationships, this play reminds us of what life is all about. I've seen students use monologue excerpts from this play that have had a strong impact. Kranes writes dialogue where characters are lost in thought and can't finish sentences, reminding me of family members who drive me crazy—but are so real at the same time.
"The Tall Girls" by Meg Miroshnik
This play features a strong ensemble of female characters, exploring issues of class and gender during the historic 1930s Dust Bowl. Unlike the other contemporary plays here, "The Tall Girls" is an old-fashioned play about hopes, dreams, and aspirations.
Looking for remote work? Backstage has got you covered! Click here for auditions you can do from home!
The views expressed in this article are solely that of the individual(s) providing them,
and do not necessarily reflect the opinions of Backstage or its staff.
Disclosure: This post is brought to you by the Backstage team and/or a Backstage Expert. If you purchase items through these links, we get a small share of the revenue from the sale from our commerce partner.