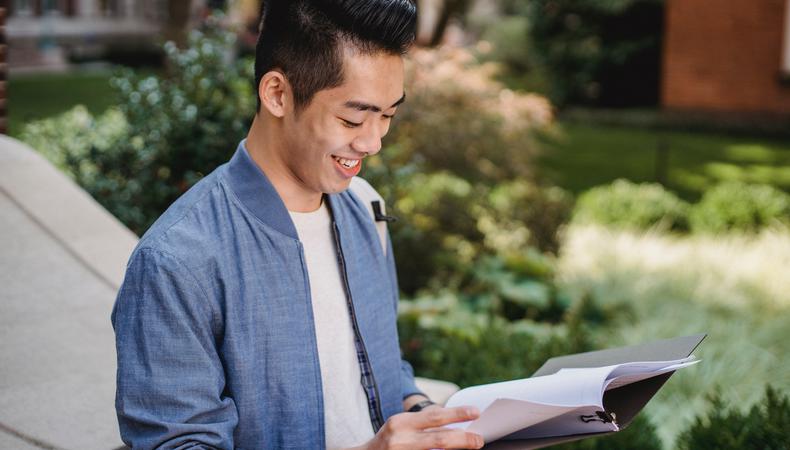 For the teen actor, finding the right monologue can be tough. Not only should the material be age-appropriate, but it's also important to find an audition monologue that is compelling and emotionally relevant to the young actor who is performing it. The good news is that there are plenty of great monologues for teens to sink their teeth into—you just have to know where to look!
Whether you're looking for something comedic, dramatic, classical, contemporary, there's no shortage of excellent monologues for teenage performers.
Acting coach Denise Simon says finding the dramatic monologue for teens can be challenging. She explores "the classics and great writers of the past while also hunting down contemporary playwrights producing timely material." Here are her picks for the best dramatic monologues for teen girls and boys, appropriate for both middle schoolers and high schoolers.
1. "A Bright New Boise" by Samuel D. Hunter
"There are several monologues in the play that offer honest looks into Alex's relationship with his dad including one that extols Alex's pipedream of his father being a hero returning from war."
2. "Class Action" by Brad Slaight
"This monologue doesn't take itself too seriously and can even be funny at times, but underlying Dennis' struggle is a universal desire to be accepted, and his frustration at a system that places the boy with the 176 IQ on the sidelines."
3. "Fences" by August Wilson
"I love the way this monologue builds to allow Cory his moment of triumph. The character's growth and arc in this one-minute monologue is enough to give any young actor room to develop their own character and find their own moments of triumph."
4. "Everything Will Be Different" by Marc Schultz
"This particular monologue makes great use of its contrasting characters as Charlotte, the 'ugly duckling' whose mother recently died, expresses her frustrations to Heather, the most popular girl in school. The monologue is easily relatable to teenage girls, who themselves are constantly bombarded with demands to mirror society's standards of beauty."
5. "Laramie Project" by Moisés Kaufman and members of the Tectonic Theater Project
"Zubaida Ula's monologue, in particular, stands out as a rallying cry against ignorance while she herself struggles to comprehend the tragedy that she sees unfolding around her."
6. "Push" by George Cameron Grant
"'Push' grapples with heavy subject matter, exploring the life of a boy named Chris after he faces bullying and eventually takes his life. I find it to be a rich source of material for any teen willing to confront these difficult topics."
Actor Robert Peterpaul believes that "the Disney movie catalog is a prime source to mine for monologues you can put your own spin on." Want to give one a try? Here are some Disney monologues for teenagers that Peterpaul suggests.
1. "Aladdin" (2019): Jasmine
"She won't go speechless! Show your power in this mini monologue where Jasmine stands up to Hakim. She shows that tears can be a sign of strength."
2. "Stargirl" (2020): Stargirl
"The title character's big speech in this Disney+ film is a nice lengthy option if you're looking for a contemporary dramatic piece."
3. "Maleficent" (2014): Maleficent
"Angelina Jolie sinks her pearly whites into her first big speech of this Disney hit, penned by Disney-darling Linda Woolverton."
4. "Brave" (2012): Merida
"This is a good monologue to use to simply practice your Scottish accent, but you can also go accentless and make it your own!"
5."Enchanted" (2007): Giselle
"While the dialogue doesn't vary too much, your choices certainly can during this outburst from Giselle! Sadly, relating to being told 'no' isn't too tough for us actors."
6. "Tangled" (2010): Rapunzel and Mother Gothel
"I mean, hopefully, we're not all locked in towers, but who can't relate to a little family tension?"
7. "Princess Diaries" (2001): Mia Thermopolis
"Who could forget Mia's rain-drenched and ballgown-less final speech from this hit live-action film? Not casting directors if it suits you!"
8. "Freaky Friday" (2003): Anna
"Not sure when you'd need to channel being a mother trapped inside her daughter's body, but hey, we've all got demons (and hopefully lots of auditions down the road)."
When it comes to comedic monologues, acting coach Denise Simon says teen actors often fall into the trap of "choosing generic monologues or focusing on surface-level gags." She says that a good monologue, even comedy, will be "active instead of passive." Here are her picks for best teenage comedic monologues for girls and boys.
1. "A Midsummer Night in the OC" by D. Tupper McKnight
"A modern interpretation of the jealous maiden, Helena's monologue here oozes with teen insecurity and angst."
2. "Serendipity and Serenity" by Jonathan Marc Sherman
"I've seen Lionel's monologue from this play, which takes place in a bathroom, performed by both boys and girls and it's always a winner.
3. "All This Intimacy" by Rajiv Joseph
"The character Jen's hilarious attempts to wring some emotion out of her boyfriend are foiled by her own ineptitude in her monologue here. While we laugh at her seriousness as she spars with the laryngitis-stricken boy, we can also appreciate her genuine attempts to understand her place in the world..."
4. "Dags" by Debra Oswald
"Told through the eyes of a girl with her head in a bag, the monologue really just gives teens an opportunity to let loose about the stress of adolescence. It dials up the melodrama, angst, and confusion, making it easy to connect with it and really have fun."
5. "Everything Will Be Different" by Mark Schultz
"The confusion of this character is both hilarious and endearing as he tries to convince Charlotte, a girl who doesn't know him particularly well, that they should 'be like boyfriend and girlfriend or something.' "
6. "From Up Here" by Liz Flahive
"It's a dynamic monologue, with beats of contemplation juxtaposed with Charlie's anxious ramblings. It is an easy monologue for lovesick teenage boys to understand."
7. "I Ought To Be in Pictures" by Neil Simon
"The subject matter is more mature, so I'd recommend it for an older teen., but Libby's sporadic changes in tone make this an impressive monologue for anyone who likes a multi-layered character to explore."
Acting coach Denise Simon says that for teens especially, working on Shakespeare can encourage the actor to "dig deep" because of the "nuanced characters." Here are her choices for the best Shakespeare monologues for teens.
1. "King John": Blanch
"The strong conflict gives young actors the freedom to play heightened emotions, which, coupled with the complex relationship between Blanch and her husband, makes this monologue a great challenge for any girl looking to expand her acting horizons."
2. "A Midsummer Night's Dream": Helena
"The monologue found in Act 1, Scene 1 begins with the line, 'How happy some o'er other some can be' and provides a fun exploration into a misunderstood character that can work with a number of different choices."
3. "A Midsummer Night's Dream": Lysander
"It's a great scene for a timid teen who wants to expand his range and can be found in Act 1, Scene 1 beginning with, 'You have her father's love Demetrius.' "
4. "Henry VI Part 1": Joan of Arc
"The language in [this monologue] can be challenging, so it may require a dictionary nearby for the first read-through. But if you're a headstrong, independent actor and looking for a character to showcase that, you may be the perfect witch to play her."
5. "Romeo and Juliet": Romeo
"His monologues tackle themes of love, fate, and grief, and use complex metaphors to paint a dynamic picture of what it means to grow up. This makes it an easy character for boys to understand and provides a vehicle for them to improve their craft with nuanced writing."
6. "Two Gentlemen of Verona": Launce
"The language in this speech is definitely a challenge, even tripping up Launce, but it's a hilarious, self-aware piece that an actor can really have fun with...It really gives an actor the space to play with and become more acquainted with the Bard's style."
For contemporary monologues for teenagers, acting coach Todd Etelson says that small moments can make for big drama. "If teens don't get to borrow the car or go to the party, they'll simply die. Bad for parents, great for monologues," he says. Etelson's picks below can be considered gender-neutral.
1. "Shadows of my Mind": Naomi
"This monologue will test you. Your focus should be on the person you're speaking to, but as you wrestle with these thoughts, we'd like to see the inner struggle you're experiencing, as you speak to yourself."
2. "Those Days are Over": Marsha
"This is an interesting dramatic monologue between rivaling sisters…Here, Marsha defends herself against her sister's outburst. This makes things erupt between them."
3. "Nowhere Near Happy": Ava
"Here Ava is talking to the audience. She discusses issues with her parents in the face of her success and how her success has made her relationship with them more difficult. But, the underlying issue here is feeling underappreciated by her parents."
4. "Agree to Disagree": Harpa
"A face-to-face friendly smackdown, Harpa is hearing the eye-opening truth from a close friend about their fake relationship and her need to be more real."
5. "Easy A": Brandon
"Brandon is a gay high school student who is bullied at school. Olive convinces him to lie and say he's been intimate with her, so he can be accepted and she can have a bad girl reputation…He now needs to convince Olive to continue this façade…It's a great seriocomedy piece."
6. "Almost 16"
"In this comedic monologue, a young actor is auditioning for her school and not quite old enough to drive to get to the audition. She tries to convince her father to allow her to drive, even though she's not quite 16 yet."
7. "One Way Conversation": Bella
"Here Bella confronts her mother about a seeming lack of encouragement and support to follow her dreams. You don't want to create distance between you and your mother, so you need to walk a tightrope."
8. "Sly Statements": Melanie
"Here Melanie is having a discussion with her boyfriend. She says he makes her feel less than a person and she's fed up with his condescension. They can't be together anymore if he can't change."
The views expressed in this article are solely that of the individual(s) providing them,
and do not necessarily reflect the opinions of Backstage or its staff.