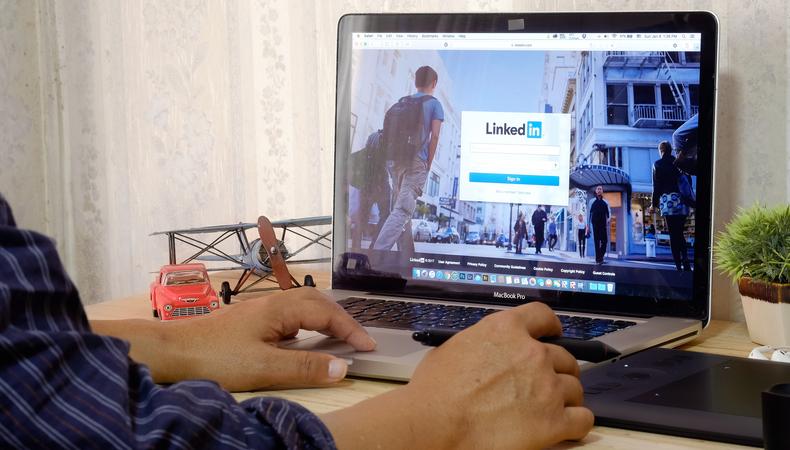 LinkedIn is a valuable tool for staying connected to people you've worked with and for researching people you want to know in the business. Here are 10 tips to help you be successful on LinkedIn as an actor.
1. Optimize your professional headline.
Your headline is the first thing people read about you. Right under your name, you have 110 characters to tell us who you are. Use relevant keywords in your headline (like actor, voice actor, SAG-AFTRA, Actors' Equity Association, singer, or dancer) so people can quickly find you in search.
2. Upload a profile photo and a background photo.
Update your account with a current headshot you can use on all your social networks so people will recognize you across platforms. It takes between seven and 12 times to recognize a brand online (you are a brand). Also, add a background image on your profile (it's the big header behind your profile photo). Your background image should show us who you are and what you do. You can create one for free using a tool like Canva.
3. Make it easy to contact you.
LinkedIn lets you link your Twitter handle, email address, and up to three websites. Use these three URLs for your website, IMDb, or other social networks.
4. Endorse others.
Endorsing fellow actors, your agent, manager, and people you know is good karma. It keeps you top of mind and they might give you an endorsement in return. On the flip side, asking for endorsements from casting directors and industry professionals you've barely had contact with or, even worse, never been hired by is a huge no-no.
5. Use media.
Using video on your LinkedIn profile helps us get to know you. You can upload your reel, performance clips, interviews, or scenes from your latest web series.
6. Follow hashtags.
If you follow a hashtag like #womeninfilm or #acting, you'll see posts in your feed from that hashtag even if that person isn't a connection. That's a great opportunity to find new, like-minded people.
7. Use LinkedIn Groups for networking.
Although LinkedIn is best for connecting with people you know, you can expand your network in LinkedIn Groups. Use groups to connect with people you share common interests with like alumni associations and SAG-AFTRA or Equity related groups. Don't be afraid to look beyond actor groups and connect with groups of filmmakers, like-minded women in film, or writers. You can learn from these groups and they can help you build relationships that can positively impact your career.
8. Connect with your existing network.
You can meet new people by following hashtags and joining groups, but LinkedIn is best for connecting with people you've already worked with. Reconnect with people from your arts high school, college, plays, classes, and industry professionals who already know you. If it's been a while, send a short, personalized message with your connection request: "Hi Amy, I really enjoyed working with you on X and I'd love to keep in touch."
9. Don't send connection requests to complete strangers.
Don't send requests to casting directors (or anyone) you don't have a relationship with. Consider why they use LinkedIn and then act accordingly. A casting director has a business. They're on LinkedIn to network with people that can hire them, not to scout for talent. If you send invitations and get too many "I don't know this person" responses, your account may be restricted or suspended. LinkedIn is for building mutually beneficial relationships not getting auditions.
10. Use LinkedIn for research.
Use it to research people you want to know. Find out what shows a casting director casts, where they went to school (maybe it's your alma mater), what interests they have, if you have mutual connections, and what groups they're members of. Join one. See what they're talking about and what's important to them. Then, if and when appropriate, you can chat with them about a topic of mutual interest instead of your reel or your latest project.
Don't be the actor who solicits connections to have a high number of connections. Those numbers won't help you get cast. If you're interested in building your following, LinkedIn isn't the best place to do it. But, if you want to strengthen your existing connections and build relationships, LinkedIn is a great place to be and well worth your time.
LinkedIn ready? Looking for remote work? Backstage has got you covered! Click here for auditions you can do from home!
The views expressed in this article are solely that of the individual(s) providing them,
and do not necessarily reflect the opinions of Backstage or its staff.