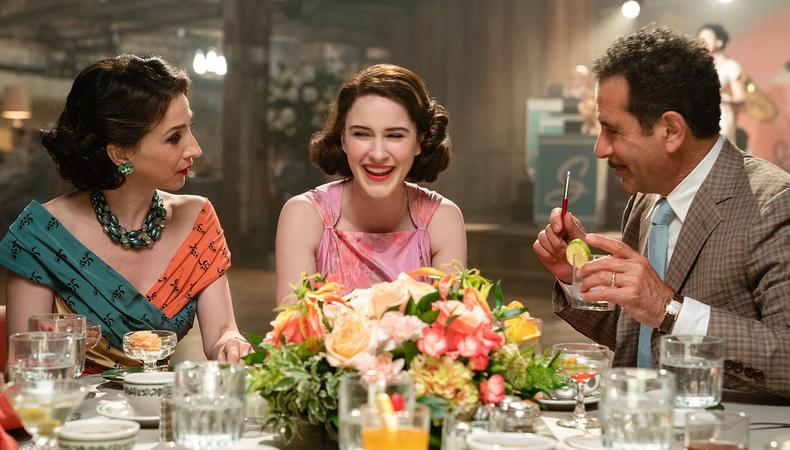 The time has come to crown the very best of television's best. Before the 71st Primetime Emmy Awards on Sept. 22, Backstage is rounding up every nominee in the major acting categories across drama, comedy, and miniseries. Below is a refresher on their stellar performances, how they earned the Television Academy's recognition, and why we couch potatoes on staff can't stop thinking about them. Read on for your 2019 Emmy acting voting guide—and pick your favorites!
OUTSTANDING LEAD ACTOR IN A COMEDY SERIES
Anthony Anderson, "Black-ish"
Juggling a growing family, career, and his kids' sense of blackness in the lily-white surroundings of upper middle-class suburbia, Dre Johnson is equal parts modern philosopher and swaggering goofball in ABC's wonderful sitcom. The naturally funny Anderson's ability to pull off both continues to impress, as do those moments when he digs deeper.
Don Cheadle, "Black Monday"
If you enjoy the idea of Cheadle snorting a line of cocaine, then high-fiving a robot butler, "Black Monday" is the comedy for you. This wild '80s-set throwback stars Cheadle as the swaggering Maurice Monroe, a stock broker who has the world at his fingertips and keeps craving more. Watching him, you'll crave more, too.
Ted Danson, "The Good Place"
The legendary Danson expands his actorly repertoire yet again as Michael, a demon who manages the titular land of the departed in Michael Schur's hilariously idiosyncratic and deceptively ambitious NBC comedy. In Season 3, he unveiled more layers of empathy for his human friends, all while never failing to crack us up.
Michael Douglas, "The Kominsky Method"
Hollywood acting coach Sandy Kominsky has seen better days. Douglas, however, may be giving one of his best performances ever. He manages to demonstrate funny or touching chemistry with every one of his scene partners, including Sarah Baker, Nancy Travis, and the many actors playing Sandy's students. And opposite Alan Arkin's Norman Newlander, Douglas creates a kind of onscreen magic.
Bill Hader, "Barry"
Barry Berkman, a haunted veteran-turned-hitman who, in the midst of PTSD and depression, gets bitten by the acting bug, is a career-best role for the Emmy-winning Hader. HBO's "Barry" allows the actor to use his comedic experience sparingly when a dash of relief is needed. Otherwise, it's one of the most nuanced dramatic performances of the season.
Eugene Levy, "Schitt's Creek"
A longtime titan of the industry, Levy knows comedy—which means he also knows how to play into it as the straight man. Starring with his real-life son Dan Levy in their co-created Pop TV hit as the Rose family patriarch, Johnny, Levy reaches career highs playing a well-heeled stiff who's in over his head and outside his comfort zone after being forced to liquidate his assets and move to the titular town.
OUTSTANDING LEAD ACTRESS IN A COMEDY SERIES
Christina Applegate, "Dead to Me"
We no longer want to live in any world where Applegate isn't starring on our small screens. Luckily, Netflix's "Dead to Me" is not only infinitely watchable, but infinitely rewatchable, thanks in large part to Applegate's glorious turn as a new widow on a mission to find her husband's killer (not knowing that person is her new best friend), all while selling houses (fabulously, of course) and barely maintaining her sanity.
Rachel Brosnahan, "The Marvelous Mrs. Maisel"
We never stop rooting for Midge Maisel, and the Emmy-winning Brosnahan's modern portrayal of this midcentury housewife and burgeoning standup comedian is much of the reason why. She began stealing the show from her first moment delivering Amy Sherman-Palladino's rapid-fire dialogue and has been guiding us through heartbreak, despair, triumph, and side-splitting laughter ever since.
Julia Louis-Dreyfus, "Veep"
Louis-Dreyfus' peerless calibration of timing and tone as HBO's flailing former president Selina Meyer reached new levels in the satire's last hurrah. The actor continued to prove, right up through the gut-wrenching finale, that there are no depths to which Selina won't stoop in her bid for political power. Is it any wonder she has six consecutive Emmys for this role?
Natasha Lyonne, "Russian Doll"
Nadia Vulvokov keeps dying. And each time she does, she's returned to her 36th birthday party. To call Lyonne's portrayal of this fabulously complex and swaggering New Yorker multifaceted is selling it short; as "Russian Doll" zigs and zags and constantly reinvents itself, Lyonne, one of the series' co-creators, confidently leads us through every unexpected yet inevitable twist.
Catherine O'Hara, "Schitt's Creek"
Much has been said about O'Hara's iconic performance as Moira Rose, but we guarantee she'd have the oddest, most delightful way of saying it herself. Her line readings as the wacky, wig-wearing, past-her-prime actor of the 1 percent sucks up the spotlight every time she's in frame. Entering her sixth and final season as the lovable narcissist, O'Hara just leaves us wanting two things: more Moira and more "Schitt's Creek."
Phoebe Waller-Bridge, "Fleabag"
Waller-Bridge didn't invent the direct-to-camera delivery her show so brilliantly deploys, but watching her do it on Season 2 of "Fleabag" makes you feel like she did. Every confession, every inside joke—with us, her confidantes—is a wiggling come-hither finger that entices. Even when she's despicable and we know we shouldn't fall in love with her, much like the Hot Priest, we can't help ourselves.
OUTSTANDING SUPPORTING ACTOR IN A COMEDY SERIES
Alan Arkin, "The Kominsky Method"
What makes Arkin a particularly remarkable presence on the screen is his ability to undermine his funnily sheepish demeanor with moments of subtle, heartfelt humility. Case in point: this new Netflix comedy from Chuck Lorre. In the moments Arkin's Norman is making us laugh, that's when he's most able to make us cry.
Anthony Carrigan, "Barry"
A character like NoHo Hank, if handed to the wrong actor, has the potential to veer into cartoon villain territory. A murderous criminal who exudes a sort of "please, pretty please like me" sensibility? It's enough to push audiences so off-balance they keel over. But Carrigan plays Hank's duality with a wry charm and uses it to deliver one of this series' standout performances.
Tony Hale, "Veep"
Poor, poor Gary. Could he possibly get any more pitiable? As Hale's ballsy performance in this final season proves, the answer is always yes. His genius is in the character's tiniest reactions and throwaway lines, which we'll miss the most after six side-splitting seasons. (And we'll never forget that devastating, genuinely tragic moment at the casket.)
Stephen Root, "Barry"
Let us begin by highlighting a fact about Monroe Fuches: The guy's monologues are great enough to stop entire gang wars. Root has always played the handler-turned-villain as a fast talker able to wiggle out of most life-threatening situations, but Season 2 saw the hilarious actor giving us a deeper look into Fuches' twisted psyche. After 40 years in the business, it's about time a talent like Root received his due.
Tony Shalhoub, "The Marvelous Mrs. Maisel"
The similarities between Shalhoub's Abe Weissman and Brosnahan's portrayal of his equally neurotic daughter are uncanny at times. Shalhoub gets some of the biggest laughs when Abe attempts to regain what he perceives as a loss of control of his regimented life—or when he's determinedly stretching by a lake in the Catskills in the most absurdly perfect romper.
Henry Winkler, "Barry"
Gene Cousineau may, unfortunately, be a familiar figure to working actors: Just short of a scammer, he's an acting teacher with a cult following and a performer with no notable success of his own. The great Winkler (finally a Primetime Emmy winner!) lends his hilariously hangdog expressions to the borderline exploitative schmuck who counsels, criticizes, and encourages his disciples, fanning the flames of their optimism while reeking of desperation himself.
OUTSTANDING SUPPORTING ACTRESS IN A COMEDY SERIES
Alex Borstein, "The Marvelous Mrs. Maisel"
Borstein's Emmy-winning Susie feels like a character we've never seen on TV. The contrast between the colorful uptown world of the Maisels and Weissmans and Susie's dark, smoky downtown scene make for the perfect comedic setups, of which Borstein makes full meals while walking the line between tough and vulnerable.
Anna Chlumsky, "Veep"
What a journey we've been on with Amy Brookheimer. On this season alone, she decided to have a baby, then an abortion, then became a ghoulish pundit and campaign manager—until even she couldn't sell out completely. How did Chlumsky manage to get us to root for this ruthless, power-hungry ball of anxiety?
Sian Clifford, "Fleabag"
Fleabag's sister Claire has all the charm of an inflated pufferfish—both prickly and ridiculous-looking in her level of commitment to hostility. But in the second installment of the Amazon series, we get glimpses at why she is the way she is, and Clifford nails every reveal—her insecurities, her ego, her stubbornness—with heartrending passion.
Olivia Colman, "Fleabag"
As with her recent Oscar win, Emmy recognition for Colman's work is long overdue. As the godmother-turned-stepmother to Fleabag and her sister Claire, Colman homes in on the show's brilliant subtext, serving verbal assaults masked as saccharine pleasantries so subtle, you wonder if you've misunderstood. For those around her, it must feel like death by a thousand cuts, but for the audience, it's a thrill watching her brandish the blade.
Betty Gilpin, "GLOW"
Much of this Netflix '80s comedy's success is due to its ensemble of wildly different but equally convincing women. Stealing the show on Season 2 was Gilpin, playing the headstrong, demanding, fabulous but frazzled starlet Debbie—and her alter ego in the wrestling ring, the sunnily patriotic Liberty Belle. What distinguishes Gilpin is her ability to deliver a sarcastic line or reaction shot with off-kilter hilarity; she doesn't look like the cast member who'll crack you up, and then she does.
Sarah Goldberg, "Barry"
Goldberg's success on HBO's breakout hit is threefold: Not only did she manage to take the vapid L.A. actor archetype that is her Sally Reed and color her with an unexpected nuance, she did so in a way that made her stand out amongst comedic titans like Hader and Winkler. That brings us to her third accomplishment: an Emmy nomination that's made it impossible to forget her name.
Marin Hinkle, "The Marvelous Mrs. Maisel"
The times, they are a-changin', perhaps especially for Rose Weissman. Hinkle was able to render this most rigid of characters with welcome layers of sympathy on Season 2 of "Maisel" and make major changes—picking up and moving to Paris, finally standing up to her husband—feel both surprising and believable.
Kate McKinnon, "Saturday Night Live"
The MVP of "SNL" still has the enviable ability to turn mediocre sketches into brilliant ones with a simple head tilt or widening of the eyes. Her co-stars often laugh so hard they can barely keep it together on the air. Her evolving impersonations of Betsy DeVos and Jeff Sessions, just two examples, are as blisteringly damning as they are hysterically funny.
This story originally appeared in the August 15 issue of Backstage Magazine. Subscribe here.