"I'm gonna leave my wallet with you under the assumption you're not a thief," Natasha Lyonne says, slapping it down on the table as if a betting woman. "It's a test."
If Anyone's Going to Give You a Movie Recommendation, Let It Be Natasha Lyonne
She heads for the restroom, leaving me, her interviewer, sitting with a pocket-sized slip of a leather Chanel wallet, the corner of a folded bill peeking out its top flap.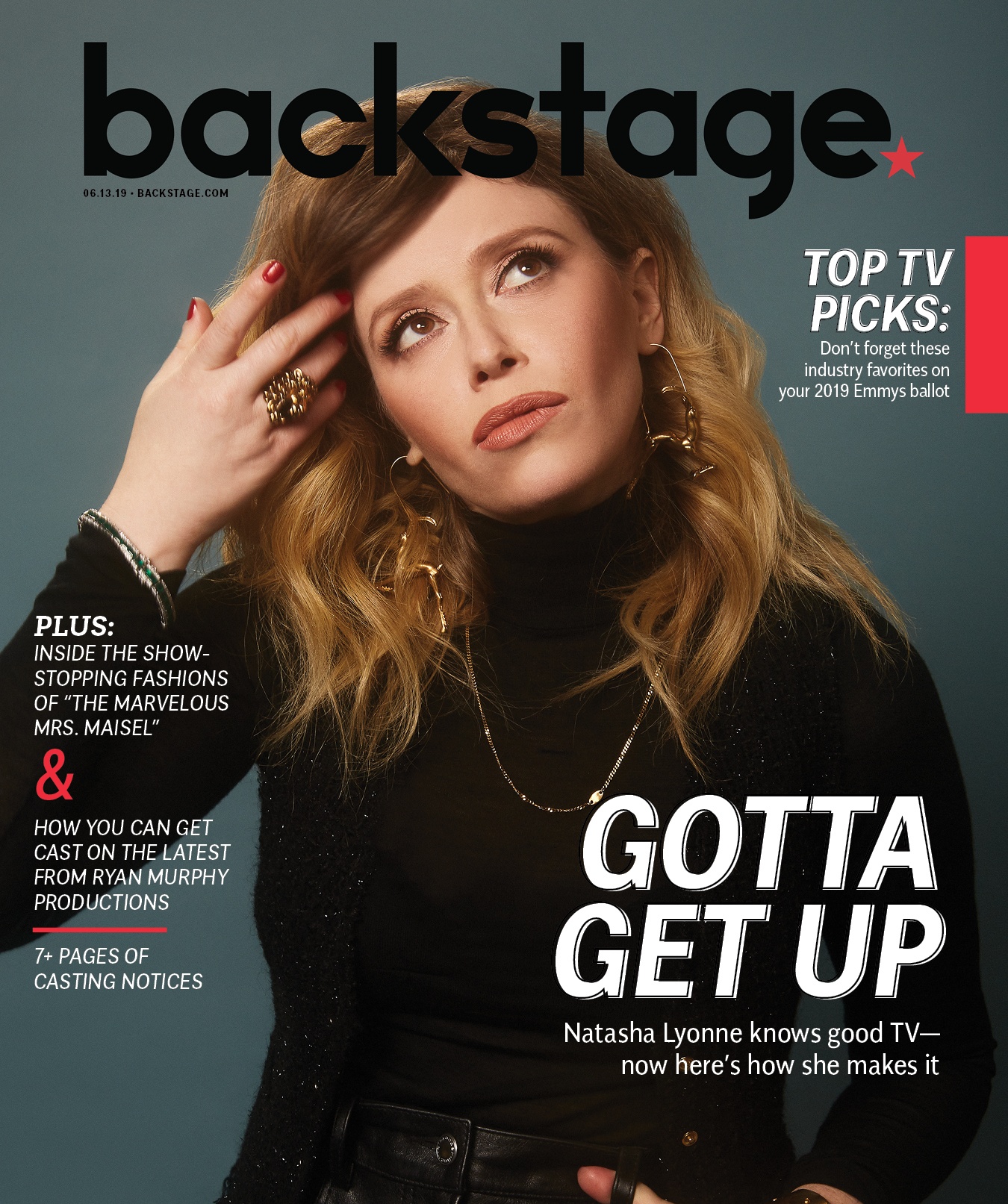 We're meeting on an April afternoon in the back corner of Round K, a nondescript railroad-style coffee café on Manhattan's Lower East Side. When she rejoins me—welcoming, refreshed, and accented with a velvet blazer, red nail polish, and a fistful of gold rings—she promptly dives into her thoughts on the shoot: "Since it was Backstage, I thought that there should be a lot of me emoting to prove that I was an actor worthy of this cover privilege," she says. "So I gave a lot of faces that would indicate, 'Look, I can do drama and comedy! High camp! Horror!' "
Needless to say, Natasha Lyonne knows how to keep a captive audience.
An '80s-era child actor known for her stints on "Pee-wee's Playhouse" and a smattering of commercial work—"I acquired a SAG card in 1984"—Lyonne came of age in films as meandering as Woody Allen's "Everyone Says I Love You" and "Slums of Beverly Hills" to "American Pie" and "But I'm a Cheerleader." She was a thrill to watch and her career was on the upswing before it all but halted in the face of her addiction and substance abuse—a period she's previously referred to as her "black-tar history."
After years of making headlines for the wrong reasons, Lyonne is back and better than ever, having bushwhacked her way into the industry. She found Round 2 big breaks in indie film and Off-Broadway until Jenji Kohan tapped her first for the series finale of "Weeds" ("I was like, 'Holy shit!' Nobody was offering me anything"), and then for "Orange Is the New Black" as fan favorite Nicky Nichols. The role nabbed her her first Emmy nomination in 2014 for guest actress in a comedy series.
"OITNB" rightfully allowed for Lyonne's redemption in the eyes of Hollywood, but she wasn't yet ready to leave her past behind. With "Russian Doll," the hit Netflix series that for the first time sees Lyonne as an actor-turned-creator, director, and executive producer, she mines its demons to find creative catharsis. Beyond the series' overtones of rebirth and its subtle links to addiction and sobriety, it showcases a character that Lyonne concocted during the "lean times where I just couldn't get arrested," living in New York and "listening to Nick Cave on the subway feeling hopeless, going home at night and there's nothing to eat but a pack of cigarettes.
"The things that we really respond to are born on the backs of darkness more than on the wings of victory," she continues, calling that period's creative usefulness today a "lucky break." "All that stuff ended up being sort of the music, in a way, of what 'Russian Doll' would sound like. I'd constantly been cataloguing this inner monologue of experience that I was walking through the city streets with, and that would ultimately become Nadia's voice."
Our protagonist, Nadia Vulvokov, emerges from that darkness likely the only way she could have: as a no-bullshit, part nihilist, part empath, chasing-the-sun New Yorker born out of "this superhero version" of Lyonne "living in this alter-ego fantasy life as I was moving through so much unpleasantness as a peripheral character to the arts."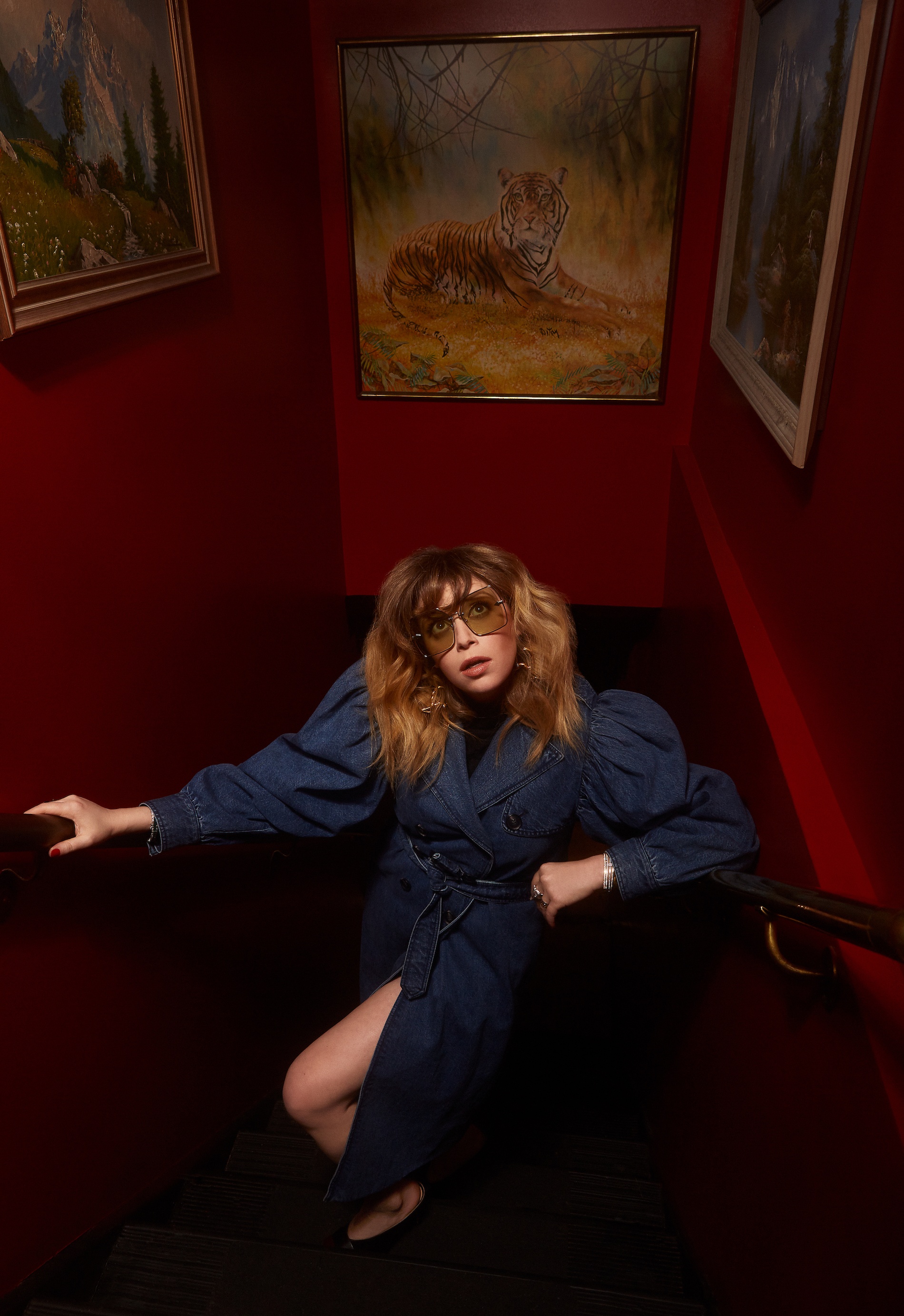 We meet her on the night of her 36th birthday party—smoking a joint "laced with cocaine like the Israelis do it" and falling into a drunken tryst with a womanizing pseudo-intellectual—just before she's struck dead by a cab while corraling her beloved foster cat, Oatmeal, off the street. But instead of heading to the afterlife, Nadia comes to exactly where she started: standing at the bathroom sink with an apartment full of her birthday partygoers in the next room. There's a knock on the door and the prescient words of Harry Nilsson's "Gotta Get Up" play ("What if I'm late, gotta big date, gotta get home before the sun comes up"). And that's how the night unfolds again and again, with Nadia dying in increasingly dark and dramatic fashion until she's forced to face her unresolved traumas and save another's life at the eleventh hour. Or, as Lyonne describes it: the "quantum multiverse, looping never-ending death cycle, exterminating angel, no-exit level."
"It's a real motherfucker," Lyonne quips of taking the "Russian Doll" reins alongside Leslye Headland ("Sleeping With Other People") and Amy Poehler (yes, that one). She recounts the months of preproduction and 10-hour days in the writers' room; memorizing 20 pages of dialogue; shooting strictly winter nights in New York City; directing the season's finale and storyboarding every frame; the months after filming and the "back-breaking endeavor" of editing. Plus, as executive producer, she had her fingers in every other pot: How are the costumes? How are the music cues lining up? How's the title sequence looking? (That font had to be "perfect.")
The eight-episode result is altogether auteuristic and soul-baring, personally metaphorical while crushingly relatable. It's a twisty—and twisted—sci-fi meets spiritual concession of split realities and examinations of cycles of trauma, effectively earning its title as one of the year's most thought-provoking and original half-hour comedies.
READ: How 'Russian Doll' CD Christine Kromer Populated Natasha Lyonne's Gritty NYC
The inklings of "Russian Doll" first came to Lyonne seven years ago when Poehler dialed the actor to see about working together; the two had long been in touch thanks to mutual friend Maya Rudolph, with whom Lyonne now has a production company, Animal Pictures. But still, Lyonne was taken aback by Poehler's opening proposition: "Natasha, for as long as I've known you, you've always been the oldest girl in the room."
"I was like, 'Why are you calling me and insulting me?' " Lyonne recalls. "I'm sitting here; I'm watching Dennis Franz's 'NYPD Blue' marathon; why are you calling, please?" But Poehler won her with, "Let's make a show about that." And while NBC ultimately passed on the result of their conversation, then titled "Old Soul," it allowed for Lyonne and Poehler to dig deeper for "Russian Doll."
"It is not for the faint of heart," Lyonne emphasizes about making television. "I've never worked so hard on anything in my life. It's shocking how much work it is. And because you're made of the fabric of the arts, you're constantly in a self-doubt, bashing your head against the wall. I think I spent so much of my life thinking I was precocious or smart, and as soon as I got inside that writers' room, I was like, 'Oh my god,' not being able to crack the rules." But while "Russian Doll" may be her "brainchild," her "lifeblood," her "personal experience," Lyonne is also quick to emphasize that "there's so much of other people's blood on this thing," particularly Headland, who helped her through the series' "puzzle box."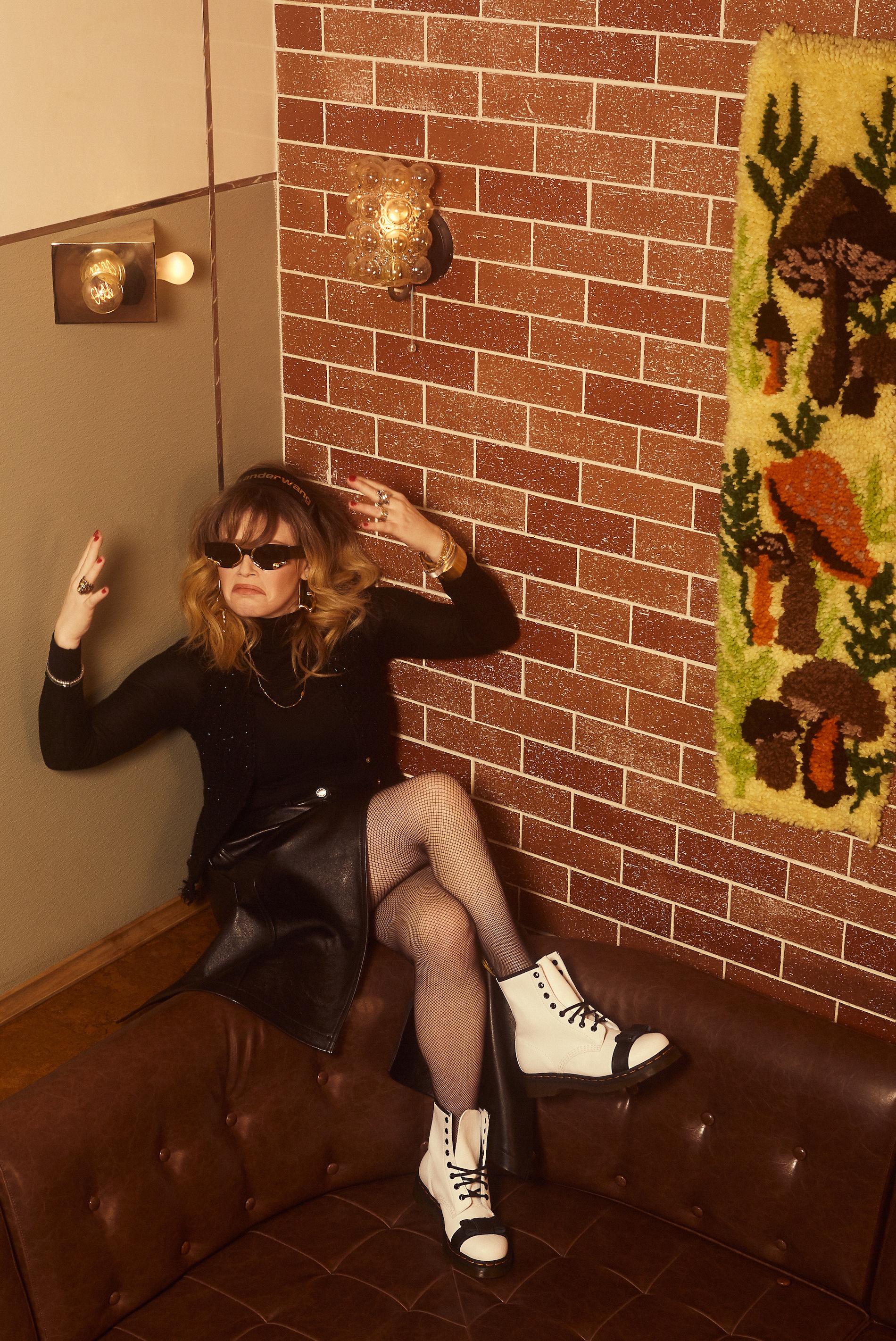 When it came time to step behind the camera, the actor leaned heavily on her self-initiated film education. She speaks with god-among-men reverence for Martin Scorsese and Robert De Niro, Joe Pesci and John Cazale—"I was raised with a very specific kind of tough-guy oeuvre of 'The Godfather,' 'Scarface,' 'Taxi Driver,' 'Rocky' "—and an impressively encyclopedic knowledge of the men (and a few women) of that golden age who shaped her aesthetic and sensibility. "I would sort of be compulsively studying: How are they doing this naturalistic, tough-guy schtick that's also so vulnerable, dynamic, and exciting to watch?"
Which brings us back to Lyonne's incredible performance. As a longtime actor with no formal training, it was those screen actors of a bygone Hollywood in which, at first through mimicry, Lyonne honed her craft. Learning that she could indeed bring a similar gravitas to the camera herself, she admits, "was just more of an accident."
"I would do things, like, I remember getting a copy of 'Prozac Nation' and being like, 'Oh, this could be my Jessica Lange "Frances," ' and I would sit in the kitchen and put onions in my eyes and read speeches from the book aloud to practice playing a crazy person someday. Or I would just, like, stand there memorizing word-for-word Pacino monologues from 'Scarface' and really getting that down."
To this day, Lyonne finds herself on set consciously pulling from these performances that so inspired her when first getting her start. "Russian Doll" Episode 3, when she puckers her lips and exclaims, "I'm all the way in John"? "That just is a full steal from Gena Rowlands in 'A Woman Under the Influence.' " The heartbreaking emotional climaxes of realization and retribution in Episode 8? "I'm just stealing directly from Giulietta Masina in 'The Nights of Cabiria.' "
To this end, Lyonne describes her time on set as being on the floor with a company of ghosts.
"I'm pulling on that in the moment in real time. Suddenly, Peter Falk is in the room with me, too, and then, the ghosts of all of them are in there with me, and in some way, I'm kind of freed up because I'm remembering Jack Nicholson in 'Five Easy Pieces,' I'm remembering how big you're allowed to go," Lyonne says. "I think there's a real style there. Even Jean Harlow had fucking style. There's a real eccentricity…. I'm always, I think, in my mind's eye stealing from their music and remembering that they're so extreme and that it's OK to go all the way and trust that."
Now looking ahead, Lyonne relishes the opportunity to hand the reins to someone else and to just wear the actor's hat: "You wanna hire me and you wanna direct it? Please! I wanna be here, I'm an actor, tell me where you want me to sit." But with production company Animal Pictures, she also romances the notion of becoming a guide for other actors and creators who have yet to leave their mark—to perhaps be someone else's John Cazale.
"I'm so excited to get other people's stories made because it's uncanny on a human level to have a deepest self be met with positive response; it's really life-affirming and deep," Lyonne says. "As much as I'm a tough guy at the end of the day, I have such a love and respect for all of us that are fuckin' breaking our brains and our fuckin' hearts to do this stuff and to write and make things and act. It's a tough road. All I wanna do is get to see other people get to do it."
This story originally appeared in the June 13 issue of Backstage Magazine. Subscribe here!