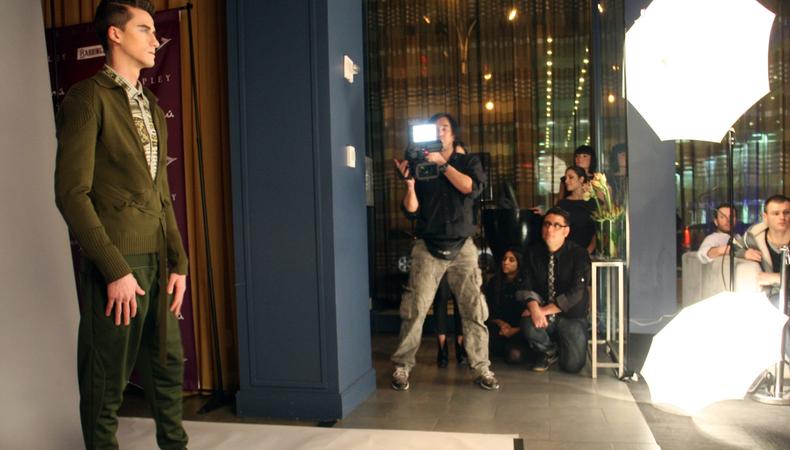 You've been called into a go-see for a modeling job and you've successfully done all the things I suggested in my last article to prep for the audition. But once you're all signed in and ready to go, how do you ensure you have the best go-see possible? What can you do to give yourself the best chances of booking the job? Here's how.
1. See if the ad layout is available.
Look around the casting office or photographer's studio to see if the ad's layout is available to view. This is a physical description of what the ad will look like, and can be helpful in directing the way you interact with the camera. Providing an ad layout at a go-see isn't common, but if it is available, study it.
Often, a stock image or other generic photo will be used as a placeholder, but it can still give you a sense of what they're looking for in the final product. Check out the expression, hairstyle, pose, etc. If there's a headline or copy on the ad already, that will let you know the tone the ad agency is going for. Use the knowledge to your advantage in prepping and while your photos are being taken.
How to Find Modeling Work Without an Agent
2. Offer your headshot or composite sheet.
When you're called in to have your pictures taken, always ask if they want a copy of your headshot or composite sheet. Even if they throw it away as soon as you leave, at least they'll have seen a great shot of you. If they do take your headshot or comp card, it's likely to show the client what you look like in a professional photo.
3. Ask the photographer what he or she needs in the shot.
An actor would never ask the casting director how to play a character in an audition—part of being a great actor is making those choices ahead of time by studying the script and sides. But with modeling, you need to know why you're posing or reacting in a certain way.
For example, if a doctor is being cast for a modeling job and the CD or photographer asks you to smile, ask why. Should the smile be "I just saved someone's life" or "I'm offering patients a better type of medication with fewer side effects?" Both scenarios are reasons to smile, but the type of smile will be different. So ask what's giving you a reason to smile so you know exactly what look to share with the camera.
When you ask, be prepared. Some photographers will give you more details so you can use your acting skills and offer a specific look. Others might simply say, "Just give me a smile." Don't argue or get into a discussion about why it's helpful to get the additional information. Just make a specific decision on your own and give the look to the camera or wherever you are asked to look.
Having a game plan and strategy while attending a go-see will not only help you relax and take the mystery out of the audition, it will also give you your best chance for success. Good luck!
The views expressed in this article are solely that of the individual(s) providing them,
and do not necessarily reflect the opinions of Backstage or its staff.