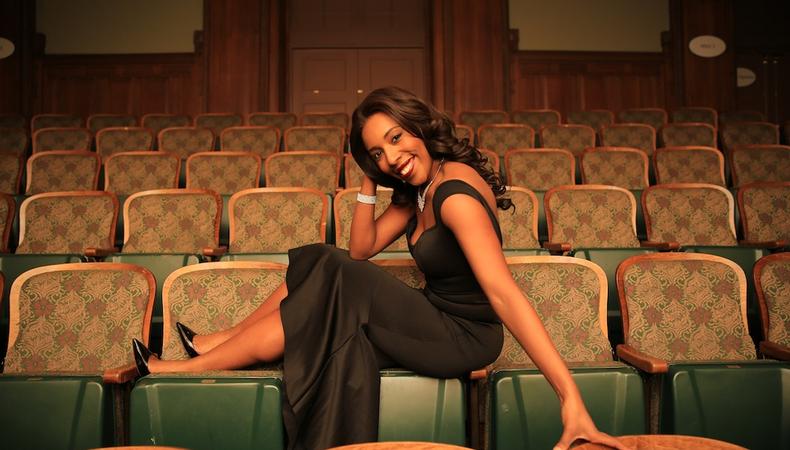 The following Notes From the Field essay was written by New York–based actor, comedian, and content creator Daisy Hobbs.
If someone were to tell me I'd be the first woman of color to write, direct, produce, star in, and compose a digital series ("OUTCAST," available now), I wouldn't have believed them. I don't have a fancy writing degree and no formal training in producing, songwriting, or directing. The good news is, I—and you—don't need any of that to create. All you need is passion, determination, dedication and some crazy-ass friends willing to help you out when you need it. Below, catch my three must-dos for all aspiring writers—now get out and create!
Take Notes: The next time you witness a strange encounter on the subway or have an interesting conversation with a friend, take the time to recognize what it was about that scenario that made you angry, sad, frustrated, or elated and write it all down. At the time, it may not seem like fodder for entertainment, but looking back, those seemingly mundane conversations or annoying scenarios could end up being goldmines for your writing and a springboard from which to start. Always keep notes of any ideas, words, or anecdotes that come to mind. You never know when that random thought you jot down in a notebook or in your phone will turn into a fully fleshed idea for a pilot, play, feature film, or web series!
READ: 9 Tips for Marketing Your Web Series
Inspiration: Every great writer's work comes from a place of deep inspiration, a subject or issue that resonates with them and holds special significance. The inspiration for my web series "OUTCAST" came out of pure frustration. I have been trying to carve out a niche for myself as an African-American actress who has a passion for comedy and an operatic voice. After years of botched auditions, opportunities gone awry, and being tired of clawing my way to some place of recognition, I put my failed attempts at stardom together, added some songs in the mix, and the series was born. Think of some of your favorite writers and look to where their inspiration spawns from. Issa Rae writes about her experience as a self-proclaimed "awkward black girl" and her relationship to the world and her culture. Rachel Bloom's work highlights female empowerment and centers around her love of musical theater. What is the thing that makes you tick? What makes you excited? What do you feel defines you? Once you have found something particular and unique to your own experience, I find the writing comes easily. With "OUTCAST," I didn't set out to do or achieve anything; I just came from a place of intense passion, and the show basically wrote itself.
Don't be afraid to suck: Lin Manuel Miranda hit major success with his first major Broadway musical, "In the Heights." His second show, "Bring it On," was considered a flop by many in the theater community. What if he would've thrown away his pencil and given up after that? We would never have the juggernaut that is "Hamilton." You can't—and you shouldn't—be creating for public approval. Don't try and pander to any given audience. If you are authentic, genuine, and truthful, someone will respond to the material. And if that means a Golden Globe in 2020 or just making some kid laugh on YouTube, there are few greater feelings than knowing that your words had an effect on someone.
So, if you want to be a writer, write. If you want to be an actor, act. If you want to create something, grab a camera and get recording. If you're waiting for validation from someone, here is my gift to you: YOU ARE READY. DO IT. Consider this your official "greenlight," a go-ahead from one multi-hyphenate to another.