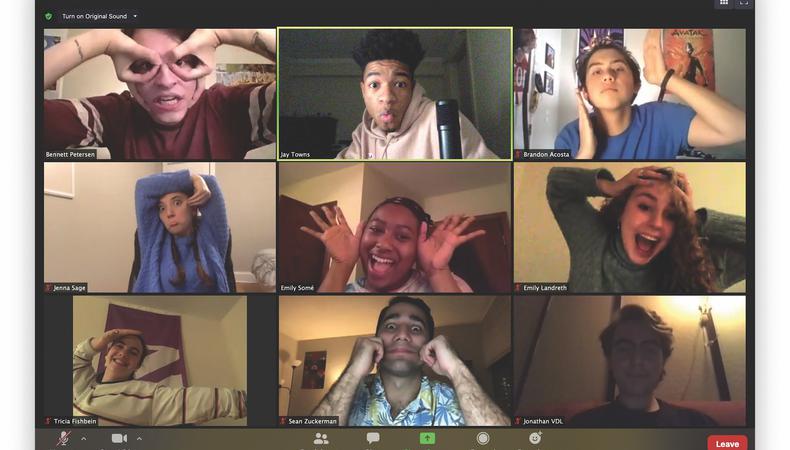 For most of the country's universities right now, digital learning is the name of the game—which got us thinking: What's it really like inside these virtual classrooms? We spoke with several college students who dished on the high highs and low lows of transitioning to remote curriculums.
Jay Towns, Junior @ Northwestern University
Major: Theater
"I've been pleasantly surprised by some classes that have adapted to Zoom in a meaningful way. One class in particular, Acting for the Screen, has created a sort of meta-experimental approach to film acting using computer webcams and smartphones. Virtual learning is not the same as in-person—don't expect it to be! But that doesn't mean virtual learning is worse than in-person learning. I've been able to work on more intimate levels of technique, expand my definition of and comfort with screen acting, and develop a more practical acting skill set from the comfort of my apartment. And I mean, let's be real—it's also kind of nice not to have to go out for classes."
Gabriel Krut, Senior @ University of Notre Dame
Major: Film, Television, + Theater
"I don't want to say it sucks, but it kinda sucks. We're in a global health crisis, though, so lots of things suck. If I had to give one piece of advice to students and educators, it's to acknowledge that acting over Zoom is not live theater or film, but something else. This doesn't mean you can't be creative or expressive, but you have to accept that it's different. Also, get comfy with self-taping and yelling into your phone in selfie mode."
Sydney Rutigliano, Senior @ Pace University
Major: Acting—International Performance Ensemble
"I never realized how much I was analyzing my scene partners' physicality during scenes in person. Often, parts of my scene partners' bodies are cut off on Zoom, or their screens are blurry. This makes it so much harder to really take in how they are delivering their lines and reacting to me. It is [also] very tough to find good material to use in class right now. I have found that trying to look up good plays online is practically useless, because everything that comes up is overdone or is bad material…. It would be helpful if the teachers in my program compiled a list of plays that contain characters near our age for us to look into.
It would cut out the trouble that my classmates and I face with spending money on a new play, only to find out we could never play a character we intended on playing."
Ayibatari Owei, Senior @ Smith College
Major: Theater
"I think the school could be a little more communicative about how upcoming virtual shows are going to run. As of right now, I'm participating in a virtual piece, but I have absolutely no idea what the script is, how I should shoot video, etc. I understand that we're all trying to figure things out, but I feel pretty in the dark…. It would be nice to be on campus, but there's a world outside your college. Everything will work out. And who knows—maybe you'll be able to stage virtual productions of your own [works in progress] or your favorite plays with your classmates."
Jenna Giordano, Junior @ Boston University
Major: Acting
"I had a professor recently say this time of uncertainty is like a sports team during their off-season: a time to slow down and go back to the basics. I feel like the professors are really understanding of how students may be feeling during this challenging time, so we have also taken time out of class to check in with each other and make sure everyone is taking care of their mental health. BU is doing a hybrid 'learn from anywhere' approach this semester, so about half of my classes are in-person and the other half are online. The in-person classes have felt really safe, which is something I was initially worried about. We have taped-off squares we are assigned to move within in my movement class, and everyone is of course required to wear a mask. If I were to ever feel unsafe in person, the option to take class online is always available."
Cade Holbrook, MFA Year 1 @ Claire Trevor School of the Arts at UC Irvine
Major: Acting
"One thing that surprised me was the lack of drop-off in the feeling of humanity. I expected a sort of robotic feeling of working with someone behind a screen, but once we got into it, I could feel the same interpersonal connection I feel in person. [Additionally,] the school has provided us with ethernet cables to increase accessibility. All of the faculty understand that classes on Zoom can't be what they were in person—especially the acting and movement-based classes—and are very comfortable making adjustments along the way as things arise."
Jake Emmerling, MFA Year 2 @ Theatre School at DePaul University
Major: Acting
"Our school has had countless town halls and discussions with the students and faculty to figure out the best way to proceed with studying theater through a camera. Even after those discussions and brainstorming, performing plays online always hits an awkward wall. We could 100% focus on film acting as another option, but institutions that aren't fully equipped with the right teaching staff, let alone equipment to send to students' homes, aren't able to adjust to that structure…. My biggest suggestion would be to stick to more classical texts and avoid contemporary texts that use a lot of overlap. Having two or more people talking over one another on Zoom is difficult, to say the least. We tried it.... Yeah, this is a crappy time for live theater and a weird time to be studying it, but I believe this is the best time to be in school to focus on new tools to add to your belt and explore theater in a very personal way."
This story originally appeared in the Nov. 19 issue of Backstage Magazine. Subscribe here.
Looking for remote work? Backstage has got you covered! Click here for auditions you can do from home!