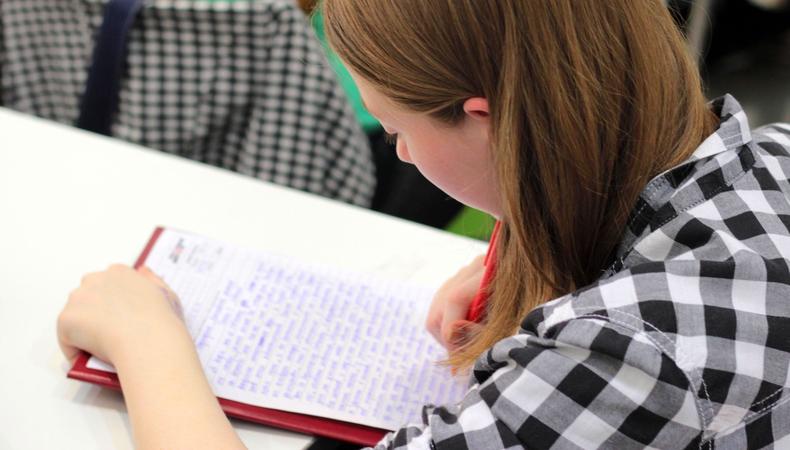 Last month, I wrote about how parents disempower their children by doing work for them whether it's writing college essays, completing homework, or using personal contacts to secure roles. It inspired a discussion between me and my students, who spoke about how what they learned pursuing an acting career has helped them in life—especially in school. Here's how acting can help students excel:
1. You learn how to listen.
Acting requires listening. Not just scrunching up your face to look like you're listening, but actually listening to your partner. Becoming a good listener helps you retain information, which will help with tests and other assignments. Being a good listener can also improve friendships, making school life more enjoyable.
2. You learn to speak with confidence.
Students are regularly required to give oral reports, class presentations, and participate in high school and college interviews. Memorizing lines and being able to connect to a person or an audience is just the practice needed for excellent public speaking skills. Acting will give you the confidence required to do presentations without fear.
3. You learn to set and reach goals.
Being an actor demands a lot. You have to learn to juggle homework and school obligations while memorizing lines and doing work for acting and voice classes, all while still making time for friends and family. This balancing act requires planning, time management skills, and accountability. Working long hours on set or in rehearsal also requires discipline. All these skills are essential to success in the classroom as you have to manage assignments and make sure you complete them on time.
4. You learn to manage stress.
Working in theater or film requires travel, long hours, and managing school, home life, and the emotional letdown after a show closes. Learning how to deal with all of this stress sets you up for the challenges of day-to-day life. When you practice leaving your nerves and anxiety outside the door, letting go of control, and relaxation techniques in acting class, you're gathering valuable tools for managing any type of stress.
READ: How to Manage Your Child Actor
5. You learn to think on your feet.
Improvisation training is part of an actor's life. It provides a competitive edge that leads to success inside and outside of the classroom. It improves listening, working spontaneously, conquering fears, and working collaboratively. Improv helps you get out of your head and engage without second-guessing, making you a more confident student and person.
6. You learn to cope with rejection and disappointment.
All actors face rejection. Lots of rejection. Over time, you learn resilience, that life is not always fair or easy, and that reaching your goals requires effort and perseverance. This resilience makes it easier to manage traditional school rejection such as not getting a grade you expected, being cut from a team, or turned down for a date. These rejections can be devastating for some kids. However, young actors have already developed the ability to hear a "no" and keep on trying.
7. You learn to focus.
Have you ever fallen asleep while the teacher is speaking? Caffeine may be one way to stay awake, but learning to stay engaged is more effective. The skills you develop while practicing connecting to your acting partners also show you how to pay attention and focus in school. This is just what you need for those long lectures!
8. You learn to grow more comfortable in your skin.
Acting helps you own your individuality and care less about what others think. You develop confidence and pride in your accomplishments. In acting, you learn to accept who you are and how you fit into the world, as well as the importance of each cast member, the hero, the villain, or the goofy best friend. This awareness helps to develop empathy as you study what it is really like to become another person.
Succeeding in school is challenging. All your experiences, including rehearsing and performing, enrich your academic performance in a variety of ways. Acting is not an academic distraction, but a powerful way to strengthen your chances of academic success while you're having a great time!
The views expressed in this article are solely that of the individual(s) providing them,
and do not necessarily reflect the opinions of Backstage or its staff.