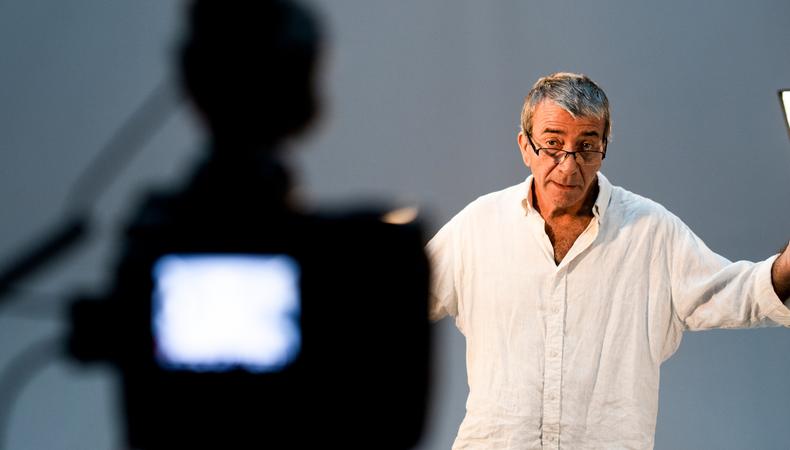 Over the last few weeks, we've covered what you need to know about self-tapes in 2019 and why preparation is essential to the work you do in a self-tape. Now, let's dive into the actual process. Here are our nine tips for creating—and sending—a self-tape that will get you noticed.
1. Decide on a goal.
To avoid spiraling, obsessing, and over-working a scene, give yourself a goal for completion that includes watching your take, making necessary adjustments, and sending it off to casting.
We know technical difficulties arise and adjustments are needed, and you need to honor your work by taking the time for those. We also know this work is important to you, which makes it easy to obsess over. But now is the time to give up any notion of "perfect." It will never and should never be perfect. It can and should be you working at your highest level: present, connected to yourself and your reader/scene partner, and to the world you're inhabiting. The rest is a distraction.
Giving yourself a goal allows you to check in with how you're doing and consider if the time you're spending is due to obsessing over details that might not be important.
2. Be heard and seen.
You don't need a fancy camera, lighting package, or expensive mic. Plenty of technically mediocre tapes get actors hired. But if there's a reason we can't see or hear you clearly, that means that we have to do extra work to see and hear your talent. And because things are busy, that often means we'll have to move on to another tape.
3. Don't sweat the backdrop.
If we can see you and hear you, the background isn't important. Of course, if you have a dog running around or your roommate is cooking dinner behind you, that can be distracting. Do your best to be in a quiet area of your apartment but don't feel the need to rent a studio so you have a blue wall as your background.
The less distracting, the better. But in the end, when you do incredible work, these are insignificant details.
4. Make sure your eye-line is directed near the left or right of the camera.
We need to see your eyes. Have your reader/scene partner position herself tight to camera and talk to her. If the scene demands you look down or away, be mindful of not letting us lose your eyes. Always put your eye-line closer to camera without looking directly into it (unless directed otherwise).
READ: 4 Things You Need to Know About Self-Tapes in 2019
5. If there's more than one character in the scene...
...make the reader the main character. And we always suggest that you talk to the human being in the room (your reader) rather than place four different characters around the room and talk to the wall. If you're calling off to the bartender to order a drink, a quick line thrown in another direction is fine before coming back to your reader. But why not just talk to the human? It always reads as more present.
6. Shot size should be medium.
Unless directed otherwise, shoot chest-up or closer. Try different sizes for different scenes but know that your tape may be watched on someone's phone, so shoot close enough that we see the subtlety.
7. Sit vs. stand: Go with whatever feels right.
It's a medium shot, so it doesn't matter unless it affects your energy. And keep the movement to a minimum without locking yourself in. Blocking will happen on the day.
8. Before sending, re-read submission directions.
Slate: There are times when something very specific is needed for the slate and it can be easy to assume a standard slate is fine. If stated otherwise, it's not. Follow the instructions. Read them twice to make sure.
Format: Depending on the office, casting might require that you send an "unlisted" Youtube or Vimeo link over a downloadable file. Deliver it in the format they need so it's easy for them to watch. Ideally, it'll be both downloadable and can play in a link. CDs often just want to watch without fuss, but their staff will want to be able to download it.
Deadlines: Sometimes a deadline is hard, sometimes it's flexible. So make sure you know that "Monday by 9 a.m." may not be absolute and deadlines change. Find out! That said, don't obsess and wait to self-tape at 11 p.m., staying up all night.
Takes: Only send the strongest takes. If you can't decide and think, "I'll just send all three and they can choose," don't. Unless requested, only send one. Ask a friend, rep, or colleague for their opinions if needed.
9. Ask yourself, "What's next?"
You're done! Now comes three days of obsessively checking your email and wondering when you're going to hear back from your agent. Resist that urge! Instead, as soon as you press send, quietly sit with yourself and ask, "What's next?" Has this role inspired something within you? Has filming this self-tape made you realize you miss doing the work of being an actor?
Whatever it is, understand this: The way to deal with anything about this career that makes you sad or anxious is to do the work of an actor, to feed your artistic need.
Don't wait to be told to act. That is death to an actor and it keeps you from being successful. You have the power to take command of your career, to be an actor on your own terms.
The views expressed in this article are solely that of the individual(s) providing them,
and do not necessarily reflect the opinions of Backstage or its staff.