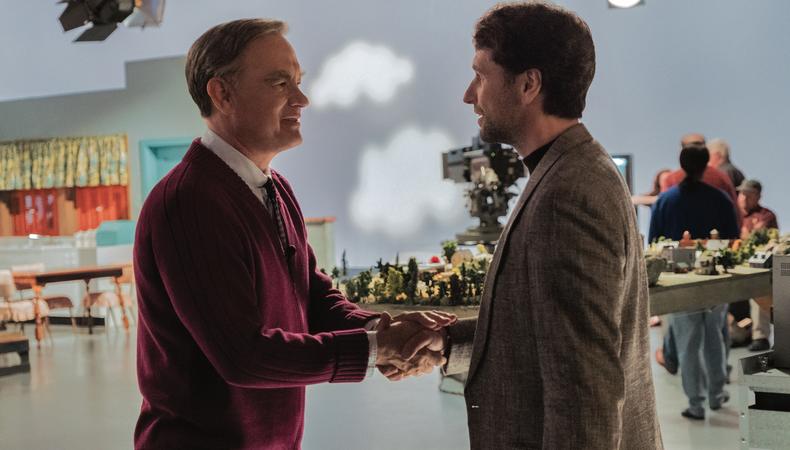 With this Year in Review, we at Backstage have picked through the weeds and found 2019's true gems of the best big- and small-screen ensemble work. And don't worry: We've got you covered with everything else you need to know this awards season right here.
Distributed by: Sony Pictures Releasing
Directed by: Marielle Heller
Written by: Micah Fitzerman-Blue, Noah Harpster
Casting by: Avy Kaufman
Cast: Tammy Blanchard, Chris Cooper, Tom Hanks, Christine Lahti, Matthew Rhys, Susan Kelechi Watson
Marielle Heller's "A Beautiful Day in the Neighborhood" is not so much about children's TV host Fred Rogers as it is about the ethos Rogers instilled in his audience. Whenever he walked into his home and came down the stairs to swap his jacket for a comfy cardigan on PBS' long-running "Mister Rogers' Neighborhood," he radiated a sense of warmth and candor. As soon as Heller recreates that scene, she makes clear that this winning and winsome homage will treat its characters with equal care. The film feels like a warm hug you hope never ends.
Arguably one of the most beloved actors of his generation, Tom Hanks brings with him decades' worth of goodwill and charm to his portrayal of Rogers, making his casting feel meant to be. The two-time Academy Award winner embodies what made the famed TV personality such a disarming presence on- and offscreen: his ability to listen. Whenever he's addressing Lloyd Vogel (Matthew Rhys), the journalist penning a profile of him, Hanks' Rogers is always actively listening. With patience. With kindness. He's just as successful taking on the show's many puppet characters, making Daniel the tiger as real a presence as anyone else on screen.
Hanks' serenity works as a foil to the bubbling anger that runs through Rhys' performance. Always one exasperated sigh away from lashing out, his Vogel is a cynical reporter with a habit of running away from personal troubles (like his frayed relationship with his father, Jerry), and his profile of Rogers forces him to reckon with all he's tried to suppress. Seeing the two actors share intimate scenes in which Rogers' inviting silence edges Vogel into ever-more-unnerving moments of self-examination is one of the many joys of Heller's drama.
And while the film is structurally a two-hander between Rhys and Hanks, "A Beautiful Day in the Neighborhood" boasts a robust ensemble coloring the world around those seemingly ill-matched men. As Vogel's estranged father eager to be involved in his son's life once again, Chris Cooper is touching and vulnerable, even as he doesn't hide Jerry's flaws; in the role of Vogel's wife, Andrea, Susan Kelechi Watson finds a woman as eager to support her husband as she is to note his stubbornness. And when the film embraces a childlike wonder to blur the line between reality and Vogel's fantasy world (which looks not unlike Rogers' neighborhood, of course), the cast keeps things grounded, earning many a tear with tender musical moments involving Rogers' puppets and heart-to-heart conversations between family members learning how to find their way back to one another.
Peppering the film's tear-jerking moments with their brilliant comedic timing are a group of seasoned actors—Christine Lahti as Lloyd's deadpan, no-nonsense editor, Tammy Blanchard as his loud and loving sister, and Enrico Colantoni as Rogers' wryly funny producer—who all play beautifully opposite one another.
Heller's ensemble collectively understands what it means to approach their characters with empathy. In this, they embody the sensibility of both "Mister Rogers' Neighborhood" and Rogers himself, reminding us that the best way to see the emotional truth in one another is to approach life with kindness and an open-hearted sense of play.
This story originally appeared in the Nov. 13 issue of Backstage Magazine. Subscribe here.