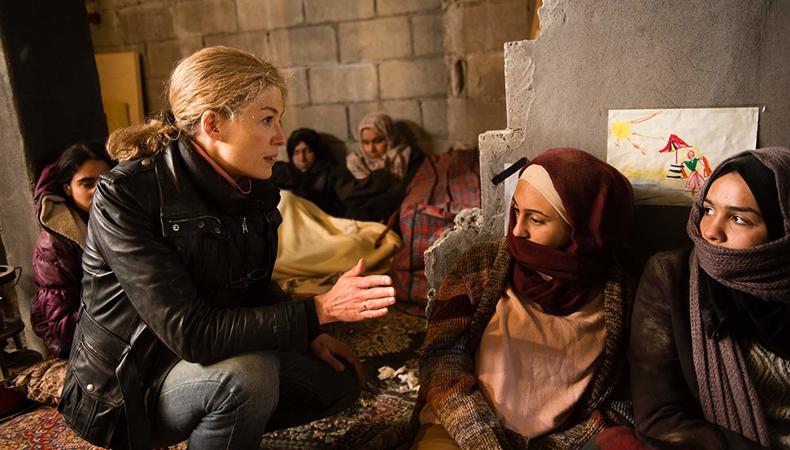 When Matthew Heineman approached his first narrative feature film "A Private War," the fact that the story depicted physically dangerous and emotionally challenging situations was nothing new. Heineman comes from the documentary world, where he's explored topics like conflicts with ISIS, drug problems along the U.S.-Mexico border, the American healthcare system, and more. In portraying the life of journalist Marie Colvin (played by Rosamund Pike) along with her photographer Paul Conroy (played by Jamie Dornan) as they embed themselves in some of the most deadly conflicts around the world felt familiar. Heineman wanted to mix the documentary and narrative genres, and in working with actors for the first time, he spent time casting background with real experience in the types of violence and tragedies depicted on screen. The result is a story that brings viewers between war zones and life in London where we see the toll both the victims' and Colvin's struggles take on her.
Why this story?
When I first started directing and I read an early draft of the script, I felt a huge connection to Marie based on my work as a documentary filmmaker. I tried to do what she tried to do, which is put a human face to conflicts around the world. I similarly, obviously not quite the same as she did, have been in sketchy situations. I've been shot at, I've been in torture chambers, and meth labs. I've felt that same feeling of being out there and felt those same fears and then similarly came home to a normal life and a weird dichotomy of those two experiences. I was able to empathize with what she stood for and what she experienced, and for me, it felt like a very personal film. I also think in this day and age when journalism is under attack, and journalists are, in some people's eyes, the enemy, it's really important to celebrate journalism, true journalism—people who are out there like Marie who are fighting for the truth.
Coming from documentaries, why were you interested in directing a narrative feature?
Mainly because I had to. I think if she was alive I might have made it as a documentary. I was excited about possibly telling this story and also about challenging myself, and pushing myself in a new realm. The world is quite malleable these days and it's exciting to be able to play in both. I've tried to make my docs feel like narratives, and I've tried to make this narrative feel like a doc.
READ: 1 Film Editor Reveals How the Best Actors Perform on Camera
What were the differences and similarities between preparing and making a documentary and a narrative film?
A mentor of mine in the film world once said, "If you end up with the story you started with, you weren't listening along the way," and I think that's good advice for life and for filmmaking. That's something that as a documentary filmmaker I carry with me every single day—be open to this story changing and be open to the weird bizarre twists and turns of real life. Those lessons I've learned and adhering to that played into how I approached a first narrative. I wanted to create as many authentic and real moments and environments in which these scenes could take place. I wanted to create a world in which actions can happen and we go off script and can improvise.
One example is the scene in Iraq with the massacre. We shot all the war zone [scenes] in Jordan and as much as possible, we used all non-actors as background. Most of them were refugees from all the countries that we were filming in. When we were in Iraq they were Iraqi refugees, so the women who were crying were real women from Iraq who had suffered. They were reliving traumas that they'd experienced. That created a really heightened sense on set; it felt like I was shooting a doc. At the end of a shooting day, the women just started banging their chests and chanting this prayer for the dead. That wasn't scripted and I didn't ask them to do it, but it started happening right when the sun was setting and it was a really poignant and beautiful moment that we captured. That goes back to staying open to building moments and allowing them to happen.
Talk about the process of finding those people that ended up appearing in the film.
We (Heineman and CD Jina Jay) worked with the local casting scene in Jordan. I was very clear that I wanted people from those countries. When assessing the people with lines or who are heavily featured, I went through a very extensive casting process in finding them and interviewing them as if it was a doc. I tried to understand their story so that when Rosamund walked into the widows basement In Syria, she literally walked into a set with a room full of people and when she went up to interview them, it happened as if it was a doc. She asked them tell their stories, and they told their stories. Those were their real stories, those women really were in the widows basement in Homs. Those tears were real tears. The second woman that she speaks to, when she's saying, "I don't just want these to be words on a paper, I want the world to care, I want the world to understand what we're going through," that was her speaking to the world. It's quite a meta experience for me, watching as a journalist talking to real people who experienced real trauma and trying to capture it all in these moments.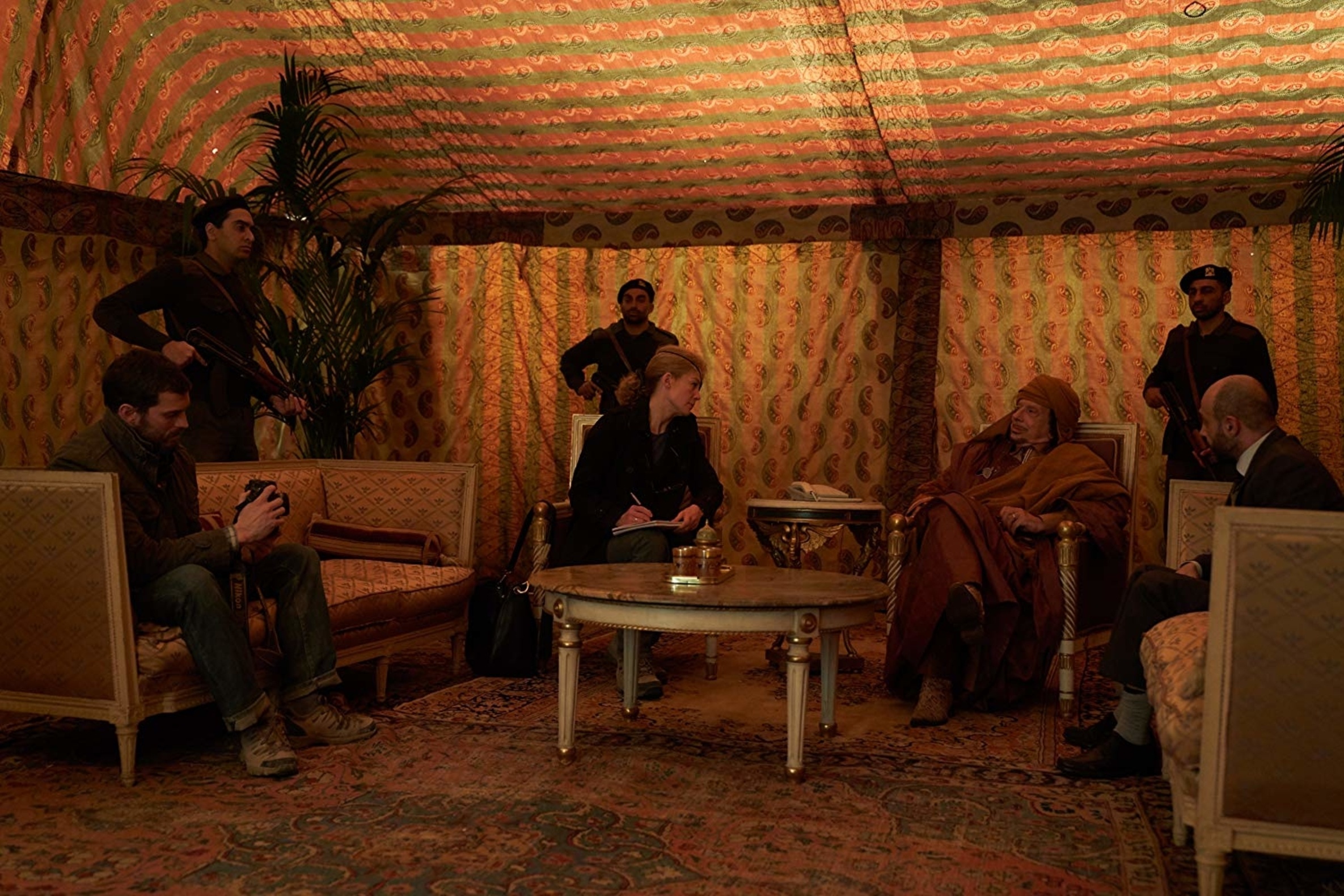 What was the interview process for the background actors like?
I was doing two things. I was trying to find out their story to see if it would convey what we were trying to convey in those moments and also evaluating whether they would be "good on camera" and able to handle the pressure of being on camera. People always think about documentaries as Oh you just turn on a camera and capture this stuff and somehow it edits itself, but in reality, when you make a documentary you're casting as much as you're casting in a narrative film. Especially in the docs that I'm making, I want to find people that pop off the screen, I want to find people that are larger than life characters, frightening characters, or compelling characters.
What qualities stuck out to you as someone who should appear in the film?
Each country, each story, and each scene has an aesthetic characteristic that I was looking for. The father with the baby in the hospital in Syria was a very intense scene in which a father comes in with a young boy whose been hit by a bomb and is dying in front of them. That's a scene in which I need to find someone who is emotional and who could get emotional. We looked at a lot of different men and this man had been through so much. He was also from Homs and at a protest, his nephew was on his shoulders and was hit by a sniper and bled out in front of him. When he's running to the hospital in the film, that's what he's thinking about, conveying, and expressing to the world. Those are all real feelings that he was having, they weren't scripted lines.
READ: How the Background Actors in 'A Private War' Steal the Show
How did you work with the lead and background actors as a director?
In that scene that I described (in the widows basement), for a moment it was quite difficult for Rosamund and for Jamie. It was incredibly emotional; they both have young kids and to see this horror played out in front of them, obviously they're there as actors but they're there as human beings as well. It was really intense for them to experience that. Most of us had never experienced anything like that on an emotional level before. At one point, Rosamund couldn't handle it and we took a break and walked outside and she asked me, "Iis this ok? Are we exploiting these people? This is new territory for me." I said, "This is okay, they know exactly what's happening, they want their story to be told and wouldn't be here if it wasn't for that." That's the common denominator for any doc that I've made. People constantly ask me, "Why would that person want to be on film?" I think people want to be heard, people want to be listened to, people want to be understood, and people want their story to be told, especially if that story isn't being told. It was very intense to be playing along these blurred lines of narrative and docs.
Why was it important to you to have background actors who had these authentic experiences?
I've seen a lot of extraordinarily intense human emotions displayed in many different ways, whether it's a family that is discovering a massacre of their relatives in Mexico or a suicidal case in Oregon, the list can go on and on of the really intense things that I've captured in documentaries. I know what that feels like and I know what that looks like through the lens as well. I felt like I needed real people to build the case for authenticity.
How do you think that presence added to the overall feel of the story?
It was a very interesting experience in the editing room. The cliché comparison between documentaries and narrative is that narratives are made in the script and docs are made in the edit room, and I don't really believe either of those to be true. There are many things you discover in the edit room and I wanted to stay open to letting scenes evolve and change, not just be beholden to what was on the paper. There are a lot of discoveries that we've had in the edit room that added to that feeling of authenticity.