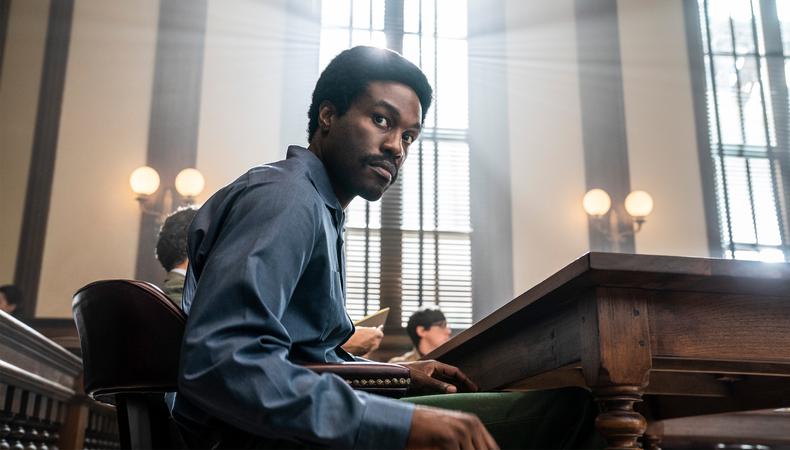 After completing his first screenplay based on a historical event, 2007's "Charlie Wilson's War," Aaron Sorkin swore off writing nonfiction. "And then I wrote five nonfiction movies in a row," he quips, with trademark lightning speed. Though the "confines of the truth" can be limiting, he acknowledges what many great storytellers have before him: Real human beings are often more interesting than fictional ones.
"It's not that I gravitate toward real stories," he adds, "it's just that they happen to be really good stories, and I want to tell them."
His latest, "The Trial of the Chicago 7," is proof of that. The Netflix feature, which the Oscar winner wrote and directed, details the trial of the activists charged with conspiracy for protesting at the 1968 Democratic National Convention. When it debuted late last year, following a summer of uprisings denouncing police brutality against Black Americans, it seemed it could not have been more relevant. Speaking nine days after an attempted insurrection at the U.S. Capitol, Sorkin acknowledges it now somehow is.
"I did want to make it about today, as opposed to 1968—I just didn't know how much about today it was going to end up being," he says. "Trump started running for president, and at his rallies, when there'd be a protester, he would be getting nostalgic about the old days, when 'we'd carry that guy out of here on a stretcher.' We didn't need it to get more relevant."
Though depicting real events and, therefore, real people, Sorkin was unconcerned with casting actors who bore a physical resemblance to their historical counterparts in the film. "All that was intentional was the great actors part," he says. However, with an ensemble that includes Sacha Baron Cohen, Jeremy Strong, Mark Rylance, Frank Langella, and Yahya Abdul-Mateen II, Sorkin did worry about clashing performance "textures."
"I thought it was going to be a challenge for me as the director to make sure they were all in the same movie," he says. Luckily, "the chemistry was there at the table read, and we were all on the same page in terms of what we were going for." The real challenge, he learned once on set, was how to tailor his approach to each actor.
"I'm not going to name names, but there were some actors who, if they got stuck, they just wanted me to do it for them," he says. His greatest piece of advice for directing was actually one he received from an actor, "The Newsroom" and "To Kill a Mockingbird" star Jeff Daniels. "I asked Jeff, 'Once shooting starts, how much do you want the director to come to you? How much do you want him to say between takes?' " Sorkin recalls. "He said, 'During rehearsal, say as much as you want. Once we start shooting, say it in five words or less.'
"If you've rehearsed enough and you've cast the right actors," Sorkin continues, "once you're shooting, you want to get it down to: 'A little faster. A little slower. Hit the last word in that line.' That kind of thing. You don't want to be in a discussion about what the scene's about."
Though "Chicago 7" was only his second directorial outing, Sorkin prefers the autonomy of wearing both hats. However, he's clear that "I don't really see it as switching hats when going from writing to directing. I feel like it's the same hat, and I'm just seeing it through. When I write a screenplay or an episode of television or a play, I'm hyper-aware of the fact that I'm not writing something that's meant to be read; I'm writing something that's meant to be performed."
Asked if he has any advice for filmmakers of either discipline, he says he does. "But it isn't a short sentence, unsurprisingly, coming from me," he says with a laugh, before making his best attempt at concision. "Drama is intention and obstacle. Somebody wants something; something's standing in their way of getting it. Cling to that, and you'll do well."
This story originally appeared in the Feb. 25 issue of Backstage Magazine. Subscribe here.
Looking for remote work? Backstage has got you covered! Click here for auditions you can do from home!