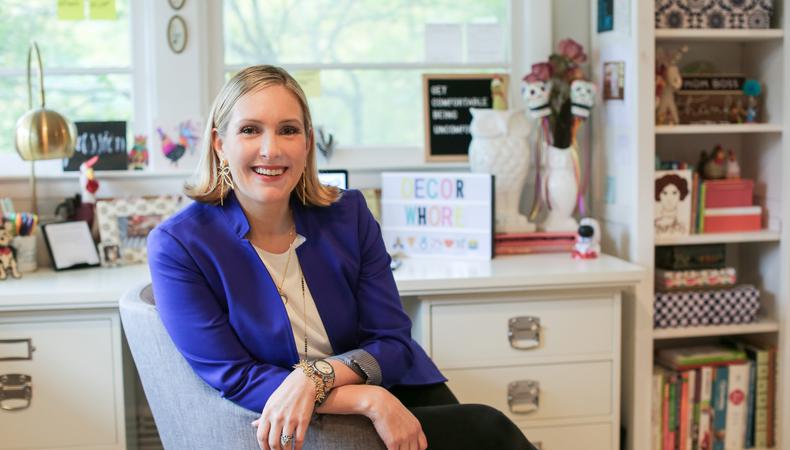 The following Career Dispatches essay was written by actor-turned-business owner Kate Dawson, who founded interior design business Decor Whore.
A few weeks ago someone asked me, "Did you always want to be an entrepreneur?" and OMG, I about choked on my iced tea because, hell no! I never dreamed of being an entrepreneur or running a business. As an actor, the idea of filing documents, dealing with paperwork, worrying about invoices and accounting (cuz…math) was overwhelming and daunting. But life is full of surprises, amiright? And sometimes you have to push yourself out of your comfort zone. And that's how I went from theater actor to business owner of my design business, Decor Whore.
Let me back up a little: I graduated from Millikin University (back in the 1900s) with a Musical Theatre degree and I had one plan: move to New York and make it big on Broadway! I spent a solid 15 years pursuing that dream and while I didn't make it "big," I made it a "little." I performed on Broadway in "A Christmas Carol" for three years and did a lot of regional and Off-Broadway work. But through the years I became more and more disenchanted with the lifestyle of an actor. I was tired of auditions, I was tired of going out of town, I was tired of hearing "no," and most importantly I was tired of giving up time with my family to do shows that didn't resonate with me.
So I took a step back. I stopped auditioning, and instead I wrote, performed and produced a one-woman show called "The A**hole in My Head," all about the voice in my head that tells me I suck, or that I'm stupid. You get the idea. I did that show on and off for a couple years, and it was the most fulfilling performance experience of my life, because it was a story I needed to tell, and because many people came up to me after the show and said, "That's my story, too." And boom, I felt alive in a way I hadn't for years because I wasn't alone! Other people out there have the same feelings! I would've happily performed that show for another year, but life had a little surprise for me, and it came in the form of a little baby boy.
Those first couple years as a mom were tough. I had postpartum depression pretty badly, the city was wearing me down (have you carried a stroller with a baby up and down the subway stairs much?), and I had a day job I really couldn't stand. And much to my surprise, I had started daydreaming about having a house and a yard. So my husband and I decided to move to the burbs. We bought a beautiful house that I absolutely loved, and I spent the first year decorating it to the nines. I cannot tell you how creatively fulfilled I felt putting that house together! I loved getting every single last detail perfect!
But then—another surprise!—we hit a huge financial setback when an investment in a promising new business went wrong, and we had to sell our beautiful new home. And that sucked. Hard. We moved to an apartment, and even though we were renting, I still wanted the place to feel like home—so I decorated it on a budget. I scoured the aisles of TJ Maxx and Home Goods, and I went to garage sales and estate sales, and looked through Craig's List every day and I actually made that little apartment into a sweet little home for us. It wasn't my dream home, but it was what we could do.
Several months later, a friend of mine asked me to design her office for her, and while people had asked me to help them with their interior design in the past, I'd always said no because I was busy with my acting career. This time, I needed to figure out a new source of income and so I immediately said "yes." And that little word completely changed my life.
That's how Decor Whore was born and how I started a business when I never meant to. And what I love the most about this career is that it's just another form of storytelling. It's my goal to fill my clients' spaces with things that reflect their stories.
My advice to any actor or creator in a similar position is to just say YES. Don't wait to be "ready," because you never will be. In the beginning I felt tremendous fear. Who was I to start a business? I was a performer! How was I going to make such a huge leap? Well guess what? It wasn't such a huge leap after all.
READ: 3 Remote Side Hustles for Actors
Surprisingly, all my skills as an actor transferred over. All actors know how to hustle, and all actors know that you have to continue to put yourself out there over and over and over again. And as an actor, I already was an entrepreneur, which I hadn't really realized until then! And this type of one-on-one storytelling, or maybe I should say "story-revealing" became my passion and obsession.
Here's how I see it: We become artists because we want to make an impact in the world. We want to heal and connect and share our humanity. And for this former actor, it turned out that this was my way to do that. When I finish a space, I get texts for days from happy clients who say things like, "Having this room has totally changed the way I feel!" I have come to realize that for these clients, loving their homes had changed their lives. Literally. And isn't that what all good art should do?
And so, while I miss singing with a live orchestra (although I do have amazing one-woman productions of "Evita" in my car), and I miss backstage shenanigans and the energy of an audience, I have found that this was my true calling. And I never would've found it without all of those years as an actor. Being an actor prepared me for this. And while I know I'll be on the stage again someday, for now, these are the stories I need to tell.
Looking for remote work? Backstage has got you covered! Click here for auditions you can do from home!