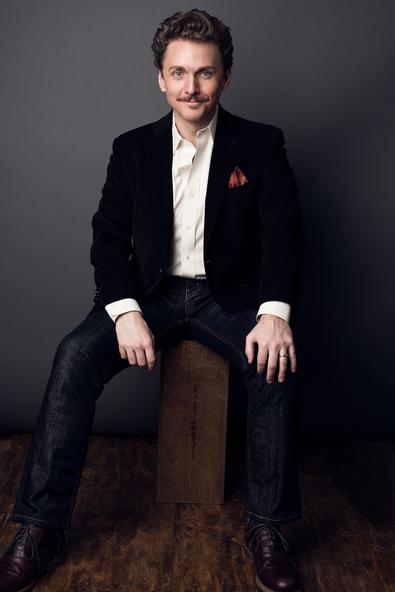 Stage and concert star Jason Danieley ("Next to Normal," "The Full Monty") appears in this season's long-awaited staging of John Kander and Fred Ebb's musical "The Visit." With a book by Terrence McNally that's based on Friedrich Dürrenmatt's theatrical parable of greed and revenge, the show has evolved through several incarnations over the years with productions in Chicago, Washington, D.C., and the Williamstown Theatre Festival. Danieley reveals a bit about the Broadway production, opening April 23 at the Lyceum Theatre, and provides some food for thought about getting into character, direct address, and more.
On "The Visit."
"I had been a part of it peripherally for years. I'd just been so fascinated by the project and knew everyone involved. And then it just came around last summer for Williamstown. I was available and jumped at the opportunity. I'm so glad I did, and so glad that now Broadway audiences will finally, after 15 years, be able to see this piece that's been out there for a while. [Director] John Doyle pared it down from two acts to one and has made it a very fast-moving epic, which sounds like a contradiction, but you get on it and it's like a runaway steam train. He is focusing on the romance between Anton and Claire—Roger Rees' and Chita Rivera's characters. There's a sort of constant ballet of their younger selves dancing around them. Most of the storytelling is told through movement but they also do sing. It's really focused on the romance."
On his character.
"I play schoolmaster Frederich Kuhn, who is the best friend of Anton. In this particular production the town fathers—the schoolmaster, the priest, the policeman, the mayor—are all devices to represent the different elements: science, intellect, martial law, politics, the different ideals in society. Being sort of the intellectual representative, I'm the last of the holdouts in town when Claire comes in and says, 'I will save your town from financial ruin, but you have to kill Anton.' Everyone has a problem with it, but I'm the last holdout since I'm his good friend and somehow intellectually not able to grasp or give in to this. Having that great turmoil in my character provides a wonderful opportunity for a Kander and Ebb song! I've got one of the most glorious songs to sing to Roger and to the audience."
On his (secret) method of getting into character.
"Stereotypes and clichés in Acting 101, these things you've heard a million times—there's a real applicable way of using these things. I even use scents. I wear Old Spice for my character and I drink coffee before a show. It's just for me; I can smell the coffee and Old Spice. When you do it eight times a week, that allows you to drop right into that place."
On the concept of direct address.
"One of my first jobs, and a lot of the work I've done over the years, has been concert work, where I perform directly to an audience not as a character but as myself. ['The Visit'] is a perfect marriage of the two; I'm playing the schoolmaster, but with the comfortableness that I have as a performer who directly addresses and often improvises.... As an audience, you're kind of a collective organism. It's a moment where you take the temperature, so to speak, of the audience. Like, are they still with us?"
On performing concerts with his wife, Marin Mazzie.
"We met doing a play and then did a couple musicals, then there was a big gap before we did 'Next to Normal.' Our normal day-to-day relationship influences how we react to one another, if not just the initial chemistry, which we've always had. I know if I give her a certain dry setup in our patter, she can hit that punch line. We just know our timing so well. Sometimes you can afford to be a little slower with your tempo, a little more romantic. You can sit back on it a little bit and let the music live. Or if you're in an audience that's a little fidgety, you're on the front edge of the tempo. It's all in the timing."
On advice for actors.
"You have to have a real understanding of what your strengths are and play to those. You can't be somebody else. I'm a dark Irish; I tend to have a really fatalistic, romantic side of me, but then also a really goofy-ass, Danny Kaye side, doing stupid dances, making up ridiculous songs. Those are two polar opposites, but strengths I know I can play to. Find out what your strengths are and don't try to be something else. Being unique is what's going to get you the gig. Young people particularly get so hung up on living their lives about the theater, which is good so you're aware of what's going on, studying the history and whatnot. But you have to spend time outside of what you do unless you [only] play characters that are in the theater!"
Like this story? Read more of our Spotlight On interviews!