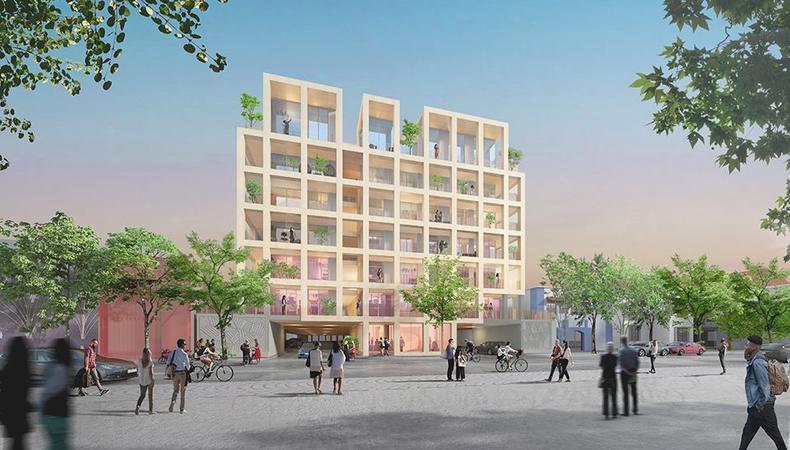 The Actors Fund has broken ground on its new Hollywood Arts Collective: Two new buildings that will contain 151 units of affordable housing for artists, an 86-seat theater, art galleries, rehearsal studios, non-profit arts office space, and a new home for the Actors Fund Western Region Headquarters. The project is currently under construction and is expected to open in 2024.
"The Actors Fund has been supporting the entertainment community in Los Angeles for over a century," said Actors Fund Vice Chair Annette Bening in a statement. "The Hollywood Arts Collective allows us to significantly deepen our commitment to our colleagues in the Hollywood creative community."
The project has been in development for 10 years, and is a partnership between the Actors Fund, property developers Thomas Safran & Associates, and the City of Los Angeles Departments of Cultural Affairs and Transportation. The Hollywood Arts Collective has already secured $100 million from the city and state. The Actors Fund is now raising $20 million for the project, with $5 million already raised.
The new buildings will be located on Hollywood Boulevard between Wilcox Avenue and Schrader Boulevard.
"Access to affordable housing is critical to a thriving creative community in Hollywood and the city of Los Angeles," said Actors Fund Western Region Executive Director Keith McNutt in a statement. "With gentrification and rising rents in neighborhoods traditionally accessible to workers in the entertainment and arts community, The Hollywood Arts Collective is an urgent and timely need. This project will allow professionals in our industry to live, work and perform in the center of creativity in Los Angeles. Their presence, their work, will be an engine of the continued arts-based revitalization of Hollywood."
Bening and McNutt are credited with leading these efforts, alongside Thomas Safran & Associates.
The Actors Fund serves anyone who works in entertainment: film, theater, television, music, opera, radio, and dance. It provides social services and emergency financial assistance, health care and insurance counseling, housing, and secondary employment and training services. Since the onset of the COVID-19 pandemic, the Actors Fund has provided more than $19 million to more than 15,000 people.
"Los Angeles is a city where creativity and solutions meet—and where innovative strategies inform answers to everything from housing to economic development to reinforcing Hollywood's role as a center for jobs and opportunity," said Los Angeles Mayor Eric Garcetti in a statement. "The Hollywood Arts Collective is a tribute to the Angeleno spirit, combining an affordable place to live with a dynamic place to create, transforming a home for artists into a thriving community for the arts, and breathing new energy into the heart of our city."