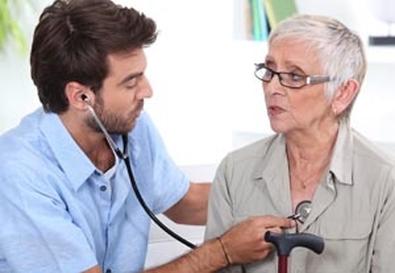 Ever play doctor as a child? Now you can play patient, and make money doing it.
From New York to Hollywood, medical schools pay actors to portray patients in order to teach medical and nursing students about bedside manner and how to conduct routine checkups. The industry calls them "standardized patients."
"We find smart, talented actors [to assist] us in training the next generation of physicians," explains Dr. Sondra Zabar, director of the standardized patient program at
NYU Langone Medical Center's Program for Medical Education, Innovation and Research
. "We use standardized patients for our learners—whether they're medical students or residents or faculty—to practice important skills."
In 1963 at the University of Southern California, Dr. Howard Barrows was the first to train and use standardized patients (SPs). The practice has grown to the point that, according to the Association of Standardized Patients, more than four dozen medical schools around the United States and Canada now use SPs.
"In the last 10 to 15 years, it has become a standard part of all medical school training," says Zabar. "Even part of the licensure of medical students includes a standardized-patient exam."
Most performers get involved in SP programs through friends, but occasionally an ad will appear on Craigslist or on job-hunting websites. With schools always searching for new actors, finding these jobs is not necessarily tough, but it does take dedication and skill to keep booking gigs.
Actor Jamie Fair has worked as a standardized patient at the
University of Pittsburgh
for years. To get the job, she applied online, then had a phone interview. After that, she was brought in to meet with the director of the program and current standardized patients.
Once hired, performers must go through a training program.
The Western University of Health Sciences
in Pomona, Calif., has intensive training sessions that are spread over three visits to the campus. The University of Pittsburgh requires 16 to 20 hours of basic training before actors even see a medical student. At New York University, a mixture of character and checklist training is necessary.
"The training itself was rigorous and intensive, but very informative," says actor Kamil Haque, who worked as a standardized patient in Pomona.
Most training is paid, but the real paychecks come once you begin working with student doctors and nurses.
Rates can vary. At NYU, the hourly rate is $25. The Brown University School of Medicine pays $100 to $200, depending on how in-depth and how long each simulation is. For new standardized patients at Western University of Health Sciences, the pay tops off around $80 for a five- to six-hour day of work.
A typical day for a standardized patient can range from playing an abused wife to playing a patient diagnosed with a myriad of diseases. In one case, actor Tischa Culver went to Barcelona for a doctors' association convention, where she was tested for fibromyalgia.
"The doctor would squeeze your elbow and ask you to describe the pain from one to 10," Culver says. She had been coached on what to say based on her character.
For an actor, working as an SP can mean extra money while helping to keep skills fresh between gigs.
"This definitely helps with my improvisation skills and also character development," says Phyllis Lynn, an actor who has worked as an SP at the
Brown University School of Medicine
.
"Having the SP program gives me the opportunity to create believable characters that are grounded in reality," Haque adds. "I get the chance to perform and know that while I'm evaluating the student doctors, I too am being evaluated. I get instant feedback on my performance and where I can improve."
"We found out that standardized patients, or people who do this kind of work, really enjoy it because they're contributing to the next generation of physicians," says Zabar. "They find they learn a lot themselves. Many of them say that now they have different expectations with how they approach their own physicians, and they have new insight about health and counseling."
Visit the ASPE website for a list of medical school programs around the U.S. that hire simulated patients.
CONTACT
NYU Langone Medical Center's Program for Medical Education, Innovation and Research
By email:
[email protected]
University of Pittsburgh School of Medicine's Advanced Clinical Education Center
By email:
[email protected]
Western University of Health Sciences
Brown University Alpert Medical School Office of Curriculum Affairs