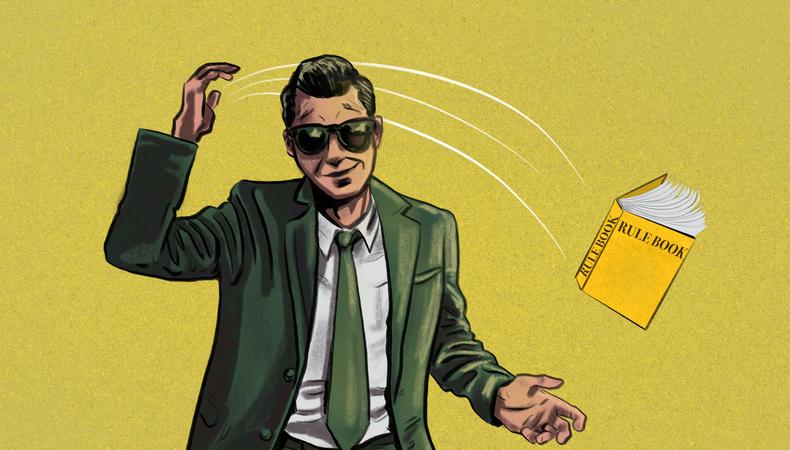 Rules are great—until they're not.
I will never vote for a Republican candidate who supports our current president. That works. My heart is broken and I will never love again. That doesn't work. And the rest of life lies somewhere in the middle.
As an actor, it's very easy to become frustrated with your career. So how do you deal with that? You impose rules, and you create those restrictions with the hope they'll guide you through the treacherous waters of the entertainment industry.
"I spent a fortune last year on all those seminars that were supposed to help me find an agent and nothing happened. I will never do that again!"
I'm fine with this.
"I let that damn director talk me into doing a nude scene in his low-budget movie and now I feel exploited. I will never do that again!"
All good there.
"My last manager did absolutely nothing for me. I will never sign with a manager again!"
Uh, hang on a sec. That one might not serve you. If you're a regular reader of this column, you know I have major issues with my managerial counterparts, but I try to judge people as individuals, not as a group. Yes, the wrong manager can be a waste of time and money, but the right person could make all the difference, so you have to be open to that.
READ: Why You Want a Greedy Agent
My clients and I discuss rules all the time. For example, I represent a young man who went to an impressive acting school in the Northeast. (Can you guess? Yes. That's the one.) When we started working together, the plan was for him to book a few co-star roles on good TV shows so he could build up some experience and line items for his résumé. Then we would upgrade him to guest star parts only as a way of pushing his career forward. (One guest star is better than 10 co-stars.)
This plan went off perfectly, just like the attack on the Death Star. He booked a few minor parts and then the rule kicked in. No more co-stars. Except…
My client's type is "handsome leading man." Trust me. The kid attracts eyeballs when he walks into a room, and those are the kind of roles he's destined to play. The problem is that a few weeks after our rule kicked in, a large co-star role came up on a show that was being cast by one of his fans. The part was the exact opposite of his type. It was a scruffy kid with a drug problem.
In this case, our rule had to be broken. This part presented an opportunity for him to stretch his acting muscles and show he's more than a pretty face. Also, the scene would look great on his reel, and what a fantastic opportunity to show off for a casting fan who was giving him a shot at something different!
So we put the rule on hold. He went in and booked it. Cue end credits.
The lesson here is that rules are important, but you have to be flexible. You don't want to miss out on an opportunity because you were following self-imposed restrictions that might not serve you. Perhaps the best rule to consider is: Always be flexible.