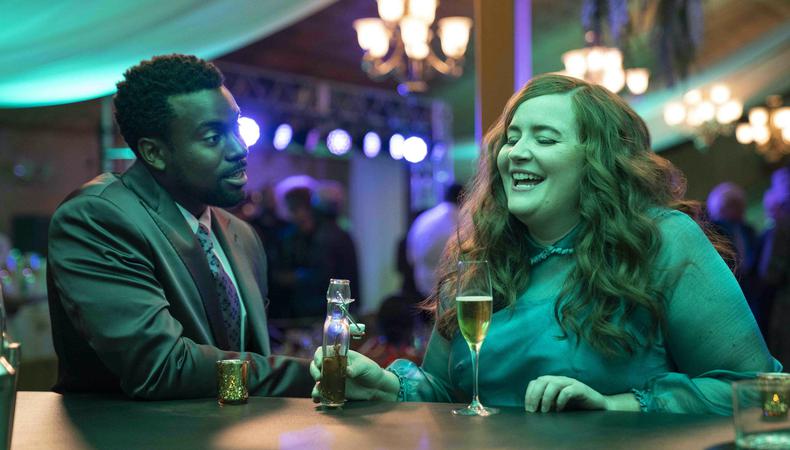 When it comes to Aidy Bryant the actor and Aidy Bryant the writer, Aidy Bryant the human being is certain: "There is definitely no separation between church and state," she says with a laugh.
A couple of weeks prior to the Season 2 premiere of her Hulu series "Shrill"—on which she writes, executive produces, and stars—and in the midst of her eighth season writing and performing on "Saturday Night Live," Bryant displays nary a glimmer of burnout. Instead, there is vitality in nearly everything she says; she's a performer and writer who for the first time is putting on full display all she's learned about both facets of her creative self.
"I really found my voice as a writer as an actor, if that makes sense," she says, chatting by telephone. "When I was improvising in Chicago, we would do one scene idea over and over again and take the best parts and write them down until we had a fully written scene. That was how I developed my voice writing, and I think it's a really great tool, because it takes the pressure off of sitting in front of a computer. It lets you live the moment in your mind first. Sometimes, just using your imagination and thinking about a scene rather than feeling like you need to get the word down can be so helpful."
READ: How 'SNL' Hair + Makeup Team Transform The Cast in a Commercial Break's Time
"Shrill," based on Lindy West's book of the same name, is back with a second round of episodes in a moment when Bryant's protagonist, Annie, has already ascended from "point A to point B about her feelings around her own body and her own self-worth," Bryant explains. For that reason, the multihyphenate, who is primarily used to sketch performance and supporting roles, calls the opportunity to flesh out a character "her favorite thing."
"This is the first time I've been able to sit with someone, and there's a real joy in just thinking about how a person evolves and changes over the course of a few months even, and how much someone who desires to grow puts efforts into those things," she says. From a writing standpoint, too, getting to delve deeper into not just Annie but the characters around her has made Bryant more narratively dexterous. And therein lies the major disparity between Bryant's two vocations—not writing and acting, but sketch and long form.
"Sketch is so much about 'get the premise out as fast as you can so you can start getting into the jokes,' and then you just heighten and heighten until the sketch is over," she says. "Writing for a narrative show is almost the exact opposite. You want to explore the emotions of these people and connect those to events."
READ: John Cameron Mitchell Says Now Is the Time to Make Your Podcast
And though the acts of writing for "SNL" and "Shrill" are different, Bryant doesn't hesitate to attribute her industrious work ethic to the former. "[On 'SNL,'] you essentially take your idea on Tuesday all the way through to fruition on Saturday. It's sort of like a mini version of creating an episode of television, except it's a five-minute sketch," she says. "The process is essentially the same; it just happens over the course of six days instead of three months."
On either show, pulling double duty as both writer and actor is much more than double the work—but the payoff is greater, too. Bryant says doing one makes her immeasurably better at the other.
"When I'm writing a scene, I'm thinking about how I would perform it, and then that also helps with tone because I know what we've talked about in the writers' room and I can bring that to set. It makes me a better actor, because I'm just more aware in some ways," she says. "But it's not just the writing. It's the set design, it's collaborating with the costume designer, working with your fellow actors, then going to the edit room and making decisions about performance takes. When you're doing that, you're like, 'I contributed to this top to bottom! This was my idea and now it happened.' "
Before hanging up, she adds with a nearly audible grin: "There is nothing better than that."
This story originally appeared in the Feb. 13 issue of Backstage Magazine. Subscribe here.