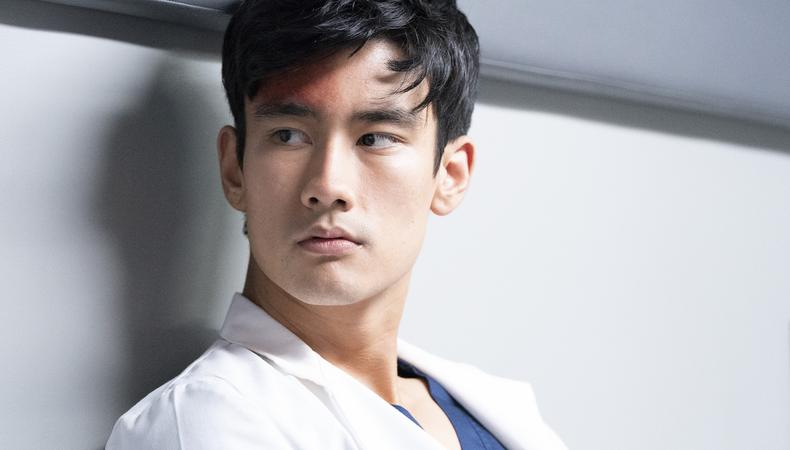 The following Career Dispatches essay was written by Alex Landi, who can currently be seen on ABC's long-running medical drama "Grey's Anatomy."
When I was growing up, an acting career was hardly the first thing on my mind. I wanted to play professional tennis and was focused on achieving that goal. However, my love of theater began at a young age when my parents took me to see "The Lion King" on Broadway, and I became mesmerized by the costumes, the singing, the performances—the whole stage experience. My interest in acting grew as I got older, and I eventually decided to enroll in the Lee Strasburg Film Institute. I studied there for two years, and the experience was more transformative than I even expected. Not only did it make me realize that I wanted to act, but I was a shy person back then, and the training brought me out of my shell, taught me to interact more freely with people, and helped me become more comfortable in front of the camera and in social situations.
Learning the fundamentals of being an actor were the most critical part of this training, and it became my foundation for building on my acting craft. Every time I go back to East 15th Street and Union Square, I'm flooded with good memories from my time there because it literally changed my whole direction in life from professional tennis to acting.
Knowing where I am now in my journey as an actor, I would first tell my younger self to grind it out and to be disciplined. If you are passionate about acting, don't give up. Know that a lot of waiting, auditioning, and rejection are just part of the business—a big part. Even after getting an audition, I was rejected hundreds of times before I got that one "yes." Also, being disciplined helps you overcome the challenges of this very tough business; so for me, working hard, staying focused, and maintaining a positive outlook are buoyed by the discipline of going to the gym and maintaining a physical health regimen.
READ: How to Become a TV Actor
The second thing I would tell my younger self is to have patience. Instead of focusing energy on finding an agent to get you that "breakout role," hone your craft, practice, learn techniques to help yourself get comfortable in front of the camera, and network with people as much as possible. Networking is very important. It only takes one person remembering you or you making an impression on someone to potentially book a meeting or an audition.
The third thing I would tell my younger self is to not be afraid to take roles that you believe in and that challenge you both personally and professionally, ones that may be uncomfortable or unfamiliar. I was shy, and I found that confronting fear and taking that leap can have a positive change in your life as an actor. Not being afraid also means if you feel you're right for a role, do everything you can to get in that room for an audition. And if you get the opportunity, give the character life; do a great audition, challenge the norm, and show casting something unexpected.
I am very proud of my heritage (my mom is Korean and my dad is Italian), and it is an honor to play Dr. Nico Kim on "Grey's Anatomy," a show that has brought so many diverse characters to life over the years. It is a responsibility I don't take lightly. As a completely different character, Henry Lee, on Netflix's "Insatiable," I had the opportunity to work on a comedy, which was so much fun. I am excited about other roles to come and I want to show kids who look like me that they have a place in Hollywood. The acting journey to get there won't be easy, but they belong there.
What advice would you tell YOUR younger self? Get more Career Dispatches right here!