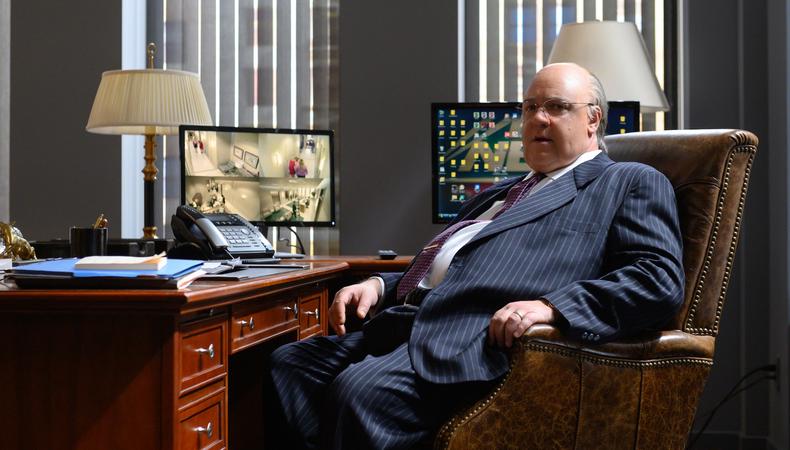 "The Loudest Voice" showrunner Alex Metcalf expected that finding an actor to play the larger-than-life Roger Ailes would be a herculean task. "Russell [Crowe] was always one of the people we dreamed about and, honestly, assumed we would probably never get," Metcalf reveals. "He'd never done TV before, and it's an incredible commitment, both prosthetic- and time-wise." Little did he and his team on the Showtime miniseries know that once they got three finished scripts and a season outline to Crowe, his answer would come quickly: Yes.
"We were incredibly excited, obviously, and ran with it. I was shocked. He was the first person we went to and the person we really wanted most. We got him, and he jumped right in."
The seven-episode series premiered on June 30. Produced by Blumhouse and co-created by Tom McCarthy ("Spotlight"), the series tracks the rise of Roger Ailes' Fox News empire up to the sexual assault allegations that resulted in his ultimate downfall. In its original development, the show looked a bit different.
"When we were breaking out all the episodes, it was a story from multiple points of view: Brian Lewis, Gretchen Carlson, Joe Lindsley—and Roger Ailes was the Citizen Kane-ian mysterious figure above it all," Metcalf says. It wasn't until after Ailes' death in 2017 that the writers began to have conversations about what they actually wanted the show to be. "We recognized that, really, we wanted to tell Roger's story and how that impacted and drove Fox—where he came from and who he was, and the values that he represented in American culture. That was the big shift we made: from outside Roger to inside Roger."
As for Metcalf's own view of the media figurehead, he sees him as a "Shakespearean character" in his complexities. "He was a complicated, fascinating, interesting man. Yes, he was angry, and, yes, he was abusive. He was also charming, funny, self-deprecating, and [he] inspired this huge amount of loyalty in people." To that end, the first episode of the miniseries, titled "1995," opens with people praising Ailes and lamenting his departure from CNBC.
READ: How Russell Crowe Transformed Into Roger Ailes for 'The Loudest Voice'
Metcalf wanted to make sure the show wasn't a caricature of Ailes' many wrongdoings. "People's instant impression of him is negative, and so we wanted to be really conscious not to dive right into the scandalous immediately," he explains. "We gave Roger his own voice without judging in the first episode too much, so that he could support himself before we got into the darker aspects of his character."
And it took late-night conversations between Metcalf and Crowe for the actor to burrow into the mindset of such a darkly complicated man. "We would have these conversations before we shot all the time," Metcalf says. "Russell really brought a lot of his own research to the table—he had talked to people we hadn't talked to about Roger and had very distinct and clear ideas about who he was, which sometimes perfectly aligned with the show we had written, and other times did not. And so we had to really work with that and massage things as we went forward."
Metcalf comes from an acting background himself, so he's found his own language to communicate in these conversations with actors, especially when portraying real-life figures. "All scenes are about objectives, motivations, and bringing it down to very basic human instinct," he says. "The more practical you are when discussing those things with an actor, rather than theoretical, the better it is for them, because it's all about action, need, desire, and wants— all of that, rather than the theoretical of what the scene is about."
As showrunner, Metcalf also makes a clear division between his role and that of the director while on set. Extensive conversations about characters weren't exclusive to Crowe; Metcalf also had a wide-ranging conversation with Naomi Watts about who Carlson was as a person, as she undertook the task of portraying the TV commentator. "It's not my job to talk about performance to an actor. That's the director's job," he said. "But it is my job to contextualize the world."