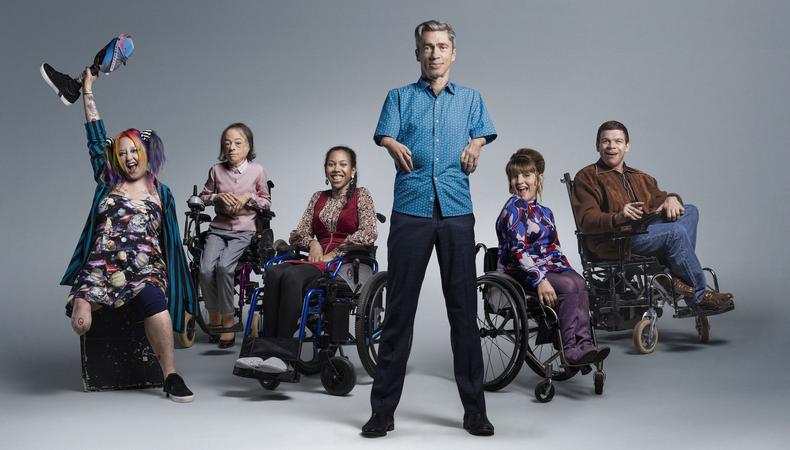 The entertainment industry has a long history of presenting stories about people with disabilities without their input. BBC America's anthology series "CripTales," which premiered earlier this month, aims to change that by bringing disabled artists to the fore. The anthology series features six short monologues written, directed, and performed by people with disabilities.
The series was curated by Mat Fraser, an actor, writer, and disability advocate known for "American Horror Story: Freak Show" and "His Dark Materials."
"The whole process of writers choosing subjects and choosing actors was a real joy," says Fraser, who also wrote and stars in one of the monologues. The other writers include Jack Thorne, Genevieve Barr, Tom Wentworth, and Matilda Ibini. Fraser's only parameter for the writers was for the stories to be truthful and "not safe," he says. "They did not disappoint—there's some really intense stuff."
The episodes include stories about a disabled actor lamenting the audition process, a wheelchair user contemplating getting an abortion in the 1960s, a woman dealing with the inefficient benefits system in the U.K., a young man exploring his sexual freedom upon getting his first electric wheelchair, an amputee looking for love, and a wheelchair user grappling with a controlling caretaker. These monologues, which run the gamut from surprising to heartbreaking, are performed by Robert Softley Gale, Ruth Madeley, Jackie Hagan, Liz Carr, and Carly Houston.
"These monologues prove that the industry is missing out on a huge section of voices that have exciting stories to tell," says Fraser. "Bring us in, and we'll help make dramas better, is all I can say."
"These monologues prove that the industry is missing out on a huge section of voices that have exciting stories to tell. Bring us in, and we'll help make dramas better."
October is National Disability Employment Awareness Month, and "CripTales" serves as an example of the importance of inclusive hiring practices and meeting employee needs. For the project, BBC America procured an accessible studio, and Fraser spoke with the crew about how to best work with actors with disabilities before the filming began. "A lot of people would rather just not talk about it because they're afraid of saying the wrong thing, and so I had to blow that open a bit," he says. The "CripTales" team worked together to create an environment that allowed the actors to do their best work.
"My one overarching goal with 'CripTales' is that each creative disabled person involved in it gets one more job in the television industry," says Fraser. "That would be the real mark of success."
Looking back on his long career, Fraser notes that accessibility and representation in the entertainment industry has improved. "I find there's a real ease with disability where there hadn't been before. One of the reasons is a lack of embarrassment; there's more willingness to learn." Plus, producers and studios are "finally realizing that they do need disabled writers to tell their own stories, or stories involving people with disabilities," he says.
This year marks the 30th anniversary of the Americans with Disabilities Act, as well as the 10th anniversary of the U.K.'s Equality Act. These milestones come at a major turning point—the coronavirus pandemic, which has opened up accessible performance and viewing opportunities for actors and audiences alike. While "CripTales" was filmed before the pandemic brought the industry to a standstill, the series' format and delivery is apt for the moment. "The monologue is ideally suited to this weird post-lockdown COVID-ian society we find ourselves in," says Fraser. With theaters shut down and many film and TV projects on hold, the Zoom monologue has become de rigueur. "It's a window of opportunity for disabled people because it has leveled the playing field, metaphorically and literally."
For Fraser, the premiere of "CripTales," which is available to stream for free via BBC America, AMC, IFC, SundanceTV, and AMC+ throughout the month of October, points to a more inclusive future. "This is the way things go forward: little blips in landscapes, opportunities are made, dances are taken, and then they can't go back," he explains. "It's all very well to open the door, but what we need to do is literally remove the door from the frame so that people can come through."
This story originally appeared in the Oct. 22 issue of Backstage Magazine. Subscribe here.
Looking for remote work? Backstage has got you covered! Click here for auditions you can do from home!