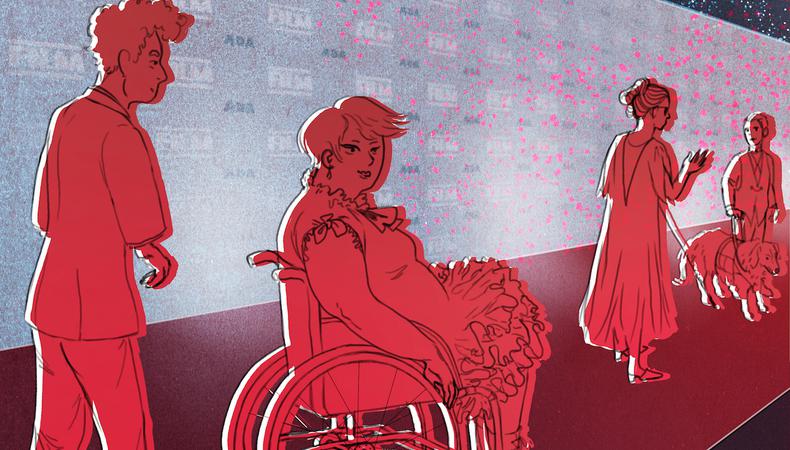 This year marks the 30th anniversary of the Americans with Disabilities Act (ADA), a civil rights law that prohibits discrimination against individuals with disabilities in all areas of public life, including jobs, schools, transportation, and all public and private places that are open to the general public.
Within the acting community, changes on this end continue happening every day. The Casting Society of America has been on the forefront of these issues, engaging its members and the acting community alike in disability-centered training events, discussions, and more. In a statement to Backstage, CSA's Equity in Entertainment Committee shared that "creating a rich fabric of representation across storytelling in all media is of paramount importance to our organization, and with the current climate, we are more focused than ever on our upcoming initiatives and collaborations that broaden our relationships with underserved groups."
Keely Cat-Wells, an entrepreneur and disability activist dedicated to making social, systematic, and economical change, is also a leader of the movement and building a major film and TV studio fulfilling the need for accessible studio space in the U.K. (Zetta Studios will be the first-ever studio to be fully accessible for people with disabilities that is carbon neutral and female-founded.) Below, she speaks with Backstage about C Talent, her management company for deaf artists and artists with disabilities, and what she wants for the future of representation.
It seems that accessibility is one of the hurdles day-to-day. How do you navigate?
Yes, there are so many doors a lot of us cannot get into—literally! Being accessible, in every aspect of the word, is vital for this industry to be truly inclusive and authentic. The [disabled] community often asks for the most basic needs, and they are rarely met. Designing with us in mind is an ideal. An invitation to the party, then access to the party, and then the resources to throw our own is the goal. We navigate hurdles with a sense of familiarity in a world that was not made for us. We adapt to our environment and we get on with it. But imagine what we could do if there was true equity!
What kind of roles would you like your clients to play, as opposed to the roles they get offered or audition for?
I would like to see more characters who are disabled not getting a trophy for going to school, leaving the house, or "overcoming" their disability or achieving through their ableist-viewed adversity. Please give us storylines where we get applauded for doing something genuinely brilliant. I would like to see roles breaking stereotypes, not re-enforcing the ones the world has already painted of us. I would like to see disabled characters playing storylines written by people with disabilities; roles that were not intended for someone with a disability to be played by someone with a disability, where the disability itself is not what makes the person scary, inspirational, or the odd one out.
Do you ever tire of having to educate people?
If who I am and if my disability can change the way people think and allow them to have an epiphany or even slightly rethink what disability looks like, I am satisfied. I will never be tired of using my voice, but I am certainly exhausted by those who do not listen. Education is knowledge and knowledge is power. I am privileged to be able to give people first-person knowledge; what they do with it is up to them, but I will not stop using my experience to shape the future of others.
This story originally appeared in the Sept. 3 issue of Backstage Magazine. Subscribe here.
Looking for remote work? Backstage has got you covered! Click here for auditions you can do from home!