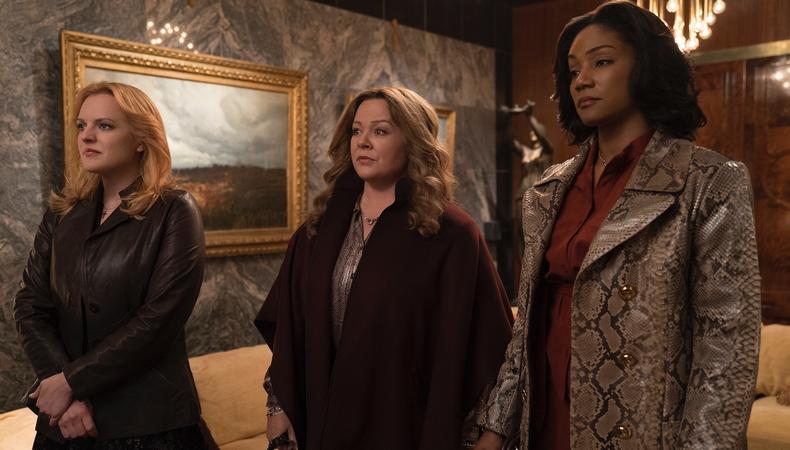 Doused in sarcasm, Andrea Berloff employs a metaphor. "Hollywood is not all that different from the mafia," she says with a laugh. "My experience through the trenches of Hollywood as a woman is not that dissimilar from the experiences of the women characters in this movie, which is [to say] that people would really be much happier if they just went away."
Berloff has not gone away. Since the early aughts, she's pounded the mean streets of Burbank, California and beyond as a writer, eventually penning the screenplay for "Straight Outta Compton" in 2015. With that project and those before, she's been on the front lines of a new wave of female filmmakers, hellbent on subverting a woman's place in Hollywood.
But with "The Kitchen," which she both adapted for the big screen from a comic book and also directs (her feature directorial debut), she is going, frankly, where no woman has gone before: the blockbuster mob movie. "I just clocked into, How delicious would it be if we actually could see ourselves in this?," she says of initially being drawn to the project. "How would a mob story with women be different than a mob story with men? I didn't want to just stick a gun in their hands and have them be knock-offs of men. I wanted to figure out how women would actually run it—not women as girlfriends or women as wives, but a story that's a woman's story."
READ: The Secret to Writing + Producing Your Own Content
Berloff knew in her bones she needed to be the one to tell that story, and unlike with previous projects, she yearned to express a point of view in "The Kitchen" through means that simply could not be achieved with just words. Cut to: planting herself in the director's chair. "I felt like I knew these characters inside and out in a way that I hadn't necessarily felt before," she says. "It had been a long time since I'd felt so passionately inside a story, and I just felt like I had more to say—that I could say through directing—than I could with just writing on the page alone."
Of course, Berloff is aware what total creative autonomy means in a business where the successes of projects helmed by women are frequently considered anomalies while their failures are thought to be the rule. "For better or worse, the decisions were mine, so I live and die by them," she says. "There's a giant systemic issue at hand: Women writers are paid less, so they have to keep a career going. For 10 years, I never wrote a female character; I wrote male-centered scripts because I needed to work and because nobody wanted to buy movies with women in them. The business goes through these phases. Right now, women are having a moment. Will that continue? I don't know, but I can tell you this: We have to go out and support this generation of female filmmakers."
Just as she's flipped the script on who gets to tell this story behind the camera, she's done the same for who's doing so in front of it. The cast of "The Kitchen" is anchored by Melissa McCarthy, Elisabeth Moss, and Tiffany Haddish—and no, it is not a comedy, despite the fact two of those three actors are best-known for that genre.
READ: Elisabeth Moss Finds Her 10
Haddish in particular, who burst onto the scene with her instantly-iconic role in the raucous 2017 feature "Girls Trip," will surprise audiences with her dramatic depth. That was instantly clear to Berloff, however.
"I met her when 'Girl's Trip' was still in theaters, and I sat down to lunch with her, and I thought to myself, This woman is so soulful and complex and interesting and intelligent," she recalls. "There was just not a doubt in my mind that she could be Ruby, even though we'd never seen her do anything like that before."
That she cast Haddish "against type" is an actionable way she hopes to contribute to a broader change in the industry for actors, writers, directors, and for any person whose voice has been mitigated in some way.
"We all, no matter who we are, often feel we're not given a fair shake of things: people don't listen to you because you're young, and I'm not listening to a young person, or they don't listen to a woman, because we don't hire women for this job, or we don't hire comedians for these roles because they can't do it," she says. "There was definitely a piece of me that was a little bit like, Says who? Who says these women can't do this kind of role? Who says I, as a writer, can't direct it? Who creates these rules, and isn't it time to really take a hard look at all of these rules and throw them out the window?"
While she no longer feels marred by the industry's arbitrary rules, Berloff advises actors to dispel with them similarly in the audition room. As she can attest, rules of all sorts are meant to be broken. "Be prepared, and have an interesting, fresh take, and don't feel hemmed in by necessarily what's on the page," she says. "The idea is just coming in, being open, being flexible, trying stuff, and realizing that just because something is on the page doesn't mean that you can't try something else. People like to be surprised."
And whether it's surprising others or surprising yourself with the elasticity of your own boundaries, Berloff makes clear that, ultimately, you are the keeper of your own success.
"I started working in New York as an actress in the '90s, reading Backstage, going on auditions, sending my headshot out. I eventually made my way to Los Angeles, and was at a point where I felt like a creative person and didn't know where to put that creativity," she reflects. "I decided I would get up everyday and spend an hour writing to do something creative. It wasn't with an eye towards having a giant career as a screenwriter, just to have some form of creative expression. If you're that kind of person—you have it burning inside of you—you have to figure out a way to do it, otherwise you're super unhappy. I just started writing by myself and eventually I wrote a screenplay. Writing yourself into success is a great way forward."
Want to hear more from the best creators in film, TV, and theater? Get it right here!