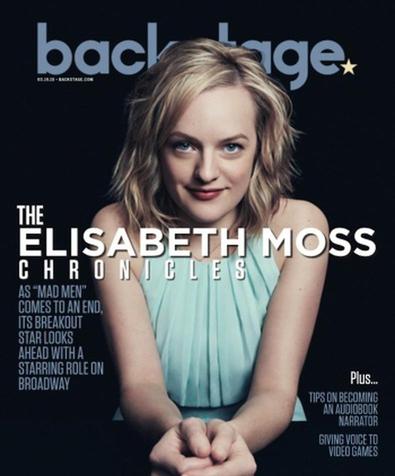 "Where is some fucking wood? I need to knock on some fucking wood right now," says Elisabeth Moss. The actor leaps toward her dressing room desk and gives it a series of quick raps. She's just claimed having a background in dance helps her memorize lines, and doesn't want to jinx herself mere hours before a preview performance of Wendy Wasserstein's "The Heidi Chronicles." She flops back in her chair, relieved. "I knock on wood 10 times a day. I just want to get a wooden ring, you know? And then just knock on anything."
Whatever Moss has been doing to ward off jinxes, it's working. Between her Golden Globe Award for Jane Campion's miniseries "Top of the Lake" and the five Emmy nominations she's racked up for AMC's hit show "Mad Men," she's too good of an actor to worry about needing luck. Having honed her craft as a teenager in dance shows and on the set of projects such as "Girl, Interrupted" and "The West Wing," Moss now makes regular appearances in some of today's most fascinating and subversive indie films, and is enough of a critical darling to headline a Broadway revival.
"This is the most scary, challenging thing I've ever done in my career," she says firmly. "I was so terrified before our invited dress [rehearsal] I thought I was going to throw up." Wasserstein's feminist ode to the boomer generation won a Tony, a Drama Desk Award, and the Pulitzer Prize for Drama in 1989; its title role requires an actor with stamina and a fine-tuned balance of comedy and catharsis.
Moss, who made her Broadway debut in 2008's "Speed-the-Plow," says nerves are part of what makes that balance possible. Three particularly daunting scenes find Heidi completely alone onstage, which Moss describes as an "Oh fuck!" moment. "It's like, I've got nothin' and I am out here. There's no one who's going to save me."
One such scene parallels that feeling of isolation in more ways than one. When Heidi is asked to speak at a "Women, Where Are We Going?" luncheon, she gives an emotional roller coaster of a monologue confessing how "stranded" she feels in the wake of the feminist movement. Moss says the lighting during the speech is so bright that she can't see a single audience member. "I'm really stranded, literally. It's great because it's kind of helpful. Looking out, it is a black fucking hole."
Moss' tour-de-force delivery in that scene lulls the audience into safety before knocking them flat; she tosses off witticisms with unassuming charm, then reveals the blistering vulnerability beneath Heidi's composure. Bryce Pinkham, who plays Heidi's "star-crossed friend" Peter, likens Moss to a champion swimmer: "I'd compare it to somebody who swims butterfly or backstroke really well. You know how hard it is and how much work has to take place under the water, and yet the result is something seemingly effortless.
"Her attitude is self-effacing and she's here to not only honor the play but have a good time," Pinkham adds, saying that Moss' ability to ridicule herself—the two hold contests to see who can be more self-deprecating—sets the tone for their family of cast members. "When the first one to make fun of Elisabeth is Elisabeth, that's such a generous gift to the entire room. The best shows I've been a part of have real joy backstage and that inevitably seeps onstage. She set a joyful tone. But at the same time she takes her job very seriously; it's quite hard to be asked to play the title role in this very important revival of a very important play."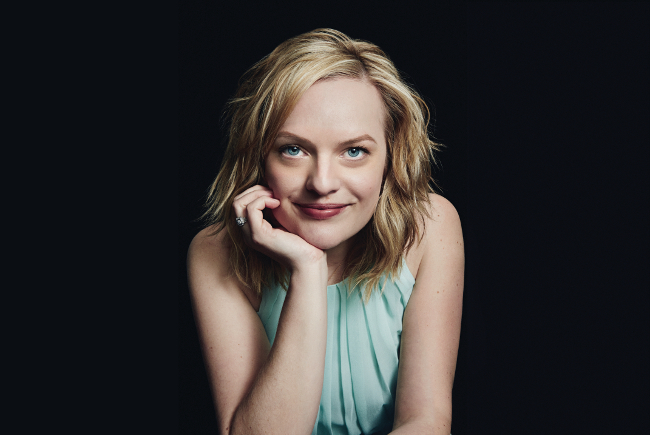 It's tempting to compare Moss' casting in a 21st-century production of this play to her astonishing work on "Mad Men." As Peggy Olson, TV's most flawed and fabulous heroine, Moss has for the last eight years been the face of female ambition in a man's world. Not unlike Heidi, Peggy grapples with balancing work, romance, and identity as she evolves from naive secretary to kick-ass copywriter. But as Moss points out, their attitudes couldn't be more different.
"Peggy is the generation before Heidi; she's not part of the women's movement. She is unwittingly, but she was never trying to break through any glass ceiling—she just bumped her head on it." Heidi, an art historian stand-in for Wasserstein, comes of age at the epicenter of feminism, unable to ignore its personal and national implications. Peggy, Moss says, is "just trying to do her work."
With "Mad Men" airing its final seven episodes this spring, Moss admits she misses playing Peggy. "I was really sad to say goodbye to her because I felt she had become this kind of friend, which is, I know, so weird to say. She was this person I knew, and then I wasn't going to get to know her anymore." Not long after wrapping the show, however, the producers of "The Heidi Chronicles" approached her, and she realized there would be other roles to get to know.
"When you like a character and you like playing them, it's just like a good pair of jeans. It just feels good; you want to put them on, they make you happy when they're on."
The particular brand of everyday heroism in Wasserstein's writing, she adds, struck a chord. When Heidi talks of shooting for the proverbial 10 and landing on a six, it echoes the question at the heart of first- and second-wave feminism: Can women have it all? Can anyone? "The problem with the expectation to have it all," says Moss, "is what if you don't want it all? What if your all is different from someone else's all?"
Heidi's decision to become a single mother at the end of the play is just that: a decision. Moss says she and director Pam MacKinnon want to make it clear a child isn't Heidi's easy-fix solution. "I don't know if Heidi knows what her 10 is, but the thing she would respect the most about herself is never settling for less than the 10. I think the play is very much a 'to be continued.' It definitely feels like that's not the end of Heidi's story. She's not done yet."
Clearly, neither is Moss. Looking out at 45th Street, she admits this experience comes pretty close to her version of having it all. And she doesn't for a moment take it for granted. "I never thought I would be the title role in a play on Broadway. I sit here sometimes, after I take my nap, and I look out the window and I go, 'Wow. This is pretty fucking cool.' People don't always get this far. So yeah, this is a 10. This is definitely one of my 10s."
---
All Hail
Moss turns coy when asked about future roles she'd like to tackle, especially musicals. "Something like 'End of the Rainbow,' that's very acting-heavy that you would also sing in," she says. "Not necessarily singing like these people in 'Les Misérables' do. I don't think I could do, like, Idina Menzel shit. I'm not Patti LuPone."
She adds with a laugh that all of her favorite roles—Mama Rose in "Gypsy," Norma Desmond in "Sunset Boulevard"—won't be available for another 20 years. "Maybe that means I'll really hit my stride in my 50s. That's going to be my heyday. Which is kind of perfect! I figure I'll have that time to practice."
Moss' worship of older actors extends right across 45th Street to where Helen Mirren is playing Queen Elizabeth II in "The Audience" at the Schoenfeld Theatre. "That one over there is pretty damn good," she cracks. "Not too shabby." Recalling Mirren's legendary response upon introducing herself at their Golden Globes table last year—"I know who the fuck you are"—Moss transforms into a kind of groupie. "It was so awesome. And now we're here, now we're neighbors!"
Want to read more? Check out our Backstage covers here!